Bumrah injury glare on 'unusual' action
Only rest and physiotherapy are prescribed for stress fractures to allow them to heal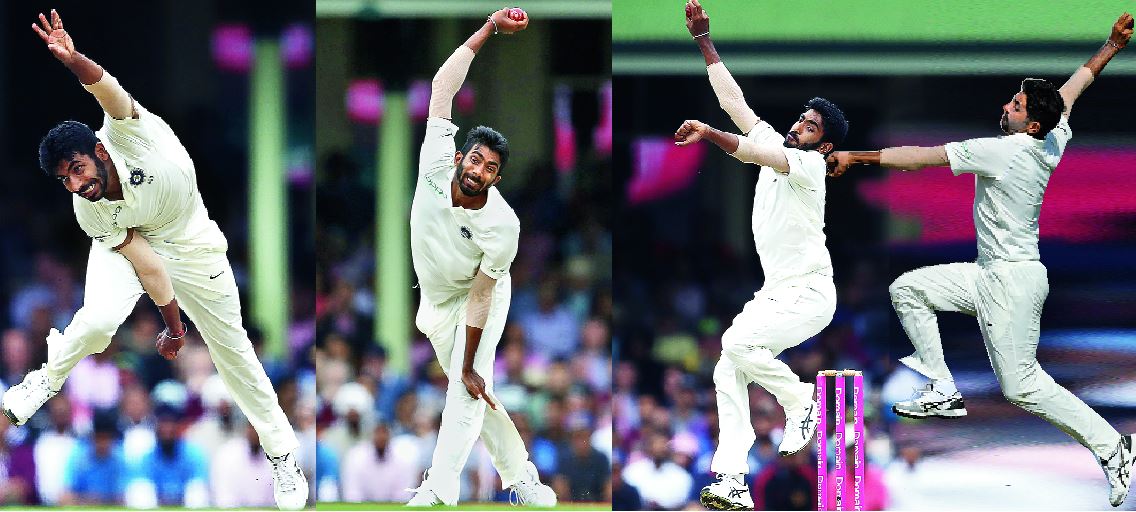 Jasprit Bumrah's action in his delivery stride
(Illustration: The Telegraph)
---
Calcutta/New Delhi
|
Published 24.09.19, 11:38 PM
|
---
India's star fast bowler Jasprit Bumrah has been ruled out of the three-Test series against South Africa starting October 2 owing to "a minor stress fracture in his lower back". Dr P.S.M. Chandran, president of the Indian Federation of Sports Medicine, and Dr Abheek Kar, orthopaedic surgeon with Apollo Gleneagles Hospital, Calcutta, explain the condition and its implications.
TT: What is a stress fracture and what might have caused it?
Dr Chandran: A stress fracture is a change in the structure of the bone resulting from excessive use, in contrast to conventional fractures that are caused by injuries or falls. The bones of the foot, legs and back are especially vulnerable to stress fractures because they are among the most used bones. Early stress fractures are marked by inflammation in the periosteum, the dense connective tissue that makes up the outer covering of the bone. If neglected, these changes can progress to cracks in the bone.
TT: Bumrah has an unconventional bowling action. Could this have led to the stress fracture?
Dr Chandran: Possibly. Fast bowling requires rapid bending movements that may impose special stress on the lower spine. It is possible that repeated fast bowling may have contributed to the stress fracture.
Dr Kar: Back injuries to bowlers happen because of several reasons: For their bowling action and also sometimes due to dehydration because of excessive bowling on a particular day. But bowling action cannot be the only reason behind such injuries.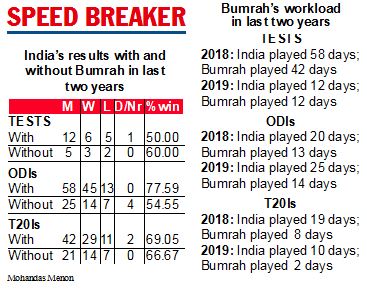 TT: What are the implications for Bumrah? How can he overcome the injury and fallout? Are there any non-medical remedies?
Dr Chandran: There is no medical therapy for stress fracture. While patients may be prescribed medicines to ease pain, if any, only rest and physiotherapy are prescribed for stress fractures to allow them to heal. The duration of rest would depend on the severity of the stress fracture. The rest period prescribed could range from two weeks to six months.
Dr Kar: Adequate rest, proper exercises and rehabilitation. The most important thing in this case is identification of the injury. Bowlers should also make sure they don't keep injuries undisclosed just because they want to keep playing. Such things complicate matters.
In case of minor injuries or a sprain, it could take three weeks or so to be fully fit. If it's major, then it may take a period of three months.
TT: What about bowlers with distinctive actions, especially when they exert on particular parts such as elbows, shoulders and wrists?
Dr Kar: If you take Lasith Malinga's case… With his action, he runs the risk of sustaining an elbow injury. The late Abdul Qadir, during his playing days, risked hurting his wrist. In fact, I remember West Indies' Jason Holder had come to get his elbow injury treated because of his bowling action (during the 2016 World T20).
So, these kind of injuries are a result of either excessive play or bowling action. Kapil Dev's bowling action, we used to say, was the least injury-prone. At the same time, so many matches weren't played back in those days. Excessive pull-back or forward bending often leads to back injury.