Boxer Pooja Rani on grabbing an Olympic berth
'I want to be completely prepared for it. I guess the real celebration will only begin after I clinch a medal'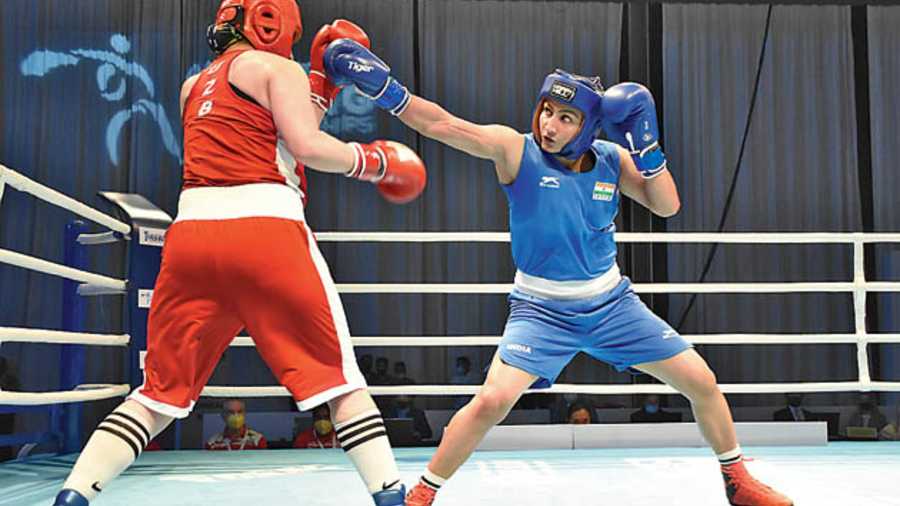 ---
Published 12.07.21, 12:51 AM
|
---
Scroll through 30-year-old boxer Pooja Rani's Twitter account and a bunch of inspirational quotes will cheer you up instantly. "My life's mantra is to keep things simple; I believe in hard work and to never forget about the people who support you during your tough times and help you in becoming successful. I enjoy the simple things in life and stay satisfied with whatever I have," Pooja tells The Telegraph. The champion boxer from Bhiwani shares her dramatic journey and her Tokyo Olympics preparations.
Congratulations for grabbing an Olympic berth! What were the celebrations like?
Thank you so much! It is a big deal for me and I am really happy. After getting the Olympic quota in March 2020, I was in quarantine at home and then the national lockdown began. There were no over-the-top celebrations back then and I spent a lot of quality time at home with my family after a long gap. Like every athlete, Olympics is my dream and I do not want to miss this chance to win a medal. I know the pain of missing out on the event from my past experience during 2012 and 2016, but now that I am finally heading for the event, I want to be completely prepared for it. I guess the real celebration will only begin after I clinch a medal.
You have been training hard. Give us a glimpse of your schedule...
I have been training really hard since last year and we had a great training stint in Italy, France and Germany during the later stages of last year. Currently, I am training with the whole squad in Italy and strictly follow the weekly plan given by our coaches. My schedule includes a predetermined routine with proper diet, complete sleep, workouts and sparring sessions coupled with a lot of work with my coaches on video analysis and studying my opponents. The focus is on fine-tuning our mistakes and the technical aspects of the game so that I peak at the right time.
We saw you training in the pool. What other innovative techniques have you adapted to, to hone your skills?
Nothing specific. Our session in the pool helps in speedy recovery. As we are close to the event, I am not overdoing anything and instead, I am keeping things simple. It is just that I am doing it with more intensity. Everyone gets a bit nervous before an event like Olympics and my goal is to be both mentally and physically prepared for the Olympics so that I can give my best performance.
Your story of how you took up boxing is nothing less than a Bollywood film! Can you take our readers through it?
It was not an easy path for me. I started playing the individual game when I was 18 years old, honing my skills at Hawa Singh Boxing Academy. My father who was servicing in Haryana Police was against it. He did not like the idea of his daughter becoming a boxer. Instead, he wanted me to be associated with some other sports, which would be more 'respectable'. But as I was getting better each day at this sport, I made up my mind to pursue boxing professionally. Unfortunately, I had to keep this a secret from my father. I used to desperately hide my bruises and cuts by staying at my friend's place. But truth can't be buried for long, and after he got to know that I am continuing my coaching for boxing, he was really angry. He stopped me from training but my coach convinced my parents for me to continue the sport.
Later in 2009, I bagged gold medal at youth state championships and a silver medal at Youth National Boxing Championships, which was a turning point as since then my father has backed me unconditionally and has been my rock. While going through this phase of my life, I realised how important it is to have support from family and once you get that, a strong sense of confidence builds inside. Now, when I look back, I would say the journey was indeed quite 'filmi'.
What attracted you to this sport in the first place?
I was introduced to boxing when I was 18 years old and it was a rising sport at that time. The Olympic bronze medal won by Vijender Singh was the most talked-about topic in the entire country and especially in our neighbourhood since boxing is very famous in Bhiwani. My college teacher's husband, Sanjay Sheoran, was a boxing coach and my teacher told me to try boxing once since my height was good. Once I began training, I developed an immediate liking for the sport and the thing that attracted me the most was its intensity and the adrenaline rush that came from boxing. I never looked back after that.
Who did you grow up watching?
I have been influenced by a lot of people in my life, especially in my family but one person who stands out from others is my elder sister Poonam. She is my best friend, my motivator and guiding light. I really look up to the way she carries herself and I try to be like her as a person. Her influence on me has been massive and it would be fair to say that I won't be where I am without her. Everyone in my family and all my friends love and respect her a lot. I want to win the Olympic medal for her the most.
You have had your highs and lows in these 10-plus years. How do you look back on how far you have come?
There have been many highs and lows in these years and there was a period where I doubted myself a lot. I was really disappointed when I was unable to qualify for the Rio Olympics after my loss to Savannah Marshall of Great Britain at World Boxing Championships. It was demotivating as it was the second time that I couldn't qualify. I had thoughts like if I would ever be able to make it and even had started questioning my abilities. I was also away from the ring for at least a year. At first, I wanted to take a break to re-energise myself but later that year on Diwali, I burnt my right hand and this incident kept me away from the ring for more than six months. It was a really dark period of my life as I was not sure about the future. When my hand started recovering, I injured my shoulder and faced another setback. I was uncertain if I could ever make it again and play at the same level.
Now that I look back, I feel grateful to everyone who supported me — my family and well-wishers who always supported and encouraged me throughout my injury lay-off. I am really grateful to Lakshya sports foundation, my sponsor since 2012, as they have relentlessly and unconditionally backed me even when I was away from the ring for a long time. They helped me with the recovery of my burnt hands and also provided me with a physiotherapist when needed. Lakshya has also supported me with a mental toughness coach who helped me a lot during the Olympic qualifiers as I was really nervous during that time.
What are your most cherished accomplishments?
It would be the 2019 Asian championships in Thailand when I won gold medal in 81kg category by defeating China's Wang Lina who was the reigning world champion at that time. I consider it a massive achievement because everyone thought that there was a bleak chance that I would defeat her but I did. It did my self-confidence and mindset a world of good as I started believing more in myself and the expectations of other people from me also increased and it helped me a lot. I would even consider getting an Olympic quota a big achievement for me and I hope to clinch a medal for my country at world's biggest event.
Pooja's victory stand:
2021: Gold at Asian Championships, Dubai
2021: Silver at Boxam International Tournament, Spain
2020: Bronze at Cologne World Cup
2020: Bronze at Asia-Oceania Olympic Qualifier, Jordan
2019: Gold at Asian Championships, Thailand
2019: Women's National Boxing Championships: Gold
2018: Women's National Boxing Championships: Gold
2017: Women's National Boxing Championships: Gold
2016: South Asian Games: Gold
2015: Women's National Boxing Championships: Gold
2015: Asian Boxing Championships: Bronze
2014: Asian Games: Bronze
2013: Women's National Boxing Championships: Gold
2012: Asian Boxing Championships: Silver
2012: Women's National Boxing Championships: Gold
2011: National Games: Gold
2009: Women's Youth Nationals: Silver
2009: Youth State Championships: Gold
Rapid Fire
Fave boxer: Claressa Shields
Fave boxing move: Left hook
A ritual before you get into the ring: Shivji prayer
Fave sports film: Chak De! India
Fave sport beside boxing: Shooting