The Board of Control for Cricket in India (BCCI) has finally agreed to come under the purview of the National Anti Doping Agency (Nada) like all other sporting associations and federations, after stonewalling it for more than a decade.

This means that all Indian cricketers will be tested by Nada, the watchdog agency for keeping sports clean. The rules come into effect from Friday. Union sports secretary Radhey Shyam Julaniya, who, along with Nada director-general Navin Agarwal, met BCCI CEO Rahul Johri and general manager (cricket operations) Saba Karim in New Delhi on Friday, said the Board had given in writing that it would adhere to the agency's anti-doping policy.
"All cricketers will now be tested by Nada. It's a win-win situation for both," Julaniya told The Telegraph. "When every association is under Nada, BCCI cannot remain outside its purview. It has to follow the law of the land."
The Board's primary concern was the contentious "Whereabouts Clause" with regard to Out of Competition Testing, something that all star India players have been wary of as they considered it an invasion of their privacy. But with BCCI now under Nada's ambit, cricketers can be tested any time, even when they are not playing.
"BCCI has a task in hand to educate cricketers at every age level about prohibited substances since 'no knowledge' is an unacceptable defence under Nada rules," said sports lawyer Parth Goswami.
The BCCI also had concerns about the standard of Nada dope-testing kits and had contracted an independent service provider for sample collection.
Moreover, the Board had argued that it was an autonomous body, and not a national sports federation that relied on government funding.
The Union ministry of youth affairs and sports, under which Nada falls, held back clearances for tours by the South Africa A and women's teams, triggering speculation that this was done to pressure the BCCI into accepting the anti-doping norms. The move seems to have worked as BCCI CEO Johri confirmed that the Board has now got clearances for both series after having waited for close to six months.
The BCCI's change of mind is an indication that Johri got the go-ahead from the Supreme Court-appointed Committee of Administrators (CoA), headed by Vinod Rai, to sign the agreement. The manner in which Prithvi Shaw's dope case was handled also added to the BCCI's woes. Shaw was given a retrospective ban for eight months after testing positive for terbutaline.
Dr Manabendra Bhattacharya, former senior scientific officer of Sports Authority of India and former head of the department of sports medicine at NIS-Patiala, said: "In the handling of the Shaw incident, none of the norms was followed by the BCCI and it was a hush-hush affair. Suddenly out of the blue the BCCI came out with a punishment for Shaw. Generally it takes 48 to 72 hours to come up with the findings of a sample. Here the lab took more than two months to come out with the result."
Sports medicine expert Dr PSM Chandran though differed, saying the BCCI went by the book in the Shaw case. "There was no ambiguity. Whoever thinks the BCCI handled the Shaw case in an unprofessional way is wrong."
Ashok Ahuja, former head of sports medicine at NIS-Patiala, said the onus will now be on Nada to become more professional. "Till date, the Sweden-based International Dope Testing Management (IDTM) has been collecting the samples of cricketers and submitting them to the National Dope Testing Laboratory. Cricket is a huge sport in India, so pressure will be on Nada also," he said. Nada also uses NDTL for testing samples.
Sports lawyer Vidushpat Singhania said Nada will have to be particular about the timeline, hearings and release of information.
"History says that in many cases it has been lax. Also the dope-control officers should be full-time employees of Nada. Now they are contracted, say for three months.
"In many cases, during hearings we have seen that Nada has said the dope-control officers cannot be called since his contract is over. The athlete though is serving the ban," Singhania said.
The focus will now be on whether the BCCI, till now an autonomous body, would become a national sports federation and come under the Right to Information (RTI) Act.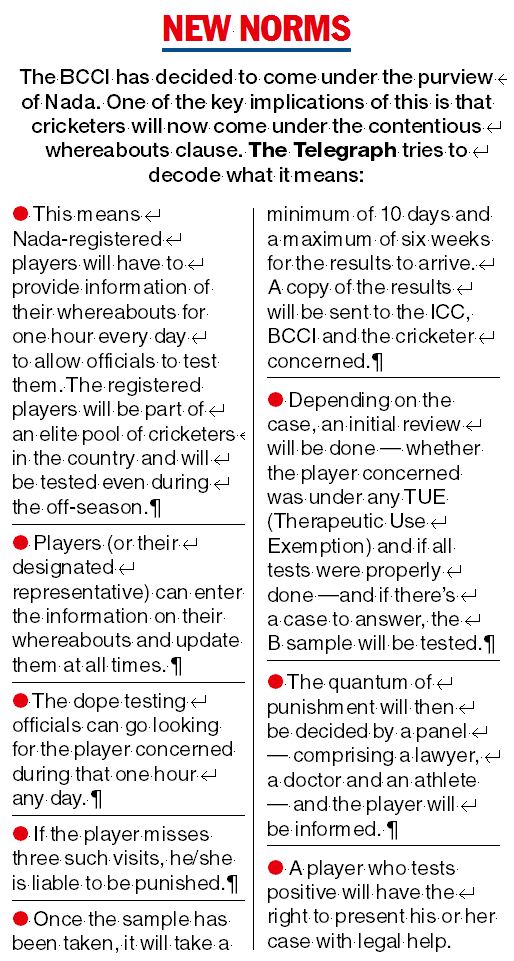 Telegraph picture