Batsman Rishabh Pant gets the nod
I feel sorry for Saha: Syed Kirmani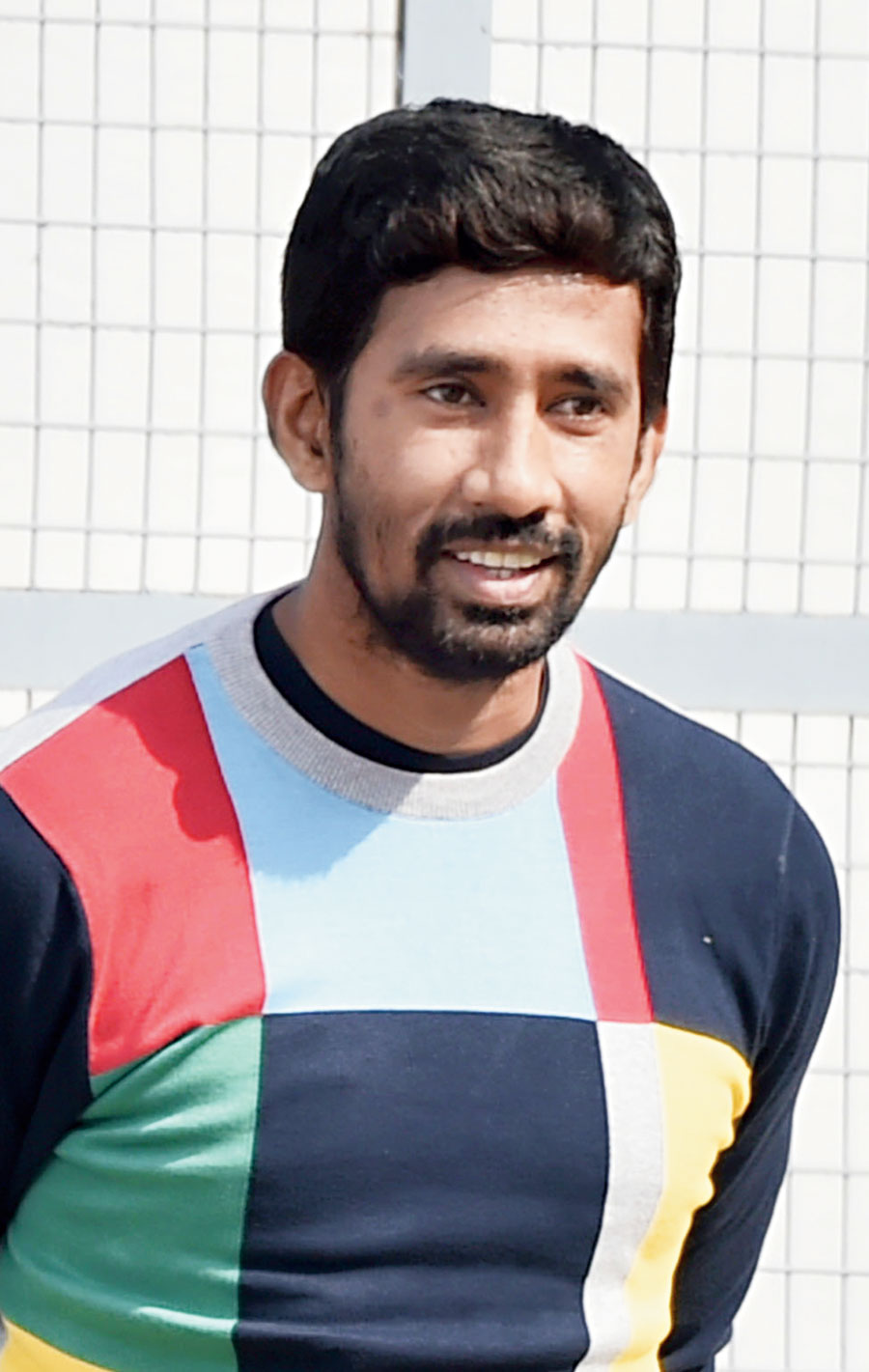 Wriddhiman Saha
File picture
---
Calcutta
|
Published 21.02.20, 09:49 PM
|
---
Rishabh Pant had to wait for a warm-up match to make his debut on the New Zealand tour. Having been ignored for the limited-overs leg, it was also Pant's first game in any format exactly a month since the Mumbai ODI against Australia, when he suffered a concussion that paved the way for KL Rahul to don the big gloves.
In the warm-up match, batting at No. 7 in the first innings, Pant lasted 12 minutes and 10 balls before being dismissed for 7.
The 22-year-old left-hander, however, made it count in the second innings with a confident approach, accumulating 70.
But it wouldn't be prudent to think that it was that innings alone which brought him into reckoning for the Basin Reserve Test. Wriddhiman Saha, India's first-choice keeper as Virat Kohli once put it, was the logical favourite but the team management's preferred faith in Pant's batting tilted the scales in his favour at the last minute.
Sources in New Zealand also revealed that the belief that a left-right combination in the batting order could upset the bowler's rhythm also worked to the southpaw Delhi wicketkeeper's advantage.
With hundreds in England and Australia, Pant's batting is considered superior but Saha's credentials can't be ignored either. A century against the West Indies in St Lucia helped India out of the rut and paved the way for their victory in 2016. Not long ago, the India captain had voiced his support for Saha. "His credentials are there for everyone to see. He's played well for us whenever he's got a chance with the bat too… We know what he can do with the gloves and with the bat as well under pressure situations," Virat had said ahead of the Test against South Africa in Visakhapatnam last October.
Does that mean the team management decided against playing a "pure keeper"? If the turning tracks in India make a keeper's job difficult, the same would apply in New Zealand because of the extra swing that emanates from the windy conditions as was prevalent on Friday.
While a superlative dismissal behind the wickets can enhance a bowler's confidence, a dropped chance will also send his morale dwindling. There's always a shade of uncertainty surrounding Pant's keeping skills and a degree of risk is certainly involved in the decision.
No harm in strengthening the batting line-up in overseas conditions but it also implies lack of faith in the specialist batsmen. A point validated by former India keeper and chief selector Syed Kirmani.
"When your top-five batsmen can't get runs, can a wicketkeeper save you from ignominy? It's illogical thinking," Kirmani told The Telegraph.
"Pant surely is gifted with immense talent but he's been very lucky to be in the good books of the team management. He's been persisted with overlooking Saha, who has been performing. I feel sorry for Saha… Pant still has a long way to go.
"Experience should always be preferred and Pant needs that at the Test level. He needs to be mature in his attitude and application.
"I made my debut in Auckland in 1976 after being groomed by Farokh Engineer for almost five years. I know how tough it is to keep wickets there… Test cricket is different," he said.
"I'm not against Pant, who is immensely gifted and should be encouraged, but Saha has been performing. Pant needs to mature."
Should Pant's keeping skills come in the way, India will have to regret dropping Saha.