Dreams do come true: Ask Bala Devi!
Ngangom Bala Devi from Manipur is the first ever Indian woman footballer to play professionally outside the country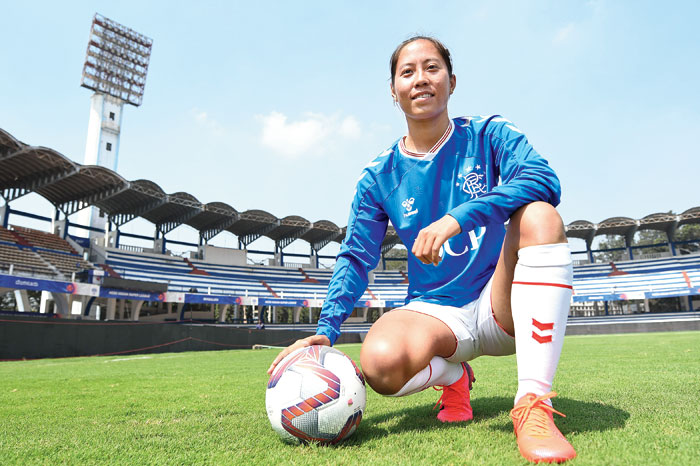 Ngangom Bala Devi from Manipur
Sourced by The Telegraph
---
Published 31.01.20, 02:01 PM
|
---
She giggles with glee and doesn't hide her excitement. Of course she is on seventh heaven having just been signed by the Scottish club Rangers Football Club. What, however, strikes you about her is her boundless optimism. The hope that 'impossible is nothing'. Ngangom Bala Devi from Manipur, the first ever Indian woman footballer to play professionally outside the country. The 29–year-old who has represented her state for 17 years and the country, 14, besides leading it, has signed a 18-month deal with the club, which will see her head to Glasgow coming week. She chatted with The Telegraph on phone from Bangalore, a couple of days after the landmark signing.
Congratulations! How many calls and text messages have you received so far? Your phone must be flooded!
(Laughs) Thank you so much! Bahut! I haven't been able to reply to all the messages yet. My phone has crashed! (Laughs)
Who informed you that this was in the offing?
Actually Anuj (Kichlu; a part of Women in Sports (WINS) — an initiative by Calcutta-based Sanaya Mehta Vyas, 'working towards providing technical expertise and creating a platform to increase the standard and improve the performance of women in sports nationally and internationally') — encouraged me to go on this trial as he thought that it was time I test myself at a much higher level. That was a big opportunity and I was very excited. The trials were in November.
How was your first experience at the Rangers Football Club?
Aisa feeling toh hota hai ke aapna desh jaisa hai. I was very comfortable and the communication was great. I played too.
What is the major difference in playing here and there?
They play at a high altitude. So they are physically a little tougher than us.
Did you feel any difference in your fitness?
Not really. I only went for a few days. Now, it'll be a long-term association... kaafi achcha ho sakta hai.
What are you expecting?
I am very excited that I am getting an opportunity to play there for a long time. My only expectation is that if I am successful, this will be an example for the younger generation.
Your parents have been supportive...
My father is an ex-footballer. He loves it that I play football. And, my mummy supports me a lot too. I have two brothers. They also support me. I also have a twin sister. Woh bahut achcha khelti hai.
You were saying things are improving for women's football in India...
The league has also started. The U-17 World Cup is round the corner. The exposure is that much more and we are getting to play with higher-ranked teams.
Who have been your inspirations?
I started in 2002. Uss samay, itne bade bade jo didilog the... I have played with them. I have learnt a lot from them.
Whose game do you love watching?
I like Sunil Chhetri a lot. He was very happy to know about my signing. I also, obviously, like Lionel Messi and Cristiano Ronaldo.
What is your training and fitness regimen like?
I work with the Manipur police. I practise in the morning with the players and coach. Shaam ko aapna training karti hoon.
How do you relax?
I am mostly watching football matches on television.
Which is the one country you support in World Cup?
England.
And, a club?
Barcelona! Now, it's Rangers too!
Do you get the time to watch films?
Not much, may be on TV. I like Salman Khan and Aishwarya Rai Bachchan.
What is your tip for the youngsters?
Don't give up in life. When I started playing, I used to dream that one day I will play football in Europe. It didn't happen then. Now, I have the opportunity because I never gave up. So, the harder you work, the better will be the results.
What is your dream for Indian football and women's football in India?
Hum log bahut aage ja sakte hai. We have a lot of capability. We need the entire country to support us.