Aussies look to set pace
Tim Paine's men will be seeking revenge against India when they clash again at the end of the year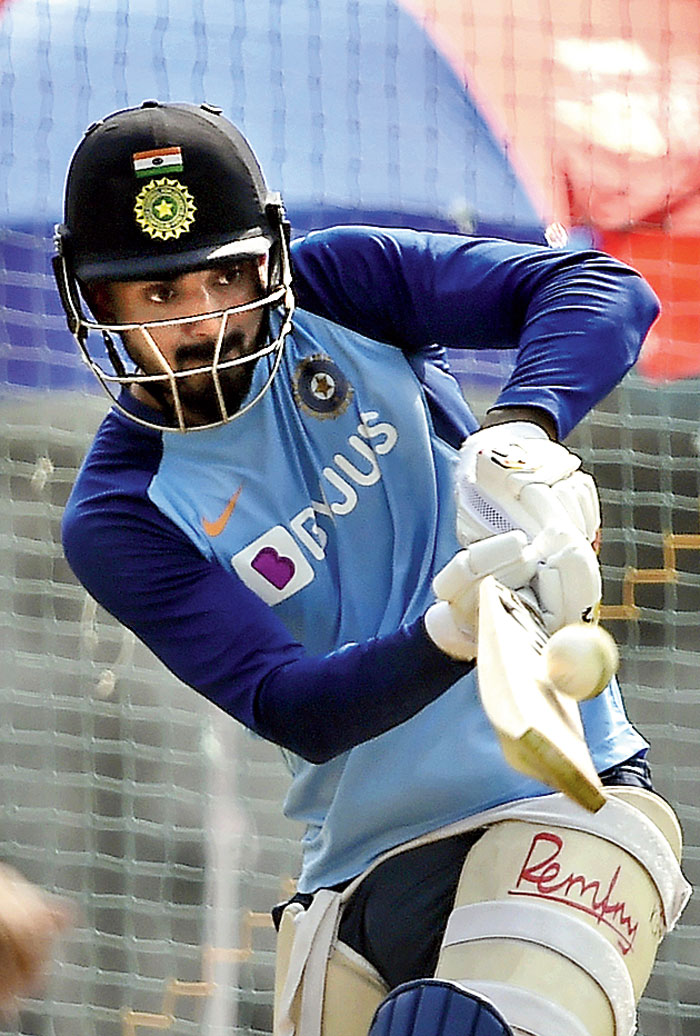 ---
Mumbai
|
Published 12.01.20, 09:34 PM
|
---
Playing the best in their own backyard always evokes a huge challenge and the Australians always relish such an opportunity. Having lost to India Down Under, the last time the two teams met in a Test series, Tim Paine's men will be seeking revenge when they clash again at the end of the year.
For now, they will be looking to restore pride under Aaron Finch's leadership in the game's shorter version. The recent results against Pakistan and New Zealand showed that Steve Smith and David Warner's inclusion has transformed them into a cohesive unit that is capable of restoring the glory years.
Not willing to take any chances, the Australians have come here with a pace attack that is considered among the best in the business — Pat Cummins, Mitchell Starc, Josh Hazlewood and Kane Richardson.
The much-famed Indian batting line-up will need to do justice to their reputation when the three-match one-day series begins at the Wankhede on Tuesday.
"I think a lot has been made of having those three guys back around, I don't think that's been done for a while in one-day cricket. It's nice to have a full complement. It would be nice to take the field with all three of them or a couple of them," said Richardson on Sunday.
"I don't know how it's going to pan out in terms of selection. I'm comfortable being that next guy in.
"So if I could take the field with those guys, it gives you a lot of confidence that hopefully when I come on to bowl, there are two or three down early. It's the biggest challenge in white-ball cricket, coming over here and playing against India on the surfaces over here. It's a lot different than Australia," said Richardson.
"The ground sizes are a lot smaller than Australia, mis-hits can often go for six. It's something we have spoken a lot about… it's nothing new. Starting today we will figure out a plan to stop some of those guys. It will be a high-scoring contest I'm sure."
It's a contest the Indians are also preparing themselves for. Rohit Sharma was back in the mix after a break during an optional training session on a sultry afternoon.
KL Rahul, with 185 runs at an average of 61.67 and a strike rate of 89 against Kieron Pollard's men, will keep Shikhar Dhawan under pressure for the opening slot, a fact Vikram Rathour acknowledged.
"It's a good dilemma to have. Rohit is an obvious choice of course. Both of them (Shikhar and Rahul) are playing well. Shikhar has done well in one-dayers, Rahul is in great form, so we'll deal with it when we have to.
"There are still a couple of days to go. The management will sit down and make a choice. I don't see it as an issue and one of them will have to sit out," the batting coach explained. He ruled out any special strategy to tackle the Australian pace trio and would treat them "like any other bowler."
"All of our batsmen have played against them quite a lot. They know these bowlers, their strengths, the areas they bowl… so the game plan will be according to that. It's a good surface we are playing on. Nothing different basically... Just take it as any other team.
"Good bowlers will trouble batsmen and Mitchell Starc is a good bowler. So people like Rohit and Virat have their own plans. All those things have been discussed and they are working accordingly," Rathour said.
The Australians are leaving no stone unturned and even practised with wet balls to counter the dew factor that is so prominent at this time of the year. "(Coach) Andrew McDonald camped out here last night to try and see what time the dew came in. Who knows, everyone is guessing. I think everyone is prepared," Richardson joked.
Dew or no dew, the visitors know one thing for sure: their fast bowlers have to win the battle against the Indian top-order. For India, their spinners will hold all the aces.