As Messi turns 35, a fanboy looks beyond the personal star
The Argentine footballer meant more than just mere commonplace joy or ecstasy. He also meant pain, heartbreak and sorrow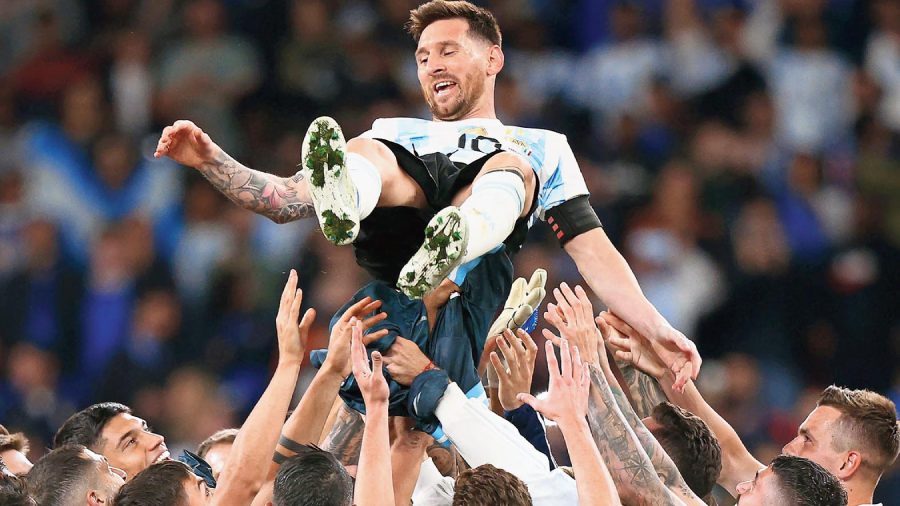 Him lifting the World Cup will probably be the ink I have been deciding to get for a while now
---
Published 24.06.22, 01:48 AM
|
---
It was an August night, a year back, when my eyes fell upon a post from FC Barcelona on a social media platform. Not diving into the caption at that very moment, and considering it to be another celebratory post for the man who keeps giving reasons to be celebrated every passing day, I liked the post and kept scrolling. It had not been a couple of faint minutes that had passed, every social media site erupted, and headline notifications started chiming in. Lionel Messi leaves Barcelona. It darted through, as a blunt shock. An unprecedented social media post announcing the departure of probably the greatest player in the world from his boyhood club, did not make a lot of sense. Coming to terms with it would have probably taken another month — just like numerous other memorable nights — in Wembley or Berlin, when everything he did on the pitch shocked everyone watching the game. But somehow, that night was different. It is that very night I realised, Lionel Messi meant more than just mere commonplace joy or ecstasy. He also meant pain, heartbreak and sorrow. Just like every other person. But not like every other hero. 
As Messi turns 35, it is acceptably the rear end of the journey for the wonderkid from Rosario. Songs of adulation have been sung, chants have been scripted and records have been etched on the pages of history, while Messi has outgrown every tag that each decade conjured to bless upon him. For a man who has seen everything, rubbed shoulders with the greatest on his course to transcend, brought every laurel possible to his name, it is difficult to look at him as anything but a demigod, a messiah-like figure to fans in Argentina and across the world, who have witnessed a genius at his performative peak for more than a decade and a half. Every word written in adoration of the man has defined his titles, the statistics, and his consistency, and suitably so. It has been the same for fans, holding his titles and numbers aloft, running a similar beat, because at Barcelona, Messi was never 'out of form'. It was untamed glory.
Three days following the post, while delivering his farewell speech at the press meet, the world saw Messi sobbing uncontrollably, his colleagues and family looking on, in silent acceptance of the reality. It brought flashbacks of an absolutely devastated Leo Messi after Argentina's loss against Germany in the 2014 World Cup final and following Argentina's loss to Chile at the 2016 Copa America. To have an icon break down might just be PR hassle for media, but it is not the most common sight around. Watching one of the greatest of all time break down, cameras locked on his face, makes one ponder and take a step back. As fans, we have been conditioned to shape icons as dehumanised figures of perfection, every move tempered, every statement economic and every decision conscious. The diminutive prodigy was destined to be the best and he did all of that, with a smile. Surrounded by seniors who acknowledged his prodigious capabilities, teammates willing to support him from behind the curtains, and managers ready to alter gameplans just to suit his flair, Messi had everything he wanted, a hermetically sealed environment, surrounded by people who would close their eyes and propel him to glory.
When the final whistle blew at the Maracana in 2014, as Germany lifted the World Cup, a crestfallen Argentine team looking on, was flanked by the team skipper staring into the blank. Not the smiling wonderkid, or the little maestro, but the captain of a footballing nation which lived to feel the sport. Leo Messi stood there with the Golden Ball in his hand, having single-handedly carried the team to the final. It would probably never come closer again, a missed chance that could alter the dynamics and bring the grand myth of Messi to debate. Could he ever be Maradona? Did he actually have it in him to be captain? Is it solely because of Barcelona's midfield? But Messi knew what a World Cup final loss would invite. He would be the one speaking into the mic, answering all questions out there. The shot of him walking past the World Cup trophy was probably the first time I tried to look beyond the aura of Lionel Messi, searching for something more real, raw and accessible. When Messi broke down after the loss to Chile, prompting him to drop comments on retirement, something felt familiar.There was frustration and hopelessness in his eyes and words. Feelings that felt extremely real, human and closer home, far closer than the sparkly figure of a god-like saviour wafting through defences, and slotting the ball through unbelievable gaps. As a child, it was almost an epiphanic moment to realise I could equate failure and loss with my personal icon.
Messi moved to Paris last year and it has not been the easiest season for him. Playing in different pastures after 20 years, with hardly any accomplishment to pursue, it was known, his new chapter would hardly be a challenge for him. But as they say, one should never write Messi off. The man rose every time he fell. His World Cup loss was followed by a treble winning season and his 2016 episode followed by a 36 league goals season and a record fifth golden boot et al. Last year, after defeating Brazil at Copa America, an emotional Messi broke down in absolute joy at his first major trophy with the national team, as his teammates ran to embrace him. Recently, having scored five in a single match, it is probably redemption season for Messi in Albiceleste colours. He walks the pitch now, with the air of a captain, a leader destined to get the hallowed crown back to the country.
At 35, one would only hope to see him carry on for years, but 2022 World Cup will probably be his last shot at a streak of glory eluding him. It would answer a number of questions and settle a number of debates, but I would not mind him not getting his hands on the trophy or hopelessly falling short. Do not get me wrong — him lifting the World Cup will probably be the ink I have been deciding to get for a while now.
Over the years, I have learned to accept Messi in shared reality. At 25, he was the revered icon, miles away, a pristine figure shining brightly, bathing in glory. At 35, Messi, for me, is human, a bit closer, shining more brightly than ever, capable of shedding a tear, kicking grass in frustration, smiling at failure and yet, bathing in eternal glory.