An India vs Pakistan match is not another game: Virender Sehwag
'Nobody can say India will win. But we expect a good performance,' Sehwag tells The Telegraph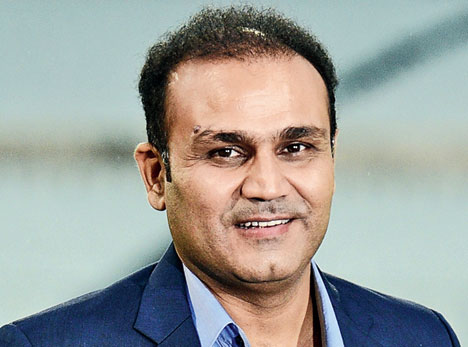 ---
Dubai
|
Published 18.09.18, 06:30 PM
|
---
Dubai: Virender Sehwag, a former cricket captain of India and a game-changing opener, spoke to The Telegraph on Tuesday, the eve of the India vs Pakistan match in the Asia Cup.
Sehwag will, by the way, be in this Emirate before the 5.00 pm (IST) start.
Q The Asia Cup is a 50-over format tournament and, so, vastly different from Test cricket. Still, is it an opportunity to lessen the massive disappointment after the 1-4 thrashing in the just-ended Test series in England?
A Look, that Test series is something of the past now and we do need to look ahead. Generally, sportsmen have to keep the past behind them and look to the today and tomorrow... Of course, that disappointment will remain, but the Asia Cup is giving a chance to get back to doing well. Sport offers no guarantees, so nobody can say India will win. But we expect a good performance.
Q Regular captain Virat Kohli has been rested. His absence leaves a huge hole in the batting...
A I see it differently... When any regular is rested, it's an opportunity for somebody to grab the chance and stake claim for one of the middle order positions. The 2019 World Cup is just eight months away, so KL Rahul, Manish Pandey, Ambati Rayudu, Dinesh Karthik... Each one of them has the chance to make a strong pitch. Ek badi opportunity hai.
Q Aren't we too reliant on Virat, the batsman?
A In Test cricket, not in the shorter formats. In ODIs, for example, we have Rohit Sharma... Rohit has three 200s in ODIs. Can't understand how, despite that, Rohit doesn't figure in our Test team... Makes no sense... He's been around for over 10 years, but has played only 25 Test matches... Besides Rohit, there's Shikhar Dhawan, Mahendra Singh Dhoni... Manish... There are batsmen who have delivered.
Q Since you've mentioned the World Cup, what would be an ideal mix when it comes to the India squad?
A Experience counts and I say that from my own experience of three World Cups - 2003, 2007 and 2011. We made the final in 2003 and won in 2011, with only 2007 a disaster. Ideally, the experience of 100 ODIs would be great, but even between 50-100 would be very handy in absorbing pressure. So, players with experience and a few not that experienced is what I'd like.
Q Afghanistan knocked out Sri Lanka even before India started their campaign... Is the Asia Cup only about India vs Pakistan?
A In one way, yes... The format for this Asia Cup is such that India and Pakistan could play each other three times, if one includes the final... Usually, jo yeh contest jeeta, wo hi sikander hota hai.
Q How should stand-in captain Rohit and his men approach Wednesday's match against Pakistan, the first between the two after the 2017 Champions Trophy final?
A It's easy to say treat the match as just another game, but an India vs Pakistan match is not another game. However, the intense rivalry notwithstanding, it's best to try and play normally. The mind needs to be clear.
Q Well, how did you approach matches against Pakistan?
A I'd be charged up because you don't want to finish on the losing side. I wanted to score or, at least, take a crucial catch or effect a match-influencing run out. Kuch kar dikhana rehta tha and it would be really tough to stay relaxed.
Q What makes the difference in such matches?
A Two things... Handling pressure better and, then, josh which can open many doors.
Q Advice on handling pressure...
A Pressure becomes less when all XI perform, for each player has a role.
Q Your first triple hundred in Test cricket was against Pakistan, but your more satisfying ODI innings against them?
A My hundreds in Kochi (2005) and in the 2008 Asia Cup in Karachi... Also, the 79 I scored in the thrilling ODI in Karachi in 2004, during that Revival Tour... We won all three matches.
Q Virat rates Rohit's cricket acumen very highly and said as much in an interview to me in 2015. Do you too share that view?
A Rohit is a good leader and I have seen that when he captains India and, in the IPL, the Mumbai Indians... Be it batsmen or bowlers, Rohit gives them confidence, which is the sign of a good leader.
Q You're not keen to talk on the tour of England, but I must ask for your take on head coach Ravi Shastri and Virat's assertion that the present Test team has been the best in the last 15 years...
A Everybody has a right to air his/her views... This period covers 2007, when India won a Test series in England under Rahul Dravid... Rahul was also the captain when we won in the West Indies a year before that... Under Sourav Ganguly, we drew in England in 2002 and in Australia in 2003-2004... We won in Pakistan in 2004... It's good to have such belief... Why, I feel I played with the best team and I say so with pride... If they (Shastri, Virat) believe this has been the best, good luck to them.
Q What's your yardstick to judge a great?
A In Test cricket, it would have to be somebody who has played at least 100 matches. If you've played that many, then you surely are a great.
Q Are we, in India, too influenced by performances in the IPL?
A If that was so, then Hanuma Vihari wouldn't have played for India, for his last appearance in the IPL was in 2015. Of course, quite a few have first got noticed in the IPL and, then, played for India.
Q What changes would you like for the upcoming two-Test home series against the West Indies?
A Young Prithvi Shaw was in England for the last two Tests... Maybe, they could bring in another opener.
Q KL Rahul plays for your franchise, Kings XI Punjab... What should be his position in the India XIs?
A Opener.
Q One more... What will bring you to Dubai on Wednesday?
A I'll be doing some work for UC Browser, which has been developed by UCWeb.