Ajinkya Rahane's mantra: Let the bat talk
The 32-year-old spoke to The Telegraph on his recent success and the upcoming challenge against England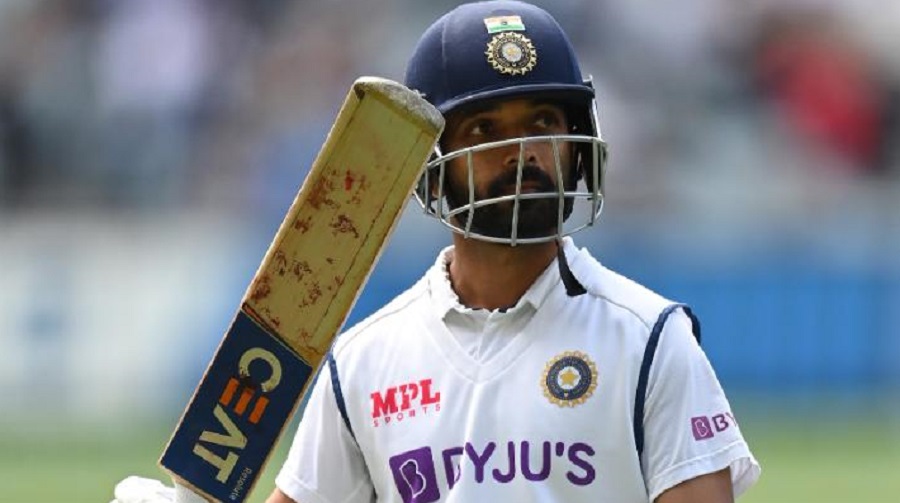 Ajinkya Rahane
Twitter/@BCCI
---
Calcutta
|
Published 31.01.21, 02:44 AM
|
---
India's series triumph in Australia has once again reaffirmed Ajinkya Rahane's credentials as captain. In winning four of the five Tests he has led so far — the Sydney match ended in a draw — the Mumbaikar has displayed a certain cool-but-steely resolve that overcomes all odds.
Rahane, 32, spoke to The Telegraph on his recent success and the upcoming challenge against England.
Excerpts
The Telegraph: You faced two tough situations as captain in Australia — rallying the team after being 36 all out in the first Test and going into the final Test in Brisbane, which was considered Australia's fortress, with an attack that comprised mainly net bowlers. What was your message to the team on both occasions?
Rahane: Everyone knows what happened in Adelaide. We played our best cricket in the first two days, but during the last one hour on the third day we played bad cricket. We decided that we didn't want to think of those bad moments again. We just wanted to look ahead to the rest of the series. I just told the boys to stay positive. I told them that our record at the MCG was excellent and so we just had to remember our past performances and give our best. This will be the best way to bounce back. I knew my bowlers were inexperienced in the last Test but I was confident they would do well and they did.
Did the final moments in Brisbane give you Goosebumps? What was going through your mind then?
Definitely, it was like a fairytale. After we won at the MCG and drew in Sydney, we were confident that we could only do better. Also, I felt the Aussies were under pressure. I told the boys that we just had to plan each and every session. If we put 300-plus runs on the scoreboard, then our bowlers can put the Australian batsmen in trouble. (Mohammad) Siraj, Shardul (Thakur) & (Washington) Sundar played beyond everyone's expectations. Shardul & Sundar showed their skills with bat too. Even in the second innings, Shubman (Gill), Puji (Cheteshwar Pujara) and (Rishabh) Pant were at their best. It has been a collective and well-planned effort.
You are never overwhelmed by emotions. Even after India won the series you hardly smiled. How do you manage to keep yourself so cool?
I've been like this from my childhood. Every player has his own character. I believe that whenever you get the opportunity, prove yourself through your performance, be it bat or ball. I follow this mantra from my age-group cricket days.
Do you think the IPL or 'A' tours have changed the mindset of our youngsters? How much of a role has it played in their transformation?
We are fortunate that our bench strength is very strong. Our fringe players have the capacity to take the burden on their shoulders and they've shown it in this series. The 'A' tours make these players very strong. Also, in modern cricket, players are very good learners. And their experience was useful in winning the series.
Your century in Melbourne is considered series-defining. Were you extra motivated knowing that an innings of such magnitude would give the side the much-needed fillip?
When you are 0-1 down in the series, your each and every step is important. I knew what I needed to do. At the MCG, the conditions were overcast. Under those conditions, it was challenging to face the Aussie attack. They were very quick. I was determined that I needed to score big and give them a strong reply. When I scored 112, I thought it was just another century for me. In my mind, the Lord's knock will remain the best. But after the series victory, with everyone talking about my MCG knock, I also realised that this was my best century. I remembered Sachin Tendulkar's knock (116 at the MCG in 1999) and watched that innings more than 5-6 times. I decided that I needed to give a similar performance and it ended on a happy note.
Why is Ajinkya Rahane so successful as captain. Is it just luck?
(Laughs) Not just the luck factor... Planning is important. When you have played with distinguished seniors in the past, you can learn from them how to read Test cricket. I played under Mahi (MS Dhoni) and Virat's captaincy and led the side in a few matches too. So I know how to get the best out of the players. The way I got support from my teammates and support staff was exceptional. That way, yes, you can say luck was in my favour. 
As a captain, do you idolise anyone? What qualities do you look in others ?
Nothing as such… As I told you, I learnt a lot from my seniors. So I always try to adopt the positives from them. I admire Sachin Tendulkar and Rahul Dravid and try to follow their style of cricket in my career. Rahul bhai had in fact called before the series and his message was to be strong mentally. He asked me to think about how I was going to lead the side and not concentrate on the result. It helped.
There was a time when you struggled to keep your place in the side. Do you think this series has given you a fresh lease of life?
Ups and downs are part of life. I don't think on those lines. Yes, at one point in time I was not part of the (2019) World Cup squad and it felt bad. But then I took the positives from that. Everyday each and every player has to prove himself. You need to maintain your class and form throughout your cricketing career. And I am trying to do that.  
You will be back as vice-captain in the England series. Will adjusting to the role be slightly difficult post the success in Australia?
I never think on those lines. In Virat's absence, it was my duty to lead the country and give the best results, which I did. Now, against England in the home series, I will be Virat's deputy. We always back each other and share a good bonding.
How would you compare the English attack to the one in Australia?
They have a different bunch of players. England have good bowlers. During the lockdown, they played the maximum cricket. They have just finished their Sri Lanka tour and have tried to tackle their spin attack. But we are in the driving seat now. If we can win the series in Australia in such a crunch situation, then there's no doubt that we will perform well on our home soil too. But I personally don't underestimate opponents... Always take anyone as a healthy opponent. That's been the motto.