Age of India in Wisden's modern history
'Smith interesting to watch, so unorthodox, but Kohli is more textbook'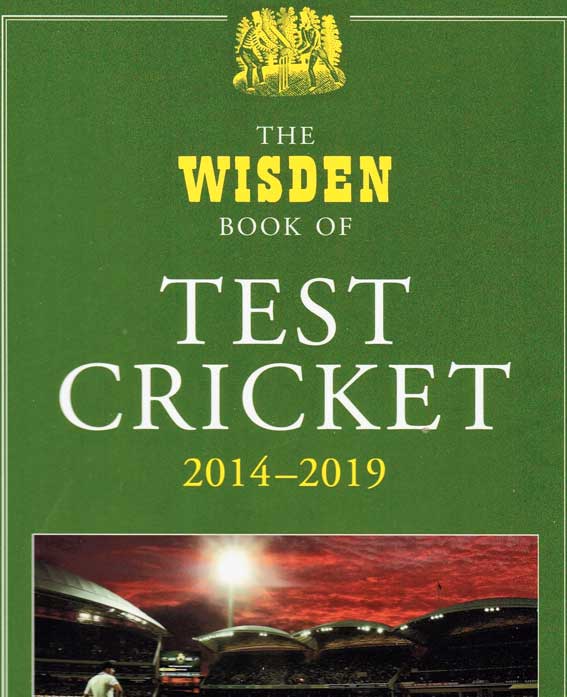 ---
London
|
Published 31.05.20, 09:03 PM
|
---
For long, lazy afternoons during lockdown, The Wisden Book of Test Cricket 2014-2019, covering 223 matches up to the end of the 2019 English summer season, is the perfect book for lovers of the game.
"It has a certain charm," says Steven Lynch, the book's editor.
"This particular book on the last five years of Test cricket covers a really good era for Indian cricket," Lynch tells The Telegraph. "They were almost unbeatable at home, often winning by streets."
"India did not have a ferocious pace attack before," he gives as a reason. "Their spinners are usually the strength of Indian bowling but sometimes they don't even get into the team."
He thinks of a Test in which "of the 20 wickets none went to a spinner which hadn't happened before. They have had lots of great batsmen — Sunil Gavaskar, Sachin Tendulkar and Rahul Dravid — and I think the current lot are equally good."
He recalls the India-England series in 2016-2017. "England scored 400 in a couple of games (in Mumbai and Chennai) and still lost by an innings — I think that has happened to England only once before."
Of the series India lost 3-1 in England in 2018, his view is "India were pretty unlucky. The score line is flattering to England. It could have been a drawn series or even 3-2 to India with a bit of luck or doing DRS at the right time. There were some close games.
"It's striking how Virat Kohli makes a big contribution in almost every game – and if he doesn't, then someone else steps up. I suppose India's challenge, in time for the next edition, will be to win consistently away from home. They won the last series in Australia. They have to do it more than once. They have just lost in New Zealand — in a series that's not in this book — which I guess is a reminder of that. But it's got to be good for cricket in general if India has a healthy cricket scene. I hope they will continue to treat Test cricket as just as important as the other formats, and I think they will while Kohli is in charge."
Lynch, who is also deputy editor of Wisden Cricketers' Almanack, goes on: "Kohli is super to watch. It's a toss-up between him and Steve Smith as to who is the world's best batsman at the moment. Smith is interesting to watch, as he's so unorthodox, but Kohli is more textbook. And I like the way he always looks astonished when he somehow gets out.
"Rohit Sharma was phenomenal during last year's World Cup, then transferred that form to Tests. And Cheteshwar Pujara is like a proper old-fashioned Test batsman. Then the bowling – India have never had the best pace attack in the world before, but now it's another toss-up between them and Australia.
"Jasprit Bumrah is great for cricket because lots of people will be trying to copy that action. And the spinners, Ashwin and Jadeja – it's strange to think that they sometimes don't even get a game despite having superb stats. I do wonder whether India missed a trick in last year's World Cup by leaving Jadeja out so often.
"India's youth teams are very strong, too — so I think you will see a situation in India like you had in Australia not long ago, when great players like Stuart Law and Darren Lehmann hardly got a look-in in Tests. The strength in depth must be the envy of all the other countries — even Australia don't have that sort of bench strength just now."
For an Englishman, Ben Stokes, who bears comparison with Ian Botham from another generation, is the stuff of dreams after his performance last year in the World Cup and in the Headingley Test when England were shot out for 67 in the first innings, were 73 short of victory when the ninth wicket fell in the second innings and in danger of losing the Ashes to Australia. England witnessed a miracle, thanks to 135 not out from Stokes. Also memorable was the morning in Nottingham in 2015 when Australia were bowled out for 60.
"It was the shortest opening innings in any Test match – and that's going back to 1877," emphasises Lynch.
His book on Test cricket is a bit like an Andy Warhol painting – a soup tin painted many times is transformed from the prosaic to a work of art. It is much the same with statistics from over 200 Tests.
Lynch explains the history of The Wisden Book of Test Cricket. "Bill Frindall, the old radio statistician, did the first one in about 1978. And when Frindall sadly died, they asked me to take it on. So I've done the lot since 2000. This is actually the third one I've done."