A wiser Vinesh Phogat rises with every fall
World No.1 wrestler has learnt to take setbacks in her stride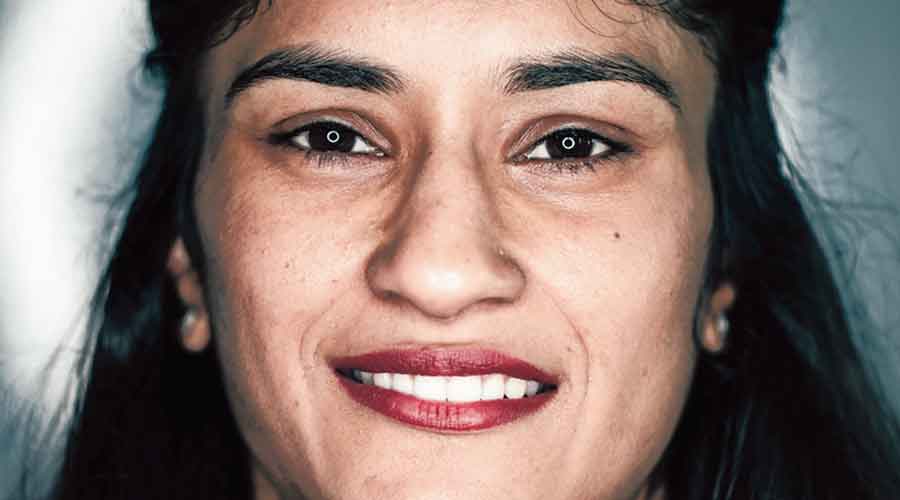 ---
|
Calcutta
|
Published 24.04.21, 01:41 AM
---
Vinesh Phogat has had to grapple with the lows in life quite early in her wrestling career. But she has emerged wiser and stronger from the setbacks and is confident that no disappointment would be able to take her down any more, it would only inspire her to try harder.
The world No.1 53kg wrestler, who is one of India's major medal hopes at the Tokyo Olympics, has been having a good season so far, winning titles at Matteo Pellicone (Rome) and the Asian Championship (Almaty).
The Asian meet, however, was deprived of its sheen with the withdrawal of the Japanese, Chinese and Korean wrestlers.
"A slight disappointment at pullouts which I soon shrugged off. I harbour the same feeling towards every competition, irrespective of the opponent. Clinching the gold made me feel that I am on the right track, going the right way," Vinesh said during a media interaction facilitated by the Sports Authority of India on Friday.
"I've reached 85 per cent in my performance and I intend to peak closer to the Olympics," added the twice Commonwealth Games gold medal winner.
Vinesh was inducted to the Target Olympic Podium Scheme in 2015 and the total amount she has been supported with in the current Olympic cycle is Rs 87 lakhs. This is excluding of the total Annual Competition and Training Calendar (ACTC) support of Rs 51 crores provided by the Sports Ministry to the Wrestling Federation of India for the financial years 2019-20 and 2020-21.
A knee dislocation during her 48kg quarter final bout against China's Sun Yanan at the Rio Olympics in 2016 had put paid to her hopes. Then in 2020, the Olympics got postponed and much uncertainty hangs over the Games this year too. She herself was afflicted by the coronavirus.
But does she ever think 'why me' after a setback?
"Previously I did think 'why me'. Not anymore. In 2016, what happened was disappointing. But now I am mentally ready for any setback. I have taken a lot of lessons from my setbacks. I've realised that this is the universe's way to make you tougher. This is the law of nature. An athlete, like any other person, has to face ups and downs in life. Hence I take the downs in my stride now.
"I used to emotionally break down previously. But now I have become matured. If I lose today, I know I have flaws which need to be remedied. I have controlled my aggression and have become mentally strong.
"Last year the Covid situation worried me, but now that the qualifications have started, I feel good. And even if, God forbid, the Games do get cancelled, wrestling won't come to a halt. That's the way I look at life now."
Teenagers Anshu Malik and Sonam Malik have qualified for Tokyo. Besides being happy for the youngsters, Vinesh also smiled and said: "The first big positive is that I won't be the sole woman in the wrestling contingent."
Bajrang Punia, Deepak Punia and Ravi Dahiya are the three men who have qualified for the Olympics.
Vinesh leaves on a training stint to Bulgaria on Sunday, followed by trips to Poland and Hungary.
Thankfully for her, none of these countries have imposed restrictions on travel from India yet nor are there any quarantine rules.
"That saying, I am ready for any change. I can confidently say that I will suffer no mental breakdowns should any of my plans go awry," said the 26-year old who refuses to "pine for what is not."