'I am a Tamil, but country more important than the community'
Exclusive • Murali, owner of 800 Test wickets, doesn't see himself as a genius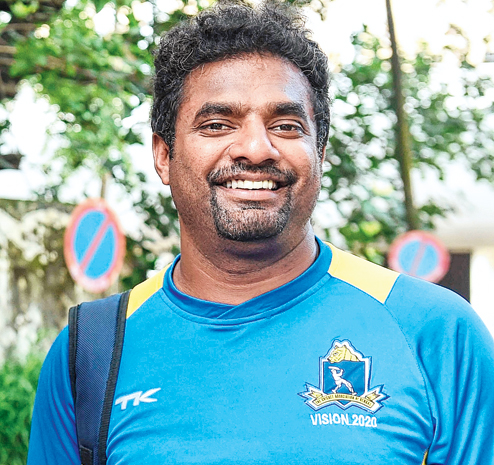 ---
Calcutta
|
Published 02.10.16, 12:00 AM
|
---
Calcutta: Muttiah Muralidharan, now 44, spoke to The Telegraph the other evening.
Besides being a mentor/consultant, Murali is into business and is the chairman of the multi-million dollar Ceylon Beverage Can Pvt Ltd, located some 45 minutes from Colombo.
Murali and wife Madhi have two children - son Naren, daughter Krisha.
Excerpts...
Q Nobody believes that your world record of 800 Test wickets will ever be surpassed. What's your take?
A You never know, somebody could do one better. Obviously, the bowler will have to play a lot of Test matches, 140-odd and pick up six wickets in every Test. Legends can be born at any time.
Who, then, could better your record?
(Ravichandran) Ashwin... At 30 he's not old, has already taken over 200 Test wickets in less than 40 matches... If Ashwin plays for around 10 years more, he'll definitely have a good chance. Nobody had predicted I'd get 800 Test wickets, yet I did, going well past Shane Warne's 708. It's a cliche, but records are meant to be broken.
From magician to genius, you attracted many labels during your 19 years as a Sri Lanka cricketer. Have you seen yourself as, say, a genius?
No. Cricketers largely entertain, they don't invent. I'd say some of the scientists are geniuses. A genius would, for me, be the person who developed the machine which can print labels on 2,400 cans of beverages every minute. That's the speed of the machines in my plant, but I'm told there even are machines which have the capability to print labels on 3,600 can per minute. That's the work of a genius, besides so many other examples, big and small.
Well, were you born to be a world-record holder?
I was lucky to find out that my talent lay in bowling off-spin, so luck does play a part... Everybody has some talent, it's just that you need to spot it yourself or somebody has to spot it for you. Once the talent is known, you work on getting better, making maximum use of that talent. Obviously, you need to be strong in the mind, having the ability to equally accept both the ups and downs.
You'd been targeted by a section of the Australians in the mid Nineties, yet Cricket Australia has been seeking your help as a consultant...
The Australian public never made me feel unwanted, it's just that a small section at the grounds had an issue. The fact that the Australians want me to work with their players means they know I didn't do anything wrong.
The Murali Harmony Cup got over recently... You've been doing more than your bit to bring the two communities (Tamils, Sinhalese) together...
We started the tournament in 2012 and, yes, it's a small vehicle for reconciliation... In Indian Rupees we'd probably be spending 1 crore, but it's worth it. We also organise a ladies tournament, so it's not just for the men.
[The 2016 edition was played in Kilinochchi, administrative capital of the LTTE when it held sway in Northern and Eastern Sri Lanka.
Incidentally, former Sri Lanka captains Mahela Jayawardene and Kumar Sangakkara spent a couple of days each interacting with the participants.
Murali presented the Cup to the winners, Mahinda College.]
You've also been picking a Unity Team, drawn from the best players in the tournament, from North and South, and sending them overseas for exposure...
It's about reconciliation and I'm grateful to a host of former players, all legends, for supporting the cause and the Goodness Foundation I run with Kushil Gunasekara... Sir Ian Botham and Kevin Pietersen have helped take the team to England and Dubai, respectively... Emirates and Nike have pitched in too... Allan Border, Kapil Dev, Sourav Ganguly... They've all lent a big helping hand. I'm indebted to each one of them.
Am curious... Haven't the politicians tried to get involved?
No... No. We get the necessary government permissions, though.
Do you see yourself first as an ambassador for Sri Lanka or for your community?
(Passionately) I am a Tamil, but the country is more important than community.
Did you ever feel discriminated against, because of being a Tamil?
See, when I was young, our house got burnt... Then, the family business really took a beating in the 1983 riots... When you are young, you do feel the effect of such things... We have relatives in South India and the family did consider relocating. However, my father (Sinnasamy) wanted to remain in Sri Lanka. So, that idea got dropped.
Had your father not resisted, you could have played for India and not Sri Lanka...
Or, maybe, not played international cricket at all.
To go back to the riots of 1983 and the earlier instance when your family house got burnt down... Weren't you scared?
One did feel scared, but I was sent to the St Anthony's College hostel and the environment there made me feel comfortable... The fear went away because I found that there were other communities too in the dormitories, not just Sinhalese... We did have fights, as all schoolchildren, but never on communal lines. It was in St Anthony's that I developed a deep love for cricket, realised I had some talent.
The final one... Despite being a world-record holder, you've remained humble... No airs about you ever...
I realised my talent and built on it. Of course, never allowing success to get to my head... Early on, I'd realised that the mileage and publicity comes only with success. So, I just focused on working on my strengths... This is the real me, happy doing my bit for Sri Lanka... Happy doing my bit for reconciliation.