YouTube Music arrives in India at a crucial time
A new music streaming service offering official songs, albums and thousands of playlists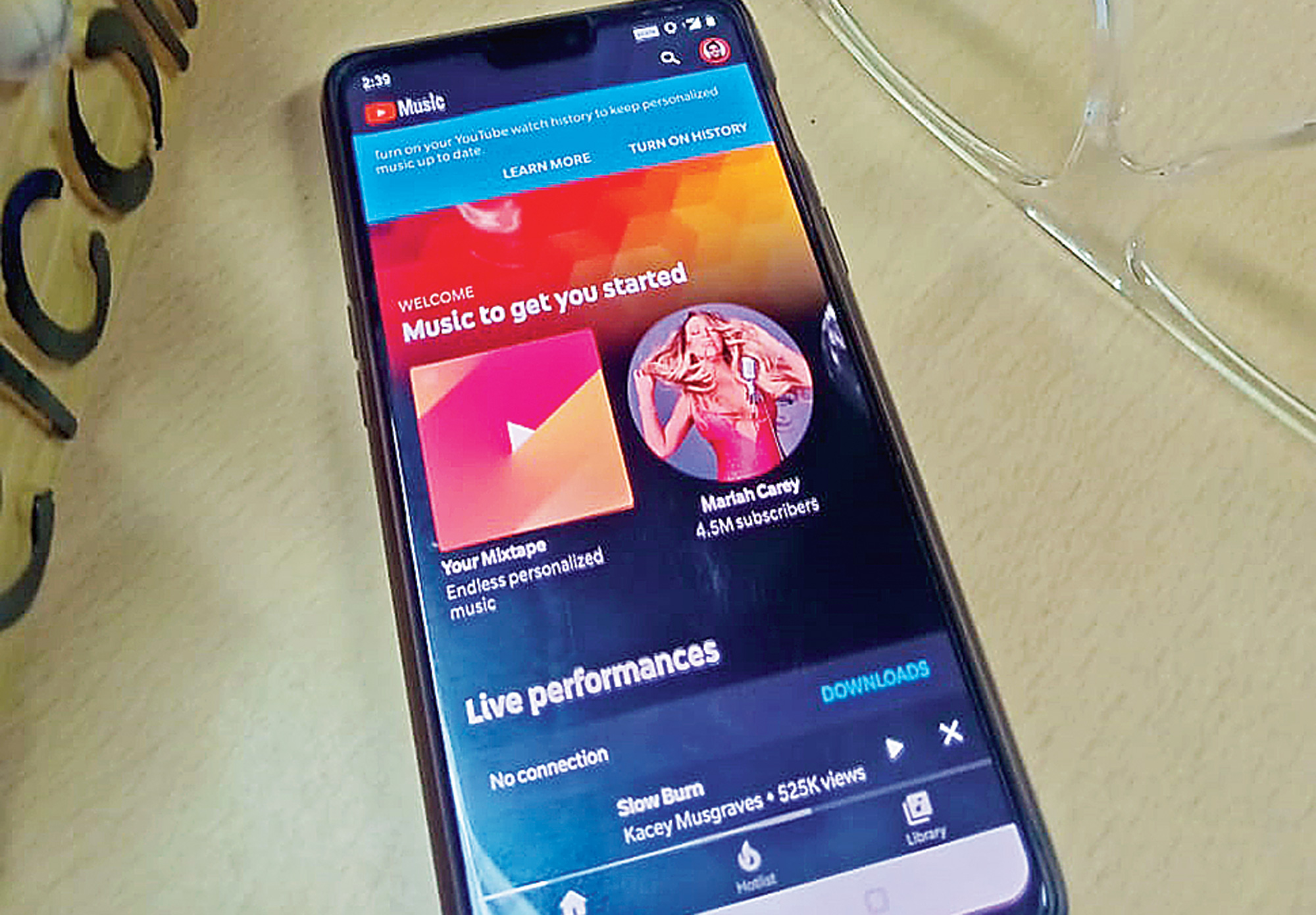 YouTube Music
The Telegraph picture
---
Published 13.03.19, 08:11 PM
|
---
Spotify arrived in India late, very late... only last week. Yet, it has enough power to hasten the arrival of another global big music streaming app — YouTube Music, which is a standalone service. Already available in the US, the UK, Australia, New Zealand, South Korea and several other countries, the service from Google offers a personalised experience.
What is YouTube Music?
Simply put, it's a new music streaming service offering official songs, albums, thousands of playlists, besides a huge catalogue of remixes, live performances, covers and music that's difficult to find elsewhere. Earlier, one had to switch between YouTube and a music streaming app. Now, it's all in one place.
Is it better than Apple Music or Spotify?
It depends on who you ask. After using the service for a day only, one can say the service takes excellent advantage of the Google search engine, allowing you to find songs whose titles you may not remember correctly. For example, "Bruce Springsteen on OST" turns in results like Streets of Philadelphia (from the movie Philadelphia) and The Wrestler from the OST with the same title. Also, we enjoyed the fact that if a track is available only in the form of a video, one can switch off the visuals.
But from the point of view of a music lover, the app makes you feel that you are still using YouTube. Besides, the high-resolution music one enjoys on Spotify is missing here. Speaking in favour of Apple Music, you can store your personal music and access the same through the same app. When it comes to Google, you can upload your personal library on Google Play Music, which is a separate app.
Is it free of ads?
Subscribers of Google Play Music will get YouTube Music Premium membership at no extra cost. Otherwise, you can enjoy an ad-free experience starting at Rs 99 a month. And, of course, there is a free option which comes with ads.
What about YouTube Premium?
Available for Rs 129 a month (and includes membership to YouTube Music Premium), it offers an ad-free experience with background play and offline downloads for millions of videos on YouTube, as well as access to YouTube Originals, like Cobra Kai and BTS: Burn The Stage. Premiering on March 27 is Priyanka Chopra's If I Could Tell You Just One Thing in which we will see her in conversation with the likes of fashion designer Diane von Furstenberg, actor Awkwafina and gymnast Simone Biles.
Is there anything else one should know?
Apple is making an entry into TV streaming service, which will be announced on March 25. Rumoured to be a Netflix-like service, in recent months Apple has made a string of content deals, such as Carpool Karaoke, which is already available through Apple Music. The company has also made deals with stars like Reese Witherspoon, M. Night Shyamalan and Steven Spielberg.
Also, in the US, Spotify Premium has recently included Hulu (allows instant streaming of television series) at no extra cost. The future is, indeed, wide open!