Worldwide Developers Conference: Swift and sure
Before WWDC unfolds, three Indian app developers take us through their coding journey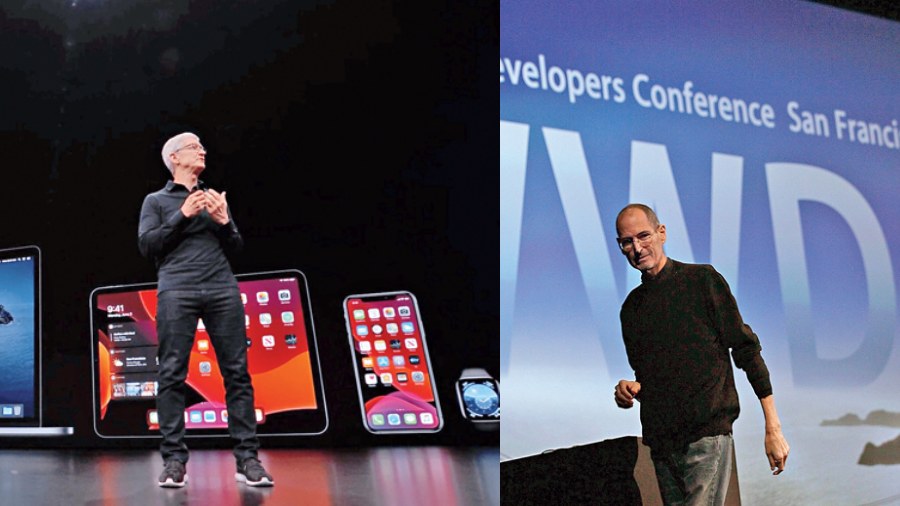 (L-R) Tim Cook addressing WWDC; Steve Jobs at WWDC 2011, which turned out to be his last
---
Published 29.05.22, 02:12 AM
|
---
Soon after returning to Apple in 1997, Steve Jobs made quite an impact at the company's Worldwide Developers Conference where he laid out Apple's software strategy going forward. We heard of OS X, a game-changer. Every year, one of the most important events of the year for app developers takes place around June — WWDC where the technology we use are announced. Rival companies also tune in because Apple invariably sets the agenda for the year. Set to unfold between June 6 and 10, the world is eagerly looking forward to new features that will arrive on all Apple hardware, besides upping the privacy quotient. It is also a platform where developers get a chance to showcase their app skills. We spoke to three Indian developers — all of them ace when it comes to programming using Swift — who have been past WWDC scholars and are looking forward to this year's event, which many label "Christmas" time for developers. Computer programming saw a seismic shift in 2014 when Apple's Swift programming language was introduced. It was unlike anything we had seen because Swift was made for the average programmer, allowing one to code the simplest of mobile apps. Throw into this the tool Apple calls Playgrounds, which is an effective way of teaching yourself to code.
Pawanpreet Singh was a young developer in 2014, who a couple of years earlier had come face to face with a MacBook that his sister had bought. With no documentation within reach, he wondered what could be achieved with this machine that developers wouldn't be able to on other platforms.
His life changed when he became a WWDC scholar in 2016. Today, he is among the best iOS developers around and is helping Ultrahuman (as engineering lead) with its app development on iOS. To understand where he stands, we need to look at what Ultrahuman is up to.
The brainchild of Vatsal Singhal and Mohit Kumar, Ultrahuman has come up with a bio-wearable that many fitness enthusiasts are wearing. The bio-sensor contains an Abbott CGM or continuous glucose monitoring system, which comes with an applicator. There is a microfilament which is hair-like. It penetrates the skin and reads from the interstitial tissue and not the blood; it, in fact, just about penetrates the skin. Once set, the system continuously measures your glucose from something called the interstitial fluid, which is present right beneath your skin. And that's like a proxy to blood glucose.
Pawanpreet, of course, has a busy schedule but never too busy to stop him from clinging on to everything that gets announced at WWDC a few days later. "When you are working as an iOS developer, it will be the most happening week of the year. You get to see what's coming next. I am always excited about what's coming next, be it in hardware or software. I get to know what I will do rest of the year. This is the week, 70 per cent of iOS developers don't sleep because of all the time zone issues. In case we get stuck with anything, there are labs and we can approach Apple engineers for assistance. They are very approachable and very active on the Apple forum. When the beta features come in, we get feedback assistance. The Apple team does a commendable job," Pawanpreet tells us over a call from Abu Dhabi.
After Ultrahuman's ultra-successful run in India, the company's founders have been encouraged to take their product to new markets and the UAE is on top of the list. With the product set to launch "very soon", Pawanpreet is super busy. After UAE, other markets are in consideration.
Prior to Ultrahuman, he had a very successful series of stints, starting his career by joining LimeTray as an iOS developer, helping restaurants go online, followed by Zomato which aims to improve restaurant discovery and dining experience. Next he joined Zolo, India's largest co-living platform, to lead the iOS team. With an objective of enhancing my skill set, he decided to give designing a go, by helping Prayoga team design an app that targets to improve yoga postures
"Before iOS and Swift, I had to work on things like C# and Windows Apps. The best thing about Swift has been the ability to learn a new language right from the start. In college we were taught languages that were 20 years old. In 2014, we saw something brand new launch. Being an iOS developer, I get to see the results of my coding immediately."
Pawanpreet is Ultrahuman's first employee. "I remember the first discussion we had. People work out by having a goal. So shaadi is one of the goals. A marriage is coming up in two months and I have to lose a few kilos or put on a couple of kilos. People are committed to such goals. So, we thought of something like transforming in a certain period of time. When I had first put this device on, I immediately saw how my body reacts to food. Rajma-chawal is my favourite food but how can I optimise my intake. Ultrahuman has a lot of potential. India has one of the largest incidences of pre-diabetes and metabolic disorders. The same goes for the Middle East where a large percentage of the population is pre-diabetic or has a metabolic disorder. This is a mega global health crisis that affects a billion people. It is important to optimise their lifestyle. We want them to optimise their intake," he says.
To get the most out of 24 hours, he keeps his AirPods Max on. "The sound quality and noise cancellation I get from it is mind-blowing. My productivity level goes up when I wear it. And then there is the MacBook Pro of course, which I can buy every year." Kanishka Chaudhary
Life begins at 8am for Kanishka Chaudhary. The first-year undergrad student in computer science decided to become an iOS consultant early on in her life. Currently based in Hyderabad, her nine-to-five job at Loyalty Juggernaut Inc involves what she loves most — working around iOS projects. Only when she returns to her apartment at 5pm, the focus turns to studies and the distance-learning course she is pursuing from University of People. After dinner, her attention turns to Swift Anytime, a platform she has built with her friends Mayank Gupta and Etisha Garg.
There's a lot happening in the young coder's life but she wouldn't like to change anything. "This is the perfect age because I have the energy. At times I feel a burnout, which is when I take a day off and then again back to work. Usually I read self-help books and now I am focussing on literature. I am downloading books across genres," Kanishka says over call.
There's more to her than this. She has been a WWDC scholar in 2019. "I was 15 when I saw the event. I was the youngest that year. I had just passed Class X and I had booked a trip to California. It was a life-changing experience for me and I learned what iOS could do. You will find people from all backgrounds, all age groups… you will find a nice mix of old and new developers. Seeing what Apple does and seeing new technologies, for a 15-year-old girl it appeared like a new path. It helped me shape my life."
After an eventful week in San Jose attending WWDC and interacting with engineers in 2019, she kept learning iOS development and Swift alongside her high-school curriculum. In mid-2020, the application she made for the Swift Student Challenge 2020 got selected. Around the same time, she started interning at a Bangalore-based start-up, Parjanya (June 2020). "There are a lot of aspects to WWDC. When you are a young student and you are still deciding on the work you are going to do in the future, WWDC offers a better perspective. Watching Tim Cook make his presentation gives hope, you decide on your path."
Her love for coding was awakened at the age of 12-13 after she came across an article in a magazine. "I focussed on iOS development along with my school curriculum," says the young developer for whom the MacBook Air is the device of choice because of its lightness. She says that once a person becomes a WWDC scholar, connections are made. "I guess it is all about connections. You can stay in touch with developers. The help doesn't end with just an edition of WWDC."
The other passion project is Swift Anytime (swiftanytime.com), which she started with her friends in 2021. The initiative was to build a platform that serves all the needs of worldwide iOS developers where everyone can brainstorm, learn and grow together. "We are a team of eight Indian developers who are collectively making learning iOS development possible the way everyone loves."
She has chosen giving back to society as her long-term goals . "I want to be a giver. I want to help other developers. And I want to be good at what I do."` Vidit Bhargava
Vidit Bhargava is the person who easily gets absorbed in the visual essence of a place. One of the finest coders in India, he is best known for the app LookUp, which he started building in his final year in school. The idea was to make learning English simpler for those who don't speak it natively. To make learning words fun, he and his brother released LookUp in 2014 and built on the app's feature set over the years.
"For LookUp I am working on improving the learning component of the app. Just last year, the app introduced a vocabulary building tool which lets users take quizzes every day to build their vocabulary (behind the scenes, there's a sophisticated spaced recognition algorithm that sets up the questions for each day, based on the user's collected words) and it's doing very well with lots of feature requests. I am working on ways to improve that and making vocabulary building an even better experience," says Vidit.
Meanwhile, work continues on another app called Zones. "Working in multiple time zones can be tricky. Trying to set up meetings or calls, where people are in different time zones is an oft-lamented pain point. Zones simplifies that, through an easy-to-use app that also connects with iOS Extensions to simplify time zones in different contexts throughout the system. Zones will be available on the App Store for all Apple platforms this summer," he tells us.
There's more to him — his WWDC scholarship, which came in 2016. "The WWDC Student Scholarship gave me the encouragement to work on my own apps. Prior to the scholarship, I was looking to apply for internships, preparing for further studies even. But the conference introduced me to a community of developers who were just as excited about them as me, some even developing software independently for more than a couple of decades. It was the first time I realised I could also take up indie app development as a career.
"Two years after the scholarship, when I graduated, my goals were clear. I wanted to continue building my apps and improve them to be the best in class. The scholarship and two years of continuous development had given me the encouragement I needed to take the leap in setting up my own app development studio right after college."
Perhaps there is a youngster you know who can be the next WWDC scholar. What does it take to reach that level? "For the 2016 application, we were asked to create an iOS app showcasing our skills and submit a link to any other apps that worked on. I was new to programming so I decided to keep my project technologically simple but focused on creating a delightful experience that people loved. For the scholarship application, I built an app that showcased work as an app designer but snuck in an Easter egg where the users could use the app in a chat bot mode and ask questions about my work. Chat bots were big at the time, and so an Easter egg that used 3D Touch (which had just been introduced with iPhone 6s) to activate it seemed fittingly fun for the application about someone who loves staying up to date with technology news amongst other things. I also spent a lot of time writing a genuine essay explaining why the scholarship would be helpful to me and how it'd help me grow as a developer. I also shared a link to LookUp, which was still a new app back then. The fact that it had been a part of App Store's 20 Under 20 feature in 2015 helped my application too."
LookUp's been fortunate enough to receive a lot of love over the years. People love the app, which maintains a 4.7 star rating globally in over 4,000 ratings. "The 2016 scholarship was just the beginning of the relationship with Apple. Over the years, I have got a lot of guidance from the team at App Accelerator. The guidance is seldom prescriptive but it nudges you in the right direction," says Vidit.