Word games are an excellent way to pass the time. But usually they are of interest only to logophiles or word lovers. Word Villas, however, gives this genre a fresh twist with its story and decoration elements and, in doing so, makes it interesting for a wider audience.
The main gameplay is much like a crossword puzzle where players have to fill in boxes with letters to form words. They can choose only from a select number of letters. Since there is no time limit, it might seem easy at first but it quickly gets tricky. Every level that you complete gives you coins. To keep things interesting, when you continuously match new words, you get bonus coins. Entering additional words that aren't listed in the puzzle also earns additional coins, which can be used to buy word clues. Some rounds feature words that are worth extra coin. Every level that you complete gives you coins Sourced by The Telegraph
Yes, unlike traditional crossword puzzles where you guess the words based on the clues given, here you have to buy hints and clues with the coins you collect. This gets difficult very fast and you will find yourself out of coins pretty soon.
The unique aspect of Word Villas is its story — it is not often that a word-based game has one. You get the chance of a lifetime to design a seaside holiday resort. Frustrated with your day-to-day life, you jump at the offer and decide to be part of a journey filled with drama, design and, perhaps, a chance of finding the love of your life. You are joined by your cat on this journey and meet many other people along the way.
After every level, you get points that help you complete story levels. These levels are tasks you need to do to clean up the place. They range from clearing up the mess to decorating — which is the most interesting part because you get to choose from three options for the area you are decorating. You can always go back to redecorate an area to satisfy your creative urge.
It is satisfying to see the old hotel get transformed into a sprawling new establishment.
The graphics and animations make the game come together. They look premium and make you feel like you are transforming the place into something magical. With every task that you do, the story progresses and reveals the secrets of the old hotel and unfolds new stories that you can be swept away into.
VERDICT: Word Villas is a fun game to play and is a unique combination of word puzzles and interior decoration. Sometimes, players can get stuck and getting out is really difficult without paying. But if you like crossword puzzles and are looking for a story and design-based experience around it, Word Villas is the game for you. I would go so far as to give it a nine out of 10 rating.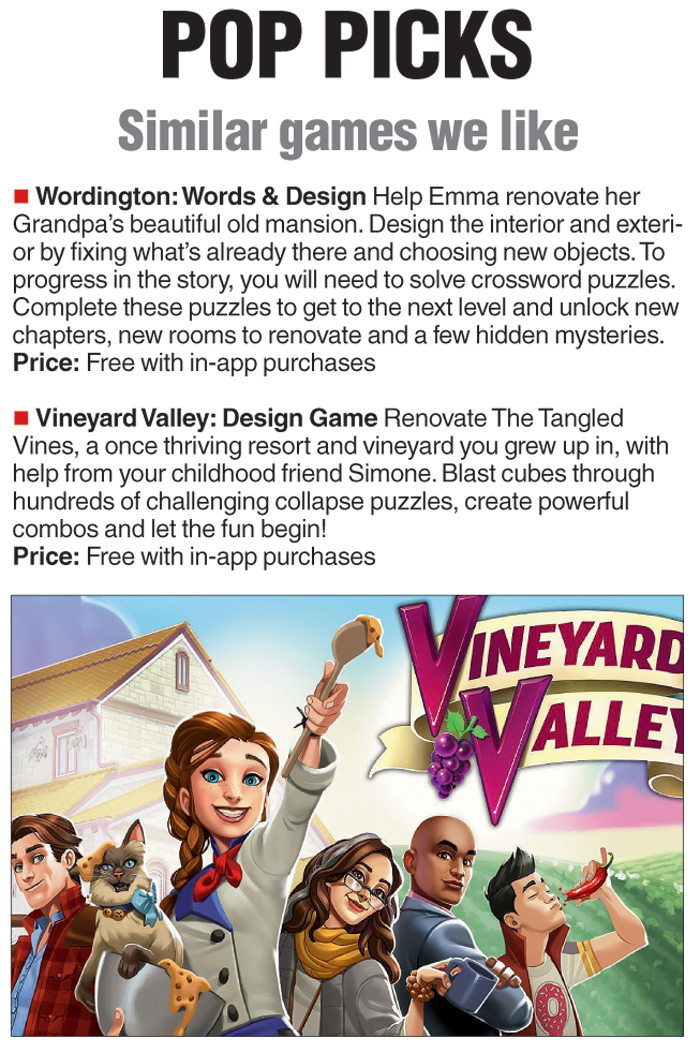 Similar games we like: Wordington: Words & Design and Vineyard Valley: Design Game The Telegraph