Why most buyers would prefer to buy Galaxy Z Flip3 5G
The body and hinge are made with what Samsung calls Armor Aluminum, which is reinforced with other metals, lending the phone extra strength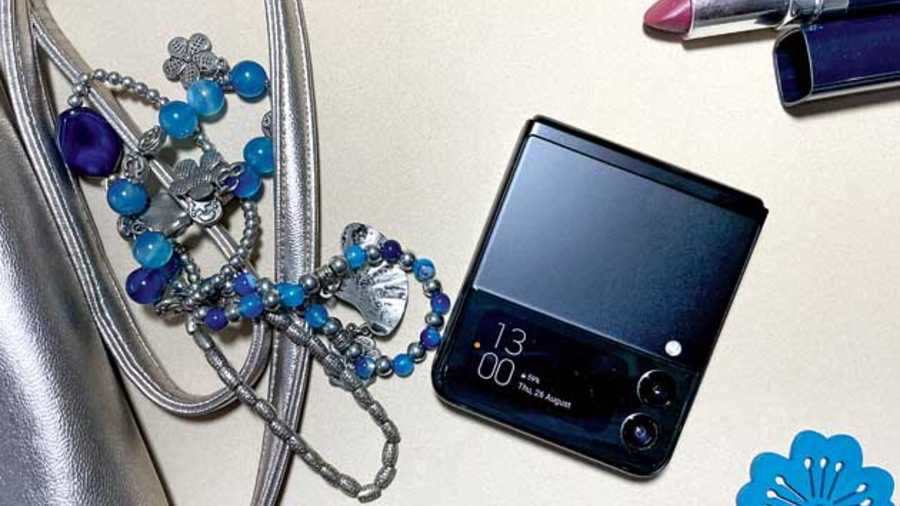 The best thing about Samsung Galaxy Z Flip3 5G is that it opens up to become a full-fledged smartphone.
The Telegraph
---
Published 27.08.21, 01:48 AM
---
Years after the smartphone as we know it appeared, there was a brief period during which the likes of Anna Wintour and Rihanna went the flip way, that is retro-chic with clamshell phones. It didn't last long because, let's face it, we had already become slaves to the smartphone with its Internet and app capabilities. That's changing.
A few days ago, Samsung sent in their latest, the Galaxy Z Flip3 5G, smartphone for review and though it's too early to give you a full dive in, first impressions point to a promising road ahead. I won't bore you with specs, which you can look up on the company's website, but the intention is to drive home a few points. The Z Flip3 can well be the first foldable phone many may consider buying. No, not because it's cheaper than the Z Fold3 5G but owing to the fact that it's more like a regular phone, which simply folds in half.
It may have a strong influence on how smartphones may get designed in the future. At the moment, most of the slabs don't slip into the pocket, let alone make a lifestyle statement. Not that the Flip3 can easily reside in your jeans' pocket but there is certainly room for it among those who prefer trousers or carry smallish handbags.
The second outcome could be akin to that of the iPhone 12 Mini — cut down on media consumption. With the Flip you won't always browse social media or YouTube without rhyme or reason. Even though the Flip opens up to a screen size that matches a "normal" smartphone but you have to open it to get to the browsing aspect. So, there is that one extra thing you need to do and most of us don't like undertaking it — an extra step. There is a small screen on the outside of the phone, which showcases notifications, messages and even allows access to the camera. Oftentimes we hold up our phone to take a picture but then end up spending an hour browsing unnecessarily. With the Flip3, simply do what you need to do. Then close it shut.
The third encouraging reason to pick up the Flip3 is the body. The body and hinge are made with what Samsung calls Armor Aluminum, which is reinforced with other metals, lending the phone extra strength. Plus, there is Corning Gorilla Glass Victus to handle falls and scratches. The company has powered up the phone with a flagship chip and 120Hz adaptive screen refresh rate, which are both important for long-term usage.
The fourth factor working in favour of Flip3 is the "flex" mode or keeping the screen open at different angles, helping with video calls and watching short videos.
Interestingly, 20 years ago it was almost impossible to find a phone that wasn't a flip. 10 years ago the clamshell phone went out of style. Now a fashion trend has come a full circle. And anything trendy will inspire many brands to play a similar game. Samsung Galaxy Z Flip3 5G (upwards of Rs 84,999) will be a trendsetter.