Walk the talk, trip and jump
It's a physics-based game of balance, and although the controls are simple, walking is not as easy as it sounds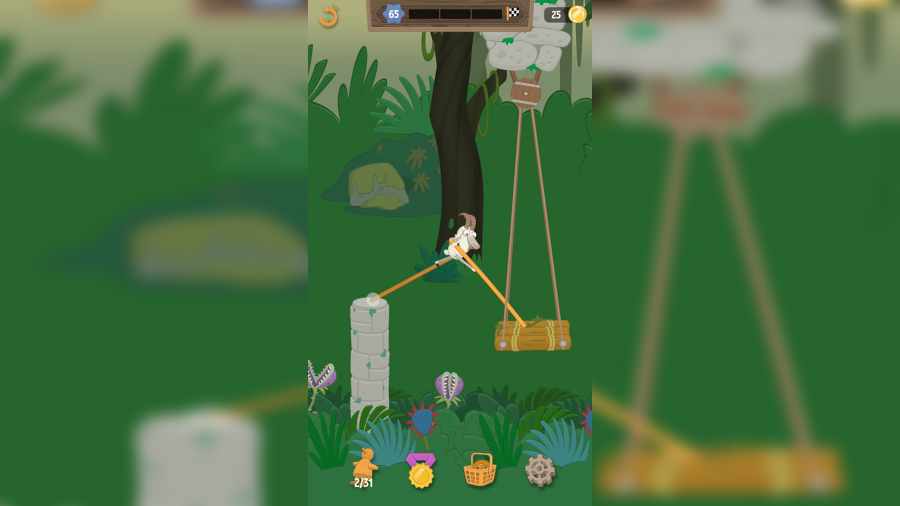 ---
Published 18.04.22, 12:36 AM
|
---
Game: Walk Master by Two Men and a Dog
Genre: Arcade, walking simulator
Platforms: Android and iOS
Who would have thought that a game about walking could be fun? Well, Walk Master is a physics-based game about walking on a pair of very tall stilts. And it is indeed a lot of fun.
In Walk Master, you control a goat on stilts trying to walk across obstacles and reach the end of the level. With a swipe, you drag each stilt forward one at a time. It's a physics-based game of balance, and although the controls are simple, walking is not as easy as it sounds. The challenge only increases when a variety of obstacles, like floating logs, running pigs and angry coconut-throwing monkeys get in your way. The game is easy to pick up, but difficult to master, and the journey to mastery can provide days of enjoyable gameplay. The cartoony graphics are well-polished with funny details. The sounds are well designed too. The game can be played both in landscape and portrait mode with just one hand.
Each level takes about a minute to complete, making it good to play in short, quick breaks. You will fall a lot, but the checkpoints in each level make sure that it's not frustrating, as you don't have to start from the beginning. The game keeps things fresh by giving a lot of variety in obstacles set in different worlds. You eventually learn to do advanced things like jumping, bouncing on one stilt, or even skating on ice, and all of it feels exhilarating. It is this exhilaration that keeps you hooked. The daily bonus levels go a step beyond and break the rules of the main game. In it, you get to experience different gameplay once every day, like having just one stilt or having rocket legs! With the coins earned from the levels, you can buy comical new characters. Some of the characters are absurdly funny, from a sausage with a face to a walking paperclip, and each has its quirky sound effects. A nice feel-good moment in the game is when you complete a level, and all the other characters you've unlocked come in and lift you like a rockstar! Unfortunately, the game shows forced ads after every few levels. This is quite off-putting in this age when most mobile games only show optional ads that offer rewards. And despite adding a lot of variety, the game starts to feel repetitive after about a hundred levels. But I will admit that is true for any game, and it is still fun to cross the obstacles again.
VERDICT: Walk Master makes you realise walking is not easy but, in this game, it is quite entertaining for such an everyday activity. If you're looking for a simple yet challenging game that can keep you hooked for days, I'd recommend checking Walk Master out. I rate it eight out of 10.