What made ice cream floats special in the mid-1980s was what followed it: A visit to a tiny amusement arcade where the central piece was Pac-Man, the lovely maze chase video game in which the player controls the titular character, making it chomp dots while avoiding ghosts. The once-in-six-months activity shaped the years that followed. An Atari game console turned out to be my 10th birthday gift and two years later a computer on which I came up with some simple games and then the more complicated stuff. These were my wonder years, which inspired me to take up writing on science and technology.
This was also the time that I saw what is now considered a classic — Big starring Tom Hanks. His character Josh Baskin is great but what stayed on with me was the image of the penny-operated arcade fortune-teller machine called Zoltar. When you are a kid, you want to grow up and lead a homework-free, ice-cream-slurping existence. Zoltar makes Josh's dream come true. And since then I have wondered if Zoltar existed, which made me fall in love with penny-arcade machines, making me stop in my tracks each time I spot one even now.
A slice of history
Once the video game boom of the early 1980s faded, arcade operators started disappearing while much of the history of this genre made its way to landfill sites. What remains? The question was answered on a lazy Monday morning walk towards Pier 45 in Fishermans Wharf, San Francisco. This was last month when the sky was not overcast with talks of coronavirus in most of America and conversations at the many chowder and seafood eateries hovered around the upcoming US elections. After a hotdog and an ice cream were tucked away, a short walk brought me to Musee Mecanique.
The entrance belies the magical universe that's beyond the glass doors. So far I had only seen pictures of The Thimble Theatre. I have dreamt of playing Tetris. And wondered what a Swiss music box sounded like. In a heartbeat I was back to being a grown-up Josh Baskin — literally running around the place with a stash of quarters and with all the time in the world. Bringing history alive has never been more interesting, right from the moment I came face to face with Laughing Sal, one of San Francisco's most "nostalgic landmarks" originally located at Playland at the Beach from 1940 to 1972. Also known as the 'Fat Lady', she has made people smile and/or terrified children for ages.
At this hidden gem of a landmark in San Francisco are many arcade machines, some more than a century old but all in working condition, making the right noises. Dan Zelinsky, the owner of the arcade, who spends his days roller-skating around the 9,300sq ft place, was missing, yet everything works like a well-oiled machine.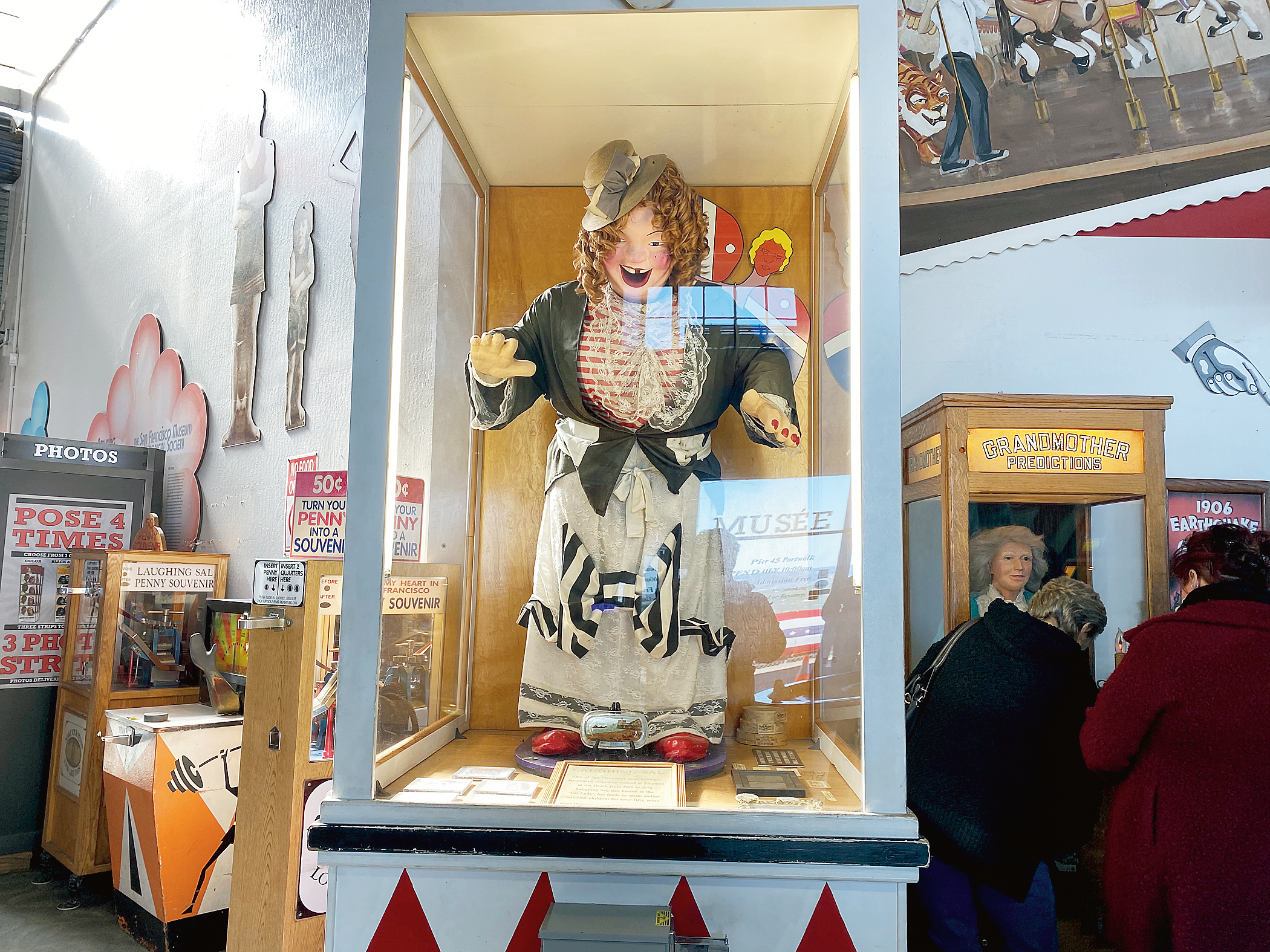 Laughing Sal is one of the most popular attractions at Musee Mecanique. The Telegraph
Dan wants people to enjoy Musee Mecanique like they would on a playground.
Don't go by the looks of some of the members in the penny arcade parlour; everything rocks. A seven-year-old would enjoy this place as much as a 70-year-old. By the time Dan's dad, Ed Zelinsky, started the business in 1933, he was well seeped in the world of penny arcade. It's said that when Ed was around 11 years old he won a prize playing a game of Bingo. Instead of money, he won five quarts of motor oil, which he sold for 75 cents, enough to take a ride to Golden Gate Avenue where, for five cents, he bought a penny skill game that you put a penny in and get five balls and it goes around in a circle. Not only did he put quite a few pennies into it, he taught his family and friends to do the same and the money he saved up helped him buy more equipment.
Games people play
The collection of more than 300 items range from orchestrions (a large mechanical musical instrument designed to imitate the sound of an orchestra), antique slot machines, animations and arcade video games.
Beyond Laughing Sal who greets visitors from inside a glass box, there are mind-boggling exhibits, like The Sharpshooter, French Execution (completed with decapitation!), Arm Wrestling and, one of my favourites, The Carnival, which is the biggest exhibit and comes with a moving ferris wheel, a working carousel roundabout, a dog wagging its tale, boxing show, a lady on the trapeze wheel and what not! It has over 150 moving figures.
If that wasn't amusing enough, there are other quirky items like moving picture cards of the great San Francisco earthquake and fire of 1906 "vivid in 3D" and Sex Appeal meter (which declared I was "overrated"!)
One wouldn't leave the place empty-handed. After helping Junior Deputy Sheriff in the Wild West, one can get cards printed of All Stars baseball players and party postcards featuring The Rolling Stones and The Beatles. Yup, these English rock 'n' roll stars really won the Americans over in the 1960s. Then there is the two-minute photo booth where one can get a series of photos printed. Trust me, they come out really good.
By the time I played Tetris and Atari Star Wars the umpteenth time, nostalgia had set in, reminding me the way games like Space Invaders went on to become one of the most popular arcade games and how titles like Donkey Kong made the concept of levels popular in gaming. The era of Atari, Nintendo and Sega may look retro to children waiting for the next PlayStation or Xbox but these were game changers decades ago.
The video game crash of 1983 dealt a big blow to arcades and in the years that followed there were a few moments of happiness, like the release of Street Fighter II in arcades and then came Mortal Kombat and Tekken. By 2005, according to The Verge, there were only about 25 arcades in New York City, down from hundreds a decade before.
Such random thoughts clouded the mind during the three-hour stay at Musee Mecanique and $40 later I realised why Dan Zelinsky treats the place like a playground.