Video conferencing platform Zoom has its task cut out — tackle privacy-related issues
App goes from being popular among 10m users to at least 200m in the last few weeks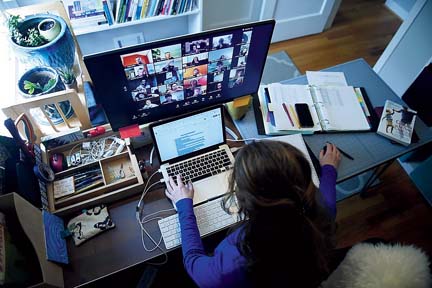 ---
Published 17.04.20, 03:04 PM
|
---
Getting to see the people you care most about — even if it's on a screen — matters a lot during the coronavirus lockdown. In the last few weeks, most mailboxes have been flooded with invitations to join meetings and e-meet friends over Zoom, the videoconferencing app that many consider a savior. No wonder the app has gone from being popular among 10 million users to at least 200 million in the short period of time.
At the same time, several notifications have gone out from established companies to abandon Zoom, at least for official work. Google has asked employees to refrain from using Zoom from company-owned computers. Elon Musk's rocket company SpaceX has banned its employees from using the video conferencing app citing "significant privacy and security concerns", according to a memo seen by Reuters. There's more. NASA also doesn't allow its employees to use Zoom. The problems don't stop there: Singapore has suspended the use of the tool after "very serious incidents" in the first week of a coronavirus lockdown. And BBC reports that Zoom has been banned from government business in Taiwan. And this week, the Indian ministry of home affairs has issued an advisory, saying Zoom is not a secure video conferencing platform "for individuals" and has mentioned guidelines for those who still want to use it.
What's the problem?
Broadly, two big issues. There have been reports of Zoombombing in which trolls crashed people's video meetings and bombarded them with inappropriate material, reports The New York Times. The second aspect involves privacy policy, which the same publication pointed out that the platform does not clearly address whether it shares data with third parties. Earlier in the month, the US newspaper also had an article on a data mining feature on Zoom, which allowed some participants to "surreptitiously have access to LinkedIn profile data about other users". The company says the issue has been tackled as it took users' privacy "extremely seriously".
These are major flaws that the company has been tackling in the last few weeks. Eric S. Yuan, founder and CEO of Zoom, has said in a statement on April 1: "We recognise that we have fallen short of the community's — and our own — privacy and security expectations. For that, I am deeply sorry." The company has taken a quite a few steps to tackle the concerns and Yuan has said that "over the next 90 days, we are committed to dedicating the resources needed to better identify, address, and fix issues proactively. We are also committed to being transparent throughout this process. We want to do what it takes to maintain your trust."
The founder also had to issue another statement a couple of days later to address the platform's encryption scheme, something The Citizen Lab, a research organisation at the University of Toronto, found to be weak. He said: "In our urgency to come to the aid of people around the world during this unprecedented pandemic, we added server capacity and deployed it quickly — starting in China, where the outbreak began. In that process, we failed to fully implement our usual geo-fencing best practices. As a result, it is possible certain meetings were allowed to connect to systems in China, where they should not have been able to connect. We have since corrected this."
Obviously, all this puts a sense of insecurity in the minds of users.
Should you use it?
Zoom has fixed many of the issues so that your happy hours with friends can continue. It's good that the company has enacted a "feature freeze" to shift focus on our trust, safety and privacy issues.
If you are uncomfortable with the service, there are several options in the market while educational institutions and offices should look at software options that go beyond videoconferencing, which is just one of the needs of the hour. Alternatives include Microsoft Teams, Cisco's Webex and Apple's FaceTime.
Google plans to add a Zoom-like gallery view to its Meet videoconferencing service and let users start calls and join meetings right from Gmail, Google's GM and VP of G Suite Javier Soltero has told Reuters.