Top Trusted Web Development Companies in India in 2022 - 23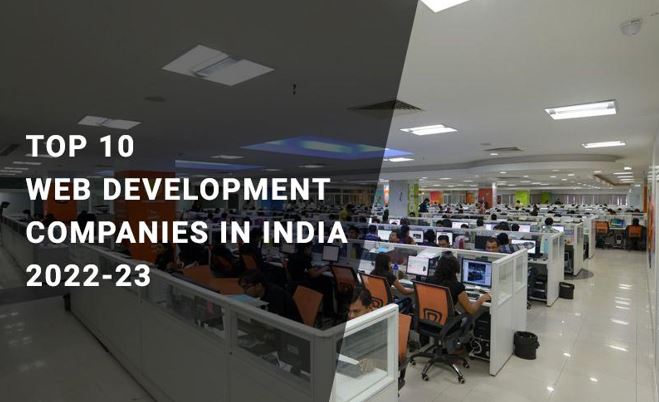 ---
Published 30.11.21, 02:01 PM
|
---
It's impossible to run a business nowadays without an app or a website, as website allows businesses to connect with a wider audience and convert more people into customers. Today everyone needs a digital platform to reach out to maximum target customers across globe as web application tends to communicate with more users and converting users into subsequent clients.
However, choosing the top web development companies in India has become a challenge for businesses owners and start-ups. The selection of a right agency in a country like India is a time-consuming process and requires a lot of research. To overcome this daunting task, we have curated an exhaustive list of best web developers in India that delivers impeccable web design & development services in 2022.s
Based on research and client review, following are the top Web Development Companies in India 
1. Web Development India
Web Development India is an award-winning website development company that partners with global enterprises, small and medium-sized businesses (SMEs), and start-ups to provide end-to-end   custom software, web, and mobile applications development services. Founded in 2010 with a team of 100+ web developers, they have delivered more than 300+ successful projects to clients based in India, USA and UK. They believe in the power of collaboration and the importance of evolving as a digital company with international reputation. This philosophy allows Web Development India to be one of the top web development companies in India for last 5 + years.
2. Tata Consultancy Services
TCS is the largest and most reputed Indian IT services company in the world by market capitalisation. TCS clients range from Fortune 10 companies to mid-size companies. They provide wide range of professional web development services across various industry verticals like finance, Insurance, Healthcare, Real-estate, and Logistics to name few. TCS is headquartered in India with its largest campus located in Chennai with a team of more than 50000+ developers and consultants.
3. Redington India Ltd
Redington India Ltd is most acclaimed web development company based in India with offices in the USA and India and with a team of 100+ web developers. The company delivers custom and impeccable website development services with best UI/UX design pattern. Since 2000, Redington has been an award-winning digital company that has brought software ideas into reality with help of technology.  Redington is most trusted company to work with SMEs, and start-ups across 30+ countries including USA and India.
4. Capgemini
Capgemini is a multinational IT company that provides consulting, technology, professional, and outsourcing services. It is one of the top multinational corporations in the world. They are well-versed in artificial intelligence solutions, cloud computing services, application development services, SAP solutions, blockchain solutions, and nearly all industries. It is headquartered in Paris, France with operations in India. 
5. Tech Mahindra
Tech Mahindra Limited is a top web development company based in India that specialises in information technology, cyber security, artificial Intelligence, blockchain, chat bot, custom software development and outsourcing/offshoring, and product development since its inception in 1986. Tech Mahindra employs about 10,000 people with its global presence in US and UK as well.
6. Larsen & Toubro Infotech Ltd
Larsen and Toubro is a global technology consulting and digital solutions company that has helped over 400+ clients with about 32,000 employees across 18+ countries. They have a revenue of 10000 + Cr and market cap of 30,000 cr. They are industry expert in social analytics, IoT, and cloud computing and blockchain technologies to name few.
7. Wipro
Wipro is a global company that specialises in consulting, technology, custom services, and outsourcing. They hire about 280K people in more than 60 + countries including India and US. They serve wide range of industries including healthcare, retail, banking, finance and have good experience in AI solutions, cloud services, SAP solutions, app development services, and blockchain solutions.
8. HCL Technologies
HCL is a top web development company in India that adheres to CMMi 5 standards and was founded in 1999 with a team of 5000+ engineers and offers a pre-vetted pool of top 3% software developers from there nine 9 locations. HCL is a global digital transformation company trusted by Fortune 500 companies, mid-sized businesses, and start-ups. This company has 250K employees across 100 + counties with 900+ active clients.
9. Infosys
Infosys is most respected and award-winning Fortune 500 company based in India that provides custom services such as App and Web development, Blockchain, Healthcare, Retail, Salesforce, SAP, Software Development, Banking & Operations, and more. They have a team of ore than 600K developers and consultant who work for the company, and delivers solutions to more than 500+ customers in 120 + countries.
10. Zensar Technologies
Zensar Technologies is a global leader in app, web and digital product development company with a team of 100k consultants. Century Fox, Regal Cinemas, Synchrony Financial, National Geographic, and other global clients who have used their team of mobile strategists, UI/UX designers, and software engineers to create 900+ mobile and digital solutions.