The iPhone photographer is maturing at a fast pace
The Telegraph spoke to three professional photogs who are at the top of their game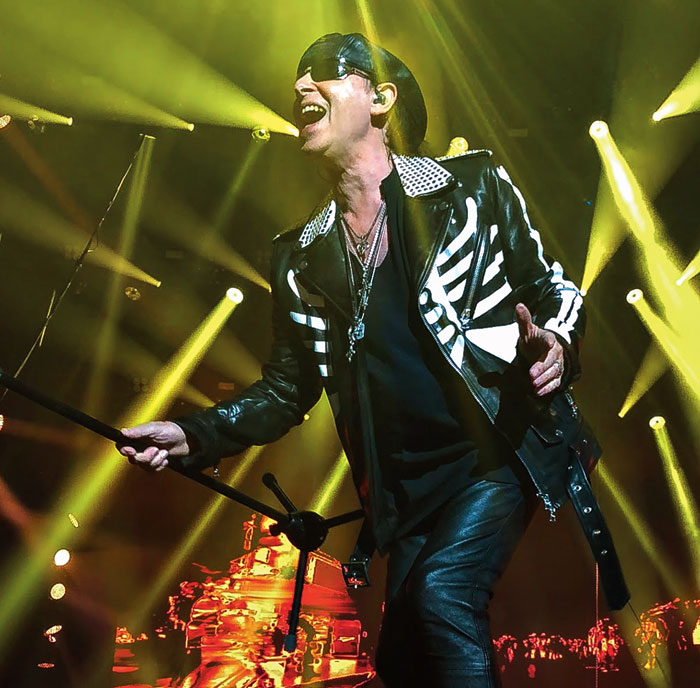 ---
Published 25.01.20, 02:25 PM
|
---
At some big festivals in Europe, one is usually allowed to shoot only one song for the main acts. I think we were shooting Alice Cooper and we got only 60 seconds before being kicked out of the photo pit. One has to be on the ball," says Chennai-based concert photographer Vikram Chandrasekar.
Represented by Agence Dalle (a music stock photo agency that works with publications around the world) in Paris, he is always on the move. One day The Scorpions. Another day Alice Cooper. And then maybe Dream Theater. In fact, guitarist Steve Vai's management during his India show had commissioned Vikram exclusively. Covering shows from Wembley to the O2 in London to Accor arena in Paris, the one thing that's always keeping him company is the iPhone (at present he uses the iPhone 11 Pro Max). The Telegraph caught up with the man behind 'The Concert Photographer' and the content production company Moving Pictures Media. Vikram Chandrasekar,

iPhone 11 Pro Max
Were you always interested in becoming a concert photographer?
As far as I remember, like from the age of 10 or 11, I have been very influenced by music. My father was an avid music lover and was influenced by music from a young age. Somewhere along the line — I think it was in my eighth or ninth standard — I started playing the guitar and I always wanted to be on stage but somehow not practising enough and all of that turned towards giving it up. But the desire to be on stage was always there. My dad was an enthusiastic collector of cameras. So there were cameras lying around the house. Concert photography came about when the band Parikrama was coming to town (Chennai). This was like 11 years ago. I got in touch with Subir (Malik), who is the band's keyboard player. I wrote to him saying I had never taken pictures of musicians or shows. Subir kind of gave me my first break. When the band finished, I took a picture — which is common now — of the band with the audience in the background. It was a fabulous feeling being on stage. Then it took a life of its own.
And how did you arrive on the iPhone camera?
I remember the arrival of the iPhone 3G. I bought it as soon as it was available in India. There is a photographer whom I follow called Chase Jarvis, who — at that point — had written a book called The Best Camera Is the One That's with You. It inspired me to start shooting with the iPhone and helped me make images. Before I could buy professional camera equipment, the iPhone helped hone my skill and helped me develop a decent eye. I remember going to local concerts and small shows and shooting with my iPhone. Today, although I shoot with Nikon, I still use the iPhone at every single shoot. The camera in the iPhone has evolved and become a lot better than what it was years ago.
A lot of the concerts that we shoot are in low light, especially those in clubs. The lighting is dynamic and we have no control over the stage lighting. All the current models of the iPhone 11 really shine in low light, when night mode automatically kicks in. The current phone I use has three cameras, which means I can do an ultra wide-angle shot, a regular shot and zoom in to take a picture. I use the iPhone a lot not only to take pictures but to do a lot of videos as well.
The phone helps because it's unobtrusive.
It helps a lot when I am backstage where for the most part musicians don't like big cameras in their faces. I almost always start with the iPhone in a scenario like that to make them feel comfortable first. I've also used the iPhone as a go-to during live shows in crowded photo pits or when I've gotten extremely close to a performer and when you still need to capture that moment.
For example, I was shooting The Scorpions in London's O2 Arena and I was really close to the stage when the guitarist closed in; I was too close for my wide-angle Nikon lens and there wasn't enough room so I used the iPhone to get an incredible picture. The phone is unobtrusive and I use it a lot. I also use it to take pictures and videos of the audience.
Also, it's versatile.
It's incredibly versatile. Festival organisers want all kinds of content. So I have shot timelapses/hyperlapses/ slowmo videos on the phone. I've used panoramas to capture audiences. Working for festival organisers means one needs to capture the vibe of the festival and various brand activations. The phone lends itself beautifully to doing different types of content and under different light situations.
The iPhone shoots 4k video at 60hz, meaning we can do professional quality video on the phone. We have done an aftermovie for an Australian guitar player (Plini), which is shot completely on the phone; it was commissioned by Blue Tree Entertainment. There are two versions of it — one shot on a regular camera and the other on the iPhone. The video capabilities of the phone are amazing.
Check out Vikram Chandrasekar's work at theconcertphotographer.in or on Instagram @the_concertphotographer Chenthil Mohan,
iPhone Xs Max
A great portrait happens when the photographer can make his subject comfortable in front of the camera. Especially with the iPhone, keep talking to your subject, watch your frame's four corners consciously, and keep clicking away for some stunning portraits," documentary photographer Chenthil Mohan, who lives on the outskirts of Bangalore, tells us.
He has been capturing weddings and cycling moments on his camera for long and the word that describes his output the best is 'amazing'. Here's more from the man.
Shooting on the iPhone takes away a lot of the bells and whistles that come with traditional photography equipment. Why did you decide to shoot with the iPhone?
With the pace at which the camera technology is progressing, the so-called bells and whistles take the fun away from the pure simple joy of making an image. Rather than focusing on "seeing", for me, the growing size of the digital cameras has hindered my vision. Transitioning to shoot with the iPhone brings back the joy of photography and connects me with the primary reason I enjoy being a photographer.
What are the primary differences in your approach while shooting on an iPhone compared to a normal camera?
Keeping it simple and being honest is one of my main approaches to photography. Over the years of being a professional photographer, I nearly lost this simplicity. Shooting with the iPhone has helped me fall in love with photography all over again and rediscover my passion. Shooting with an iPhone has helped me see beyond the obvious and appreciate the mundane that we take for granted.
What kind of post-processing work do you do on your shots?
On one end, while I stick to just minimal tonal corrections while I am shooting street life and other photojournalistic pursuits, I swing to the other extreme on post-production with multiple exposures, layering and playing with filters and colours to express myself and experiment. When did you discover the power of iPhone photography?
In 2016, while I was getting disillusioned and smothered with the business of photography, I got my first iPhone as a hand-me-down gift from my parents. The simple yet robust iPhone 5s camera was a true invisibility cloak back then. It helped me get into places I couldn't have imagined with a conventional camera. I convinced a wedding photography client of mine that I'd document their wedding with that iPhone without compromising on the visual quality. The set of images I shot in that particular wedding with the iPhone exclusively, won me the Silk Documentary Photographer of the year judged by some of the best wedding photographers in the world. My iPhone 5s images were competing with some of the best wedding work in the country, shot with conventional DSLRs. Around the same time, a cycling image I shot with the iPhone was shortlisted for an international sports photography award. This pretty much pivoted my photography career and my approach to making images. Since then iPhone has been an integral part of my photography kit. So far nearly all of my commercial fine art prints have been shot on an iPhone.
The other passion in your life is cycling. While cycling, what role does your phone play?
While cycling as well as while photographing competitive cycling, the moment I want to document is fleeting at best. In this unpredictable environment, the iPhone has been a trusty all-weather photo as well as a video camera. It is built like a tank and has never failed in spite of the beating I put it through, rain or sunshine. Low-light conditions add more drama to an image than a perfectly-lit image. With the newer generation phone cameras, varying light conditions are not exactly a challenge.
What are the photo apps you can't do without?
The native Photo app on the current iPhone is my primary app for image edits now along with Snapseed and VSCO when I have more time to experiment with my images. iPhone-only app Hipstamatic is my favourite retro camera app I've been using since my first iPhone till now. On the video front, I use Filmic Pro along with the native Camera.
Check out Chenthil Mohan's work at www.chenthil.in or on Instagram @chenthilmohan Shibu Arakkal

iPhone 7 & iPhone 11 Pro
iPhonography — or photography using the iPhone — is a phrase that I coined a few years ago. In the last count it had around eight million posts on Instagram alone. It's a hashtag that has become very popular but I can't copyright it," says award-winning photo artist Shibu Arakkal with a laugh. The word he coined in 2014 is one among the many milestones that mark his career of nearly 25 years.
Always armed with the iPhone 7 (the new iPhone 11 Pro sits in his studio in Bangalore, ready for action), his photo art is dynamic, to say the least.
Here's more from one of the few Indians who has been awarded the prestigious Lorenzo il Magnifico gold prize in digital art for his work from 'Constructing Life' at the Florence Biennale 2013 in Italy.
What makes the iPhone a photographer's delight?
I am obviously a guy who started on Nokia and phones like that. When the first camera phones arrived, the results were very pixel-y, grainy, barely usable even on a screen; forget about printing those photographs. Then came smartphones and the iPhone led the charge.
I wasn't an iPhone user from the word go. First it was all on Android. I tried various Android phones and I was very unhappy with the UI/UX. For me, it had to be something that's idiot-proof. When I finally switched over to the iPhone, I realised that the quality was pretty decent for that time. This is a 5C; it was in 2014. I immediately realised the potential of the iPhone and a lot of the images you see on the iPhonography website were taken on the 5C. Even today, a lot of people are fascinated by the photographs taken on the 5C. This is when I wasn't shooting RAW photos (allows users more latitude to play with their photos). In fact, I started shooting RAW quite late. When others were shooting RAW, I was using JPEG.
Since I come from an old-school photography background, the final result for me is always meant to be in print. Postcard size, 5x7 is great, maybe up to 8x10… but beyond that, the quality drops drastically. With the 5C I did prints of up to 20x20 inches. And pixelated, noisy images are a strict no-no for me as one of my expertise involves printing. If you look at a lot of my 5C prints, you wouldn't believe your eyes. We have done print on metal, on wood, on canvas. These have been bought by art collectors and displayed at their homes. Then I graduated to the iPhone 7. I am hesitant to move to a new camera even if the technology is great because I am used to my old one. I have an iPhone 11 Pro sitting in my studio. Do you change your approach while shooting with an iPhone?
My basic approach is the same but the technical approach of taking a photograph had to vary because, all said and done, it's a basic device. Here the approach has to be judicious because you have to do a lot with very little. I don't compromise on the quality of my pictures just because I don't have the bells and whistles. I don't care if the phone gives me fewer capabilities technologically but I still want to achieve the same kinds of results that I want to achieve with, say, a DSLR.
The technical approach changes slightly. It is about getting the basics right; it's about composing properly; it's about figuring out the exposure. I do iPhonography workshops, which are usually booked up because people are interested in what can be done with an iPhone camera. Among some of the basic things I teach involves how to breathe, something YouTube videos don't talk about. If you want to get the most out of a smartphone camera, ensure shake-free moments. You want compositions to be spot on and this involves how to hold your phone when you tap the button.
My pet peeve on any camera phone is the burst mode. You don't take a picture out of luck; you take it using your skills. It's not about taking a hundred pictures because anybody can do that. Get rid of the burst mode, which should be used only on certain occasions.
There will always be a group critical of photography on the smartphone. They believe in keeping it "traditional".
These so-called traditionalists have been on the same track for a very long time. Where do these guys come from? Do they come from large-format photography background? If they talk about traditional photography, I can poke holes in their philosophy by saying they are not traditional enough. First, we have to understand that iPhone-based work — photo art, which is technically what I do, or otherwise — is now in the biggest museums in the world. The year before last I was in New York and at the MoMA where there were pictures taken on the iPhone. I heard that iPhone work has even made it to the Louvre. These people have to realise that photography is an ever-evolving medium — technologically and creatively — and it will evolve at a greater pace compared to any other medium.
Tell us about the apps you use.
For the longest time I was using the native iOS editing app which was extremely curtailed. But I like those restrictions. For example, the 4x5 large format that I shoot, I shoot on a pinhole camera. You can imagine how much I love my restrictions because it allows me to show my artistry. Only in the last two years I have started using the Lightroom mobile app. It's for my print usage and for RAW processing while for screen usage I use Snapseed. Also, to shoot RAW I was using an app called Manual.
Check out Shibu Arakkal's work at www.shibuarakkal.com or on Instagram @shibuarakkalphotoart