The future is robots
Pour a quick one JetBot 90 AI+! Robots are coming to help us around the house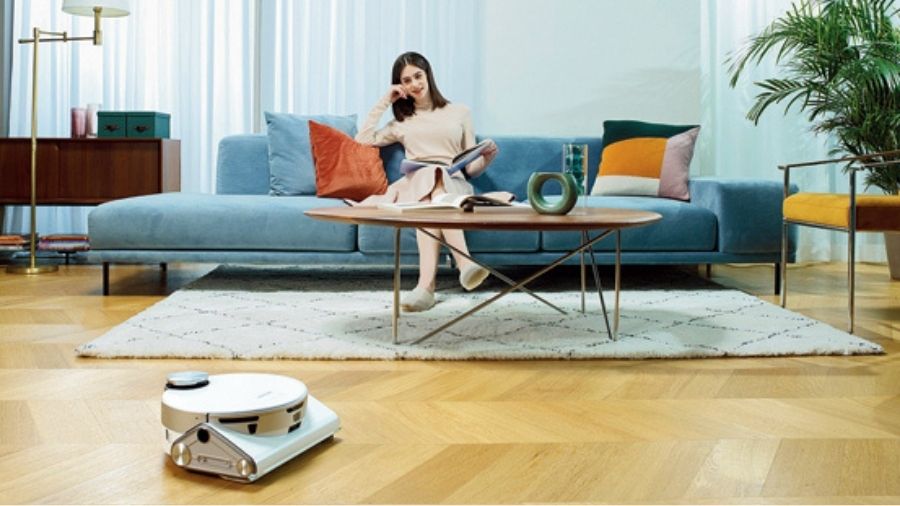 JetBot 90 AI+ vacuum with AI-based sensors and navigation.
Samsung Electronics
---
Published 12.01.21, 08:43 PM
|
---
A couple of years ago, there was an opportunity to meet Raghuram Rajan in Kochi and hear his thoughts about AI, robots and future. The question was: What jobs can humans do in the next 10-15 years that are immune to threats? He offered a thoughtful answer: "Clearly jobs that require high intelligence and creativity, but not all of us can be Einsteins. The second set of jobs are those that require human empathy, like in nursing where having a caring person is helpful. Third, and this is quite unfortunate, we humans don't like to be waited upon by robots and we have a greater sense of importance if we are waited upon by people."
At CES, the world's biggest tech exhibition, Samsung presented Bot Handy, which has been in the works for some time. It's not an ordinary robot that follows you around the house as if it's a tail. Bot Handy can pick up laundry, set the table, pour wine and even load the dishwasher. The South Korean company said at the virtual event that it can recognise objects using a camera and AI.
Still a work in progress, which in other words means, we are not sure when Bot Handy can make it to our homes, the robot appears to easily understand the difference between the "material composition of various objects", utilising the appropriate amount of force to grab and move around household items and objects.
The black-and-white robot comes with two large digital eyes that changes expression while its arm (it has one) have hinges near the shoulder, elbow and wrist. Instead of fingers, there is a clamp-like hand. The cameras on its body and hand help recognise objects while it moves around the house on a rolling base, able to raise itself up to reach objects kept at different elevations.
Staying on with bots, the company also has updated Bot Care, the "robotic assistant and companion" that first mesmerised CES in 2019. Akin to a personal assistant, it reminds the user/owner to take a break from work or list reminders, like meetings. During the virtual demo, the robot managed to open up a screen to allow the owner to log into a video call.
Clean it up
Moving from robots that are coming in the near future to something that will ship this year (to select markets) — JetBot 90 AI+ is a completely different take on the Roomba vacuum robot. Overlook the wonky name, the vacuum cleaner has several sensors, including Lidar and a 3D sensor to recognise objects and separate them from the floor that is being cleaned. Instead of driving over a cable that could be lying on the floor, it will come up with ways to avoid it.
Once again, there is a camera on it, so you can see what the cleaner is up to from your phone. You can be at office while the robot helps you track your pet at home and at the same time cleans up things they knock over.
The 30W suction power from a jet cyclone system can trap dust from the air and from the floor. Once cleaning is complete, it returns to the charging dock where all the dirt is emptied into a container that needs to be cleaned every few months.
Samsung emphasised that the vacuum will have enough smarts to get close to objects that are not fragile, like stuff toys, while staying away from something like a vase.
The Lidar sensor it uses is a technology that has become immensely popular after Apple introduce it on its iPad in 2020 and then on its iPhone 12 Pro and iPhone 12 Pro Max. The technology has been around for some time but not on phones. It basically bounces signals off objects and returns distance-related information to the camera, which comes in handy for AR apps as well as photography. This helps in super-fast auto-focus. Since Lidar is not dependant on light, in low-light situations, the feature comes in handy. And it doesn't misfire in the sense that it gets it right now and then. It's precise each and every time.
So do you envision a world of benefits with robots around the house… a Jetson-like existence? Or is it a world of concern and fear? Is the world going to get there soon? Ever since industrial revolution, there has been the fear of man getting replaced by machines. Take a look at the concept of universal basic income, the historic antecedents for which can be traced to the '60s when former US President Lyndon Johnson set up a committee to look at what would happen when humans are replaced by robots. The committee proposed universal basic income. "We are still debating the topic because we still think that in the next 10-15 years we won't have jobs," Raghuram Rajan had told us.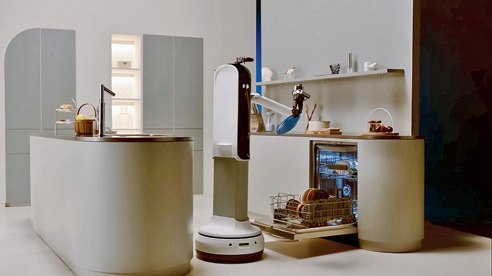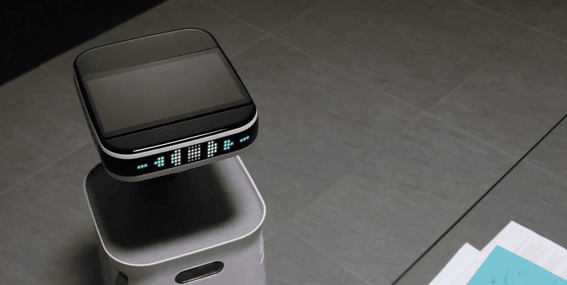 Personalised experiences
While sharing its vision for the future, Samsung Electronics has introduced new products, showing how it's continuing to innovate by creating solutions that use AI to understand context to make daily life seamless.
Samsung Bespoke 4-Door Flex: The latest version of the Bespoke refrigerator (available in North America in Spring) features changeable panels that come with a choice of colours and materials that made the original a success, allowing consumers to adjust their fridge for form and function.
110-inch Micro LED: This new screen features self-lit inorganic LED with a slim and nearly bezel-less Infinity Screen design that seamlessly blends into the living space. The 110-inch Micro LED also adds "4Vue" (quad view), a four-way viewing option — so you can keep up with multiple sports at once, or stream a tutorial while playing a video game.
SmartThings Cooking: A new service from Samsung SmartThings is designed to make your culinary journey seamless. An automatic Meal Planner powered by Whisk's Food AI recommends meals for the whole week, makes shopping lists with the ingredients you need, and connects to grocery retailers for one-stop shopping straight from the Family Hub refrigerator or your mobile screen.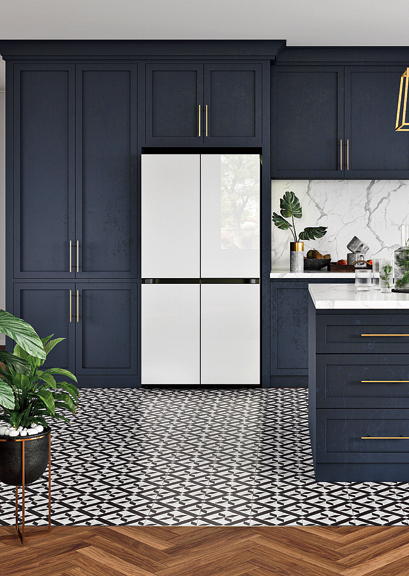 Samsung Health Smart Trainer on the company's 2021 TVs: Samsung Health seamlessly transforms the home into a personal gym, and the new Smart Trainer feature tracks and analyses posture in real time, just like a personal trainer.