Tech trends that BenQ observed during the pandemic
Projectors to gaming monitors, display technology has seen a massive growth, says Rajeev Singh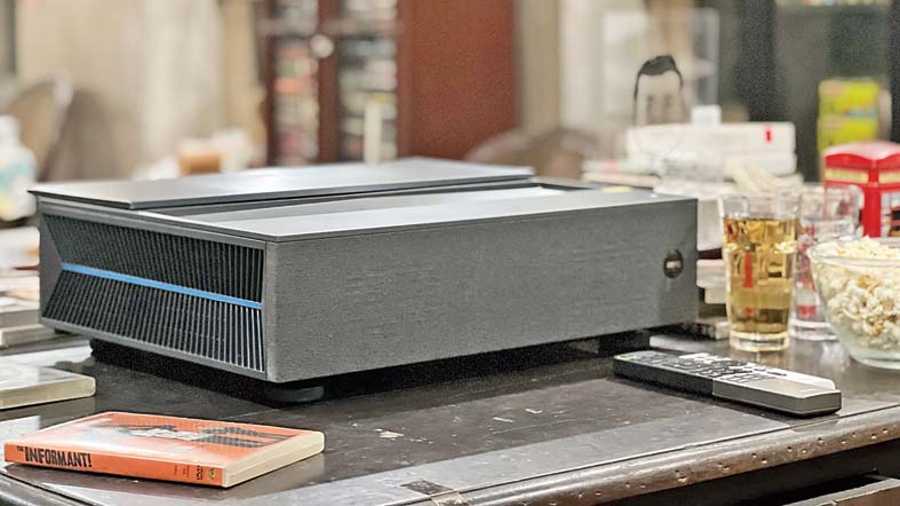 BenQ V7050i ultra-short throw projector.
Pictures: The Telegraph
---
Published 21.01.22, 12:12 AM
|
---
Be it gaming monitors, display solutions for hybrid needs or top-end projectors, BenQ has been hitting one milestone after another over the last two decades in the display technology industry. BenQ India, part of the $25b BenQ Group, has been around since 2001 and during the pandemic, it has been a go-to brand for those seeking long-term solutions as far as display technology goes.
Here is what Rajeev Singh, managing director of BenQ India & South Asia, told us about current needs and future trends. During the pandemic, most people realised the importance of having a good monitor at home, be it for watching films or for work or education.  What have been some of the things BenQ observed during the pandemic?
We were the first among our peers to recognise the behavioural shift of our consumers. A shift towards the big size monitor screen from the small size monitor screen for experiential viewing was observed. We noted the jump in screen time among children and adults than the prescribed screen time during the pandemic and its impact on the eyes.
People's inclination towards buying a good monitor now includes a variety of features specific to their utilities. They now require at max a monitor with a 24-27 inches screen, 2K/4K resolution, USB C power delivery (like in laptops and smartphones). Niche features like embedded eye-care protection technology, adjustments cords as per the height to restrain neck strain are an add-on. BenQ's innovation of noise cancellation technology during video conferencing is a great hit and has seen super demand.
In the last twenty years of BenQ, what have been the top three achievements for the brand? And where do you see the brand in the display tech market?
Among several noteworthy achievements, a few are….
While the overall market size of the monitor segment has remained the same, there is an increase in demand for bigger-sized monitor screens. The trend of advanced digital experiences at home perceived by the consumer is a reason for the surge. BenQ has successfully positioned itself as the market leader for providing 27-inche monitors to our tech-savvy consumers.
Earlier, digitalising of the classroom was a choice but now it has become mandatory due to the pandemic. The lack of digital solutions in the classrooms will hamper the delivery of education in today's time of blended learning.  The Interactive Flat Panels are a must-have for the teachers and students in the era of accelerated hybrid culture and blended learning. There are over one crore classrooms out of which only 5 lakh are digitalised in India. Among these BenQ has single-handedly digitalized over 3 lakh classrooms and pioneered the education digitalisation segment.
We have continued to thrive in the projector segment and have maintained number one position in the 4K Projector brand for the last 12 quarters straight. We could foresee the prominence of the rich OTT content availability and with agility became an enabler with our latest tech projectors.
The projector market: Has that been an eye-opener of a segment in India? What have been some of the top-selling projectors from your company?
Our market for home projectors is increasing at a rate of more than 100 per cent as compared to the previous year, and this rapid growth is likely to continue over the next two-three years. As people embrace the hybrid lifestyle and spend more time at home, they are building digitally advanced visual space by installing high-quality 4k displays and modern projectors. We also envisioned the rise in demand with the rich OTT content push.
BenQ's latest innovation X3000i is the World's first 4LED 4K HDR projector with a cinematic experience that comes with treVolo stereo speakers powered by the renowned Bongiovi DPS technology. This is a masterpiece and enjoys a much-crazed following.
A hot-selling projector in the Indian market is our Laser TV which is a 4K Laser Ultra short throw projector that is fast replacing large-sized TVs in the living room. Customers get the complete solution of the 4K Laser TV with a 120" inch ALR screen at the same price as that of a 75or 86 inch TV without any of the logistical hassles that come with the latter.
Our range of portable projectors, the GV30 and the GS2 models, usher in the era of entertainment, anywhere - anytime. BenQ is the only mainstream brand in India to provide LED smart portable projectors with built in Android TV. One can get instant access to large size entertainment from camping sites to college dorms to meeting rooms.
We will witness projectors with more advanced Laser Light Source, enhanced 4K UHD pixel blur reduction for amazing clarity, Cinematic Color Technology, Motion Interpolation (MEMC), Red Laser technology, and, most significantly, upgraded Motion Sensor for Eye Protection.
What are some of the trends in display technology will we be seeing in 2022 and beyond?
• The future is going to be hybrid. The need to set up a seamless connection either working from home or office will increase. Display technologies for sure have to be coupled with IoT now.
• We expect a surge in the demand for ultra-curved OLED big-screen monitors reducing blooming using advanced LED technology, light shaping, and intelligent image processing taking brightness, contrast, and colour to a new level.
• The use of Interactive Flat Panels in classrooms and by enterprises is expected to grow.
• The demand for display screens embedded with eye-protection, flicker-free, and brightness Intelligence technology will become a must.
• We will gradually embrace the world of metaverse and AR/VR content is expected to revolutionise our lives.