Today, over 26 million Indian SMBs have built their web presence on Google Maps and are easily discoverable on Google Search," says Shalini Girish, director, Google India customer solutions. Here's more from Shalini about the company's work with SMBs.
Google's commitment to SMBs
Small businesses have been key to Google's success from the very beginning and we have always maintained that our long-term success in India is linked with helping Indian SMBs succeed online. Over the last 10 years, we have consistently looked at solutions that remove the barriers that come in the way of small and medium businesses to gain from the web. We have undertaken massive programmes and introduced a range of easy-to-use products to make it simpler for SMBs to start and gain from their digital journeys
Just three years ago, only five per cent of Indian SMBs had any kind of online presence, they never thought that the Internet was for them but the last three years have completely transformed the landscape. We introduced Google My Business, a free mobile app that allows every business to create a free listings on Search and Maps and this has been extremely successful. Today, over 26 million Indian SMBs have built their web presence on Google Maps and are easily discoverable on Google Search. There has been a significant rise in "near me" searches (75 per cent) over the last year.
Once SMBs start seeing the benefits of online presence, they don't want to get left behind and are constantly seeking newer ways to grow their business. We have introduced an offline and online training programme for SMBs called Digital Unlocked. Since its launch, 360,000 businesses have benefited from the initiative. We have also launched an easy-to-use, free mobile learning app — Primer, which offers required training in English, Hindi and Telugu. The app has been downloaded over 6.2 million times in India.
Beyond boundaries
Two years back, we did a comprehensive research with KPMG to understand some of the challenges that Indian SMBs faced in using the Internet to grow their business and we found that 68 per cent of them didn't understand the benefits of going digital and lacked the technical skills to begin the journey. However, businesses that did adopt digital technologies employed up to five times more people compared to offline SMBs and also grew profits up to two times faster than offline SMBs.
Another major benefit for traditional businesses to adopt digital is to ensure that they do not stay geographically cramped in their specific location. For example, Bharath Arts and Crafts, despite belonging to a village, which is 60km away from Bangalore… his beautiful wooden toys took pride of place on the shelves of the White House during Barack Obama's presidency. In fact, corporate clients, which now includes Microsoft and many others from America and Europe, reach out to Bharath Arts and Craft to explore their creations for corporate gifting.
Opportunities in a mobile-first market
India's data usage on mobile now exceeds developed markets at over 10 GB/month/subscriber. This incredible pace of growth continues to have a transformational impact on how Indians consume information, find new businesses and connect with one another.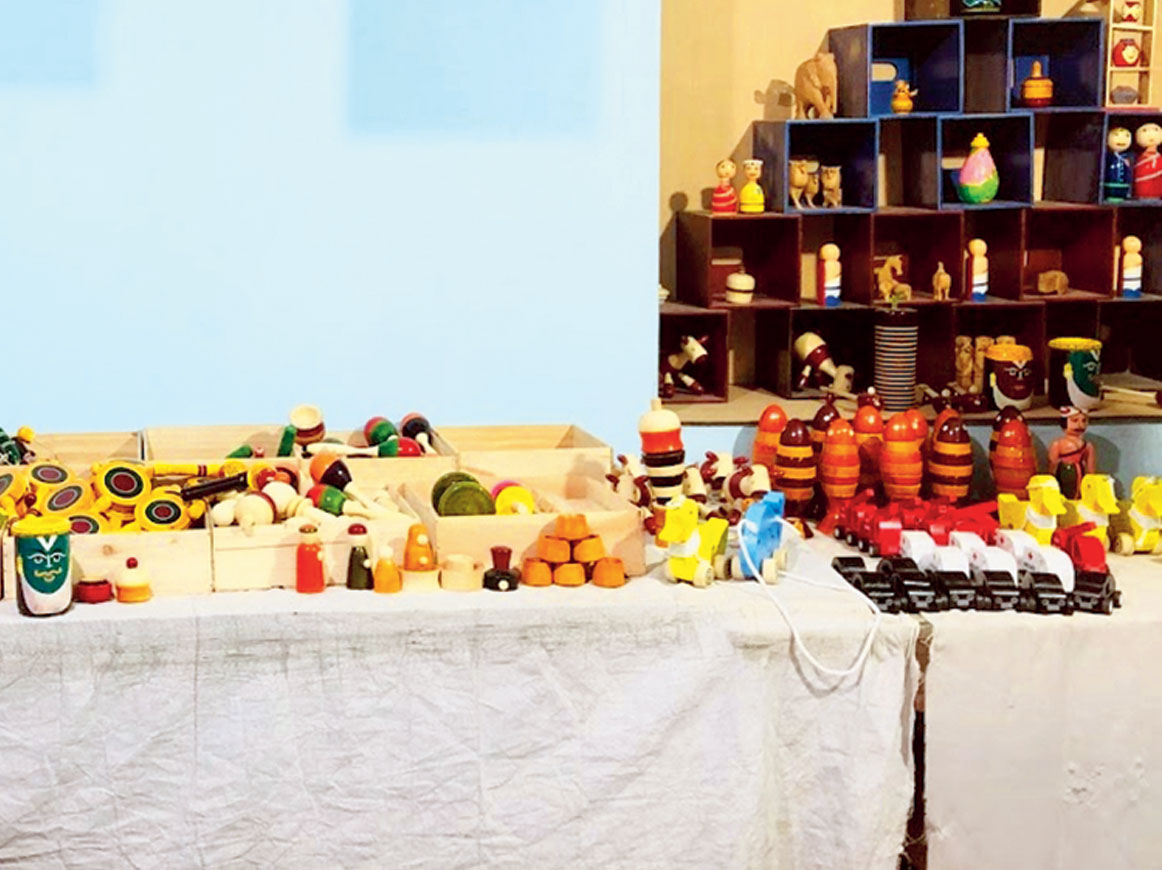 Bharath Arts and Crafts Picture: Google India
Bharath Arts and Crafts
Suhel Parvez, executive director
Early challenges of going online
Initially, we were purely dependent on agents for orders. And maximum profit was going to the agents and the cost of products was high. Also, people prefer Chinese toys rather than Channapatna toys. Back then we thought going online might be very expensive and could bring about a loss. But once we made our Google My Business page, within a week people started recognising us and contacting us directly.
Positive changes
Being in a small town, it is not easy for people from big cities to easily find us. It got easier for people to directly interact with us and our artisans after Google My Business. Now we have proudly reached the education sector and rural tourism. In the education sector, school and designing institutes are visiting to upgrade skills and are purchasing wooden products directly. Rural tourism has a great opportunity to directly connect with corporate and foreign customers. We have been like a pit stop between Bangalore and Mysore. Most importantly, IIM (Bangalore) is now connecting with us. Now people trust us more. Recently we got an order from a museum in Spain; they found us through Google. Most big schools are connecting with us for non-toxic and organic materials. They are even waiting two-three months to get the products done.
Being a small player
As a small player, we need to manage the whole process and in the handicrafts industry, it is most difficult because everything hinges on dedication and perfection. Google has made my life easier. Now I can easily reply to my customer review. Just with Rs 1,000, I can run my Google Ad. Jaipur Rugs Picture: Google India
Jaipur Rugs
Yogesh Chaudhary, director
The importance of Google My Business (GMB) listing
Jaipur Rugs started its journey as a business-to-business player, but in 2014 it was looking at building its direct sales to end consumers. Visibility on the Internet was an important way to achieve this and a GBM listing became a necessity.
Once the retail outlets came up, it became a vital tool for driving footfall to stores in Delhi, Mumbai and Jaipur by making it easy for customers to find directions to each store.
It also helped the brand differentiate itself from competitors of a similar name. Photos and customer reviews helped convince those searching online of the service and quality levels of the company
Rethinking the relationship between business and customers
Google has helped us greatly in collecting insights about the customer. Through smart analytics we are able to take informed decisions that help us give customers relevant information and take the right business decisions. Often customer behaviour online helps us in taking decisions about store location, opening hours and product choices.
Relevance of Google Ads
Google Ads have been an effective tool for targeting audience in specific pincodes. It helps target relevant products and campaigns to the right audience. Showing results that are relevant to the in-market audience based on their keyword searches is a great way of filtering the audience and reaching the right consumer. Often questions are raised about the effectiveness and ROI (return on investment) of Google Ads. However, for businesses this is the most relevant tool for tapping into an audience that is actively seeking the product.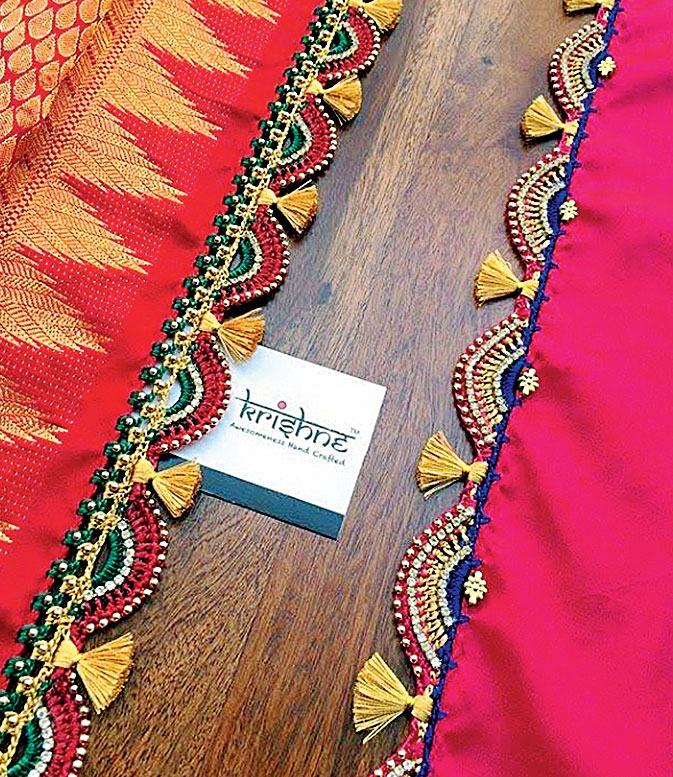 Krishne Tassels Picture: Google India
Krishne Tassels
Amitha Raghu, founder
Effectiveness of Google My Business
Krishne's digital journey began with a Facebook Business Page in August 2014. However, the real skyrocketing of our business and the euphoria moment was experienced after May 2017, that is, after creating the profile of Krishne Tassels on Google My Business page. The various learnings from Google My Business eventually also led us to create our website (www.krishnetassels.com) a month thereafter.
We started receiving enquiries and orders from all over the country as well as outside India, resulting in further hiring and expansion of our presence on other social media channels (Pinterest and Instagram).
We exclusively designed 'Saree Tassel Laces' based on this global demand and have shipped more than 400 tassel laces all over India as well as the US, Canada, Australia, New Zealand, the Middle East and Malaysia.
Creating a digital footprint
The digital skills that helped us achieve a 10x growth in three years for our business are...
Managing business profile on social networking sites: It is important to create and actively engage on social networking sites through new posts, photos of the product along with sharing customer stories and reviews. All messages and comments must be responded on time, leading to trust-building among would-be customers.
Google My Business: The business insights offered under the GMB profile needs to be constantly analysed and necessary actions be taken to increase the business reach on the Internet.
Google Primer: It is an application from Google that can be downloaded on the mobile and is very beneficial for SMB (small and medium business) owners. We use this app to gain latest knowledge on the digital marketing aspects and other essentials to run our business through the five-minute lessons offered on the app.
Google Analytics: A trusted report that we rely on to know the latest search words used by our customers, social media traffic source and budget our ad-spend as per the traffic source. This helps us to plan our business and online strategy better, that can lead us to stay ahead in our business.
Making Krishne Tassels different
Scope for rejuvenating traditional arts and crafts to suit the local and global requirement: Sari tasselling is an age-old traditional handicraft that had almost vanished. However, once these old tassel designs were altered to suit current fashion trends along with digital marketing, it resulted in huge demand for this craft locally as well as globally. This has influenced many other traditional artisans (men and women) and would-be entrepreneurs from smaller towns to revive their work to suit the current trend.
Empowering women: We have trained 700 people (only women) of all age groups in this craft over the last three years. Women from faraway districts of Karnataka and neighbouring states have attended these workshops and are now offering sari tasselling services as well as teaching other women in their neighbourhood.
The rise of homepreneurs (women working from home): With the skill of sari tasselling, women are earning and financing their own needs irrespective of educational background. This is slowly erasing the difference between gender-based breadwinner and homemaker roles within these families.