Rocket League: Sideswipe is a worthy mobile adaptation
It's a physics-based game, so the angle and car speed also matter when hitting the ball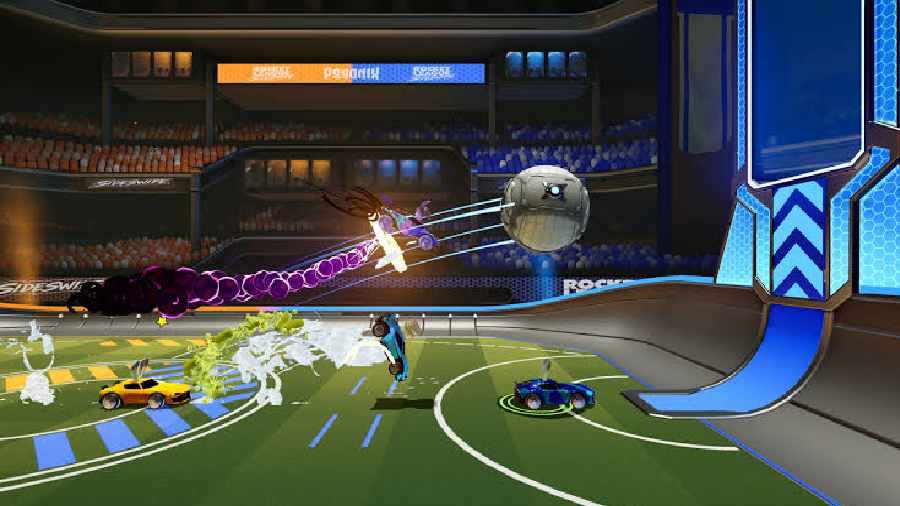 ---
Published 04.04.22, 12:40 AM
|
---
Game: Rocket League: Sideswipe by Psyonix Studios
Genre: Multiplayer, Sports
Platforms: Android and iOS
Of all the competitive games in recent times, one of the most innovative is perhaps Rocket League. And Rocket League: Sideswipe is a worthy mobile adaptation.
If you haven't heard of Rocket League, imagine football being played with remote-controlled toy cars instead of players. Sounds fun, right? Now imagine these cars having rocket boosts to make them fly. This is Rocket League, and it now has 100 million monthly players and a $3,00,000 World Championship every year.
Rocket League: Sideswipe is a mobile version that released last year. Each car tries to push a ball from the centre of the football field into the goal behind the other car. Meanwhile, the other car tries to block the ball from going into their goal and counter-push the ball into the other goal. It's a physics-based game, so the angle and car speed also matter when hitting the ball. The cars can jump and fly up briefly, but can only move left or right by swiping (hence called Sideswipe). This is the major difference from the original PC game that allows you to go in all three dimensions of the field. The original game is fast-paced, but Sideswipe is even faster with every match lasting two minutes. Its controls are simpler to pick up and play than the original Rocket League. Despite this, it manages to preserve the essence of Rocket League even. Players can still feel the exhilaration of flying up to intercept a fast ball, without having to spend too many hours practising. This doesn't mean there's no learning curve, but that it's much easier and faster than the console game.
Players progress by winning matches. There are seasons that run every two months, and the player tries to improve their rank by winning matches within that time.The game rewards the player with new cars and fancy customisations, which they can show-off to other players. Cars have almost no functional difference, thus unlocking new cars isn't that exciting. In game modes, players can choose to play solo against another player or be a part of a 2-vs-2 team match. There are other modes, like basketball or volleyball, but these are mostly fun and not very competitive.
A big limitation is that because of simpler controls, the number of skills and strategies players can learn are limited. Initially, you'll have fun learning new skills from your opponents. But over time, you start seeing similar moves being used across multiple matches. Sideswipe is a great game, but lacks the depth of skills to be an eSport.
VERDICT: Making a simpler mobile adaptation of an existing PC or console game is tough to get right, but Rocket League: Sideswipe does it almost perfectly. It takes the action and exhilaration that the original Rocket League has, and offers it in an accessible, bite-sized package. Even though Sideswipe lacks the depth of the original game, it's only fair to not compare the two and enjoy each one on its own. I would give it a nine on 10.