Say 'hello' to Vaio laptops again
The company's once in rage line of offerings will be soon be available on Flipkart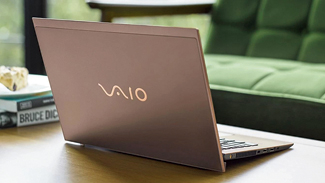 Vaio SX14 comes with a large screen and good connectivity options.
Vaio
---
Published 09.01.21, 03:46 AM
|
---
Apple's Macworld 2008. Steve Jobs on stage. "What is the MacBook Air? In a sentence, it's the world's thinnest notebook. So what does that mean? We looked at all the thin notebooks out there and most people think of these —like the Sony TZ Series — as good notebooks and they are thin…. Let's look once again at the Sony product, it's 1.2 inches to 0.80 inches (thin). This is the MacBook Air (0.76 to 0.16-inch). The thickest part of the MacBook Air is thinner than the thinnest part of the TZ Series," he said, going on to unveil the MacBook Air by removing it from a small paper office envelope. Sony's days at making laptops was coming to an end.
In 2014, Sony moved away from laptops, selling Vaio computers, which it once considered central to its ambitions of keeping pace with players like Apple and Samsung Electronics. Vaio was once an iconic brand that many aspired to have. I got my first one in 2006 to carry around town to quickly key in articles. It was heavy but I found enough excuses to justify it. The machine ran Windows, would freeze a couple of times every week and ran out of power rather quickly. I justified it all to cling on the machine until 2011.
Thank you Steve Jobs.
Vaio was sold to private-equity fund Japan Industrial Partners. Since 2015, the independent Vaio Corporation kept selling Vaio-branded laptops in the US and Brazil. Log on to Vaio's website and you will come across SX14 and SX12, both of which have enjoyed good reviews.
In case you are feeling nostalgic, there's good news. Hong Kong-based Nexsto Company, which sells Avita laptops in India, is bringing Vaio laptops (through a license agreement). Starting January 15, it will be sold in India via Flipkart. Though we are not sure about the models that will be sold but interest is surging.
Vaio is coming to India at a time when the demand for laptops has gone up because Covid-19 has made work from home a necessity. Xiaomi, Lenovo, Dell, HP… all have launched some great laptops in the recent months. The scene stealer at the moment is the new MacBook Air and MacBook Pro, both powered by Apple's own chip, the M1.
When Vaio was a rage in India, it didn't come cheap, so don't get your expectations too high. At the moment, Nexstgo is handling manufacturing, sales and marketing of the Vaio laptops in many Asian countries.