Samsung Galaxy Watch4 Classic is promising
'Packed with a faster process, the South Korean company has managed to squeeze in a lot of new features'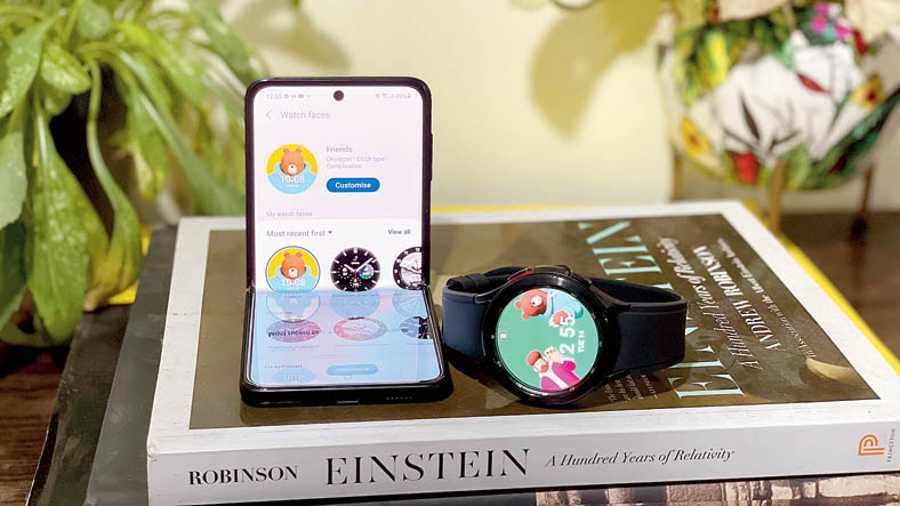 ---
Published 15.09.21, 05:33 AM
|
---
 Google's Wear OS platform has finally been taken off the endangered list. It's not an exaggeration but the company's operating system for smartwatches and wearables has been a mess, giving Apple enough opportunities to take great strides to become the smartwatch maker. On the other hand, Samsung has, over the years, been delivering the best of smartwatch hardware but was bogged down by the Tizen-based operating system to power its device. The two companies shook hands and boom, here's Samsung Galaxy Watch4 and Galaxy Watch4 Classic. We have been using the latter for quite a few days and tell you what, it rocks.
It's unlike any Samsung smartwatch I have used, yet it's just like the Samsung smartwatch that I have known so well for years. What's changed? Plenty, the biggest change being this is the first smartwatch with Wear OS Powered by Samsung. This means, no more Tizen here. Welcome Google and plenty of apps.
Happy to see Google Play Store
To ditch Tizen OS is a clever move, opening up the smartwatch among Android users. There are two things to remember. First, the OS is Wear OS Powered by Samsung, which means you have the Play Store right on your wrist. Second, there are plenty of features that work best with Samsung phones. True, you can use this smartwatch with any Android phone but there are steps that need to be taken, like installing a set of apps to take advantage of the device, which is not the case if you have a Samsung phone — it's absolutely seamless. And it's not a bad move at all since Apple does something similar.
Packed with a faster process, the South Korean company has managed to squeeze in a lot of new features and this is the fastest Wear OS smartwatch I have used. It's important to distinguish the normal model from the Classic which I am reviewing. The latter comes with a rotating bezel, complete with a superbly click-y feel, making it easier to go through the app list or reading notifications. Most of the default apps on the watch are that of Samsung but you can replace some of them with those from Google. No, it can't set multiple alarms, but the Watch4 Classic works without any issues.
For the moment, there is no Google Assistant, so you have to rely on Bixby, the voice assistant, which I must say has improved. Bixby can understand diction far better than it did a couple of years ago and works much quicker than ever before.
The interface will not seem out of place if you already use Samsung smartwatches. Swipe up for apps, right for notifications, down for quick settings and left for tiles, which you can customise.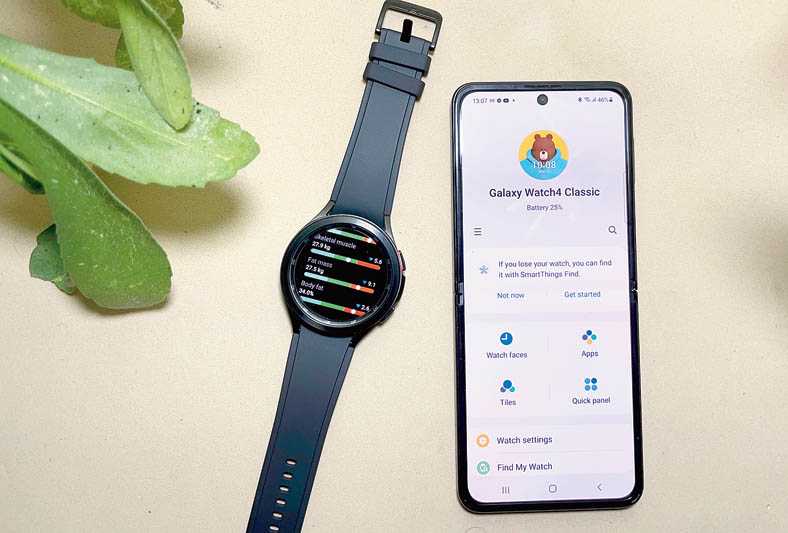 Body composition
Track your fitness progress by measuring your body composition. Get to know your body fat percentage, skeletal muscle, body water and more to achieve your goals. The Samsung BioActive Sensor and the company's fastest chip help you to get a reading in a matter of seconds.
A big feature and bigger improvements
Features, features and more of that. The star of the show — for the moment — is the Samsung BioActive sensor, which is not just another sensor packed in for no reason. Anyone looking to track fat loss or muscle gain, look at the body composition feature. The technology at play is called Bioelectrical Impedance Analysis. To keep it simple, little charges of electricity are sent to the body to read how much is body fat and how much is muscle mass. There are machines to calculate the same at gyms and there are also home scales with the feature. But they are not inexpensive. The ones at gyms have electrodes for your hands and feet. On the watch, the two physical buttons come with electrodes. To measure, wear the watch higher on the wrist, lift your hand away from your body and using your two fingers touch each button. Given the size of the buttons, I have been curious to see how well this works. It's close, very close to an expensive machine.
The other feature which works is substantially faster than before is SpO2 reading. Earlier, it used to take around 15-20 seconds but that figure has been shaved by around four-five seconds and it's as accurate as on an oximeter, provided you have the watch on at the correct place on the wrist.
A bigger improvement is in the sleep department. The device can gather all that you need to know about your sleep pattern — deep to light to REMs and everything comes through accurately. You can find all the details on the Samsung Health app. Needless to say, there are plenty of workout routines available on the watch and each of them works fine.
The two features I am looking forward to are ECG and blood pressure monitoring, which is presently unavailable in India. I wonder why Samsung is not pushing for ECG feature as much as Apple does.
Having said all this, it's important to remember that context matters and the features on Watch4 Classic are not diagnostic tools; so don't use them that way.
Should you buy it?
Before you make a decision, let's talk about battery life. I kept the always-on feature active all the time and brightness set to high, plus I constantly used a slew of features, including SpO2. Yet, I managed to get around 36 hours, which is a good deal. If you are conservative with your usage pattern, two days can be had on this watch.
The only quibble that may come through is from non-Samsung users, who have to jump through a few hoops to make the watch work seamlessly with their device.
This is a powerful swing at the smartwatch segment from Samsung, easily scoring a boundary. The Galaxy Watch4 Classic is fast, smooth and promising… enough to raise the bar for smartwatches in general.
At a glance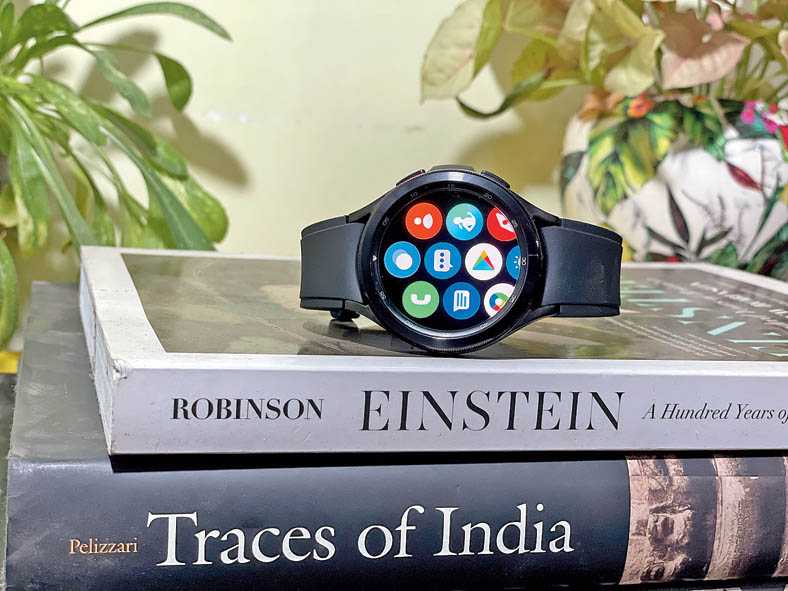 Device: Samsung Galaxy Watch4 Classic
Price: Upwards of Rs 31,999
High notes
• Samsung BioActive sensor is a big leap
• Access to Google Play Store
• Excellent selection of watch faces
• Rotating bezel
Muffled notes
• There's Bixby instead of Google Assistant (for the time being at least)
• ECG and blood pressure features are yet to arrive in India