The year couldn't have started on a better note for Samsung, which has rolled out one of the best smartphone series anybody can ask for. By keeping meaningful innovations and sustainability at its heart, the Galaxy S23 series is selling at a fast pace. Rival Android phone companies want to take the challenge to Samsung but it's tough to crack the company's formula.
If a customer is putting Rs 70,000 (and upwards) on the table, he or she will demand long-term support to match hardware specs. Plus, consumers want a phone that talks about sustainability. The Galaxy S23 series does all that more. A lot of the success also has to do with the hard work put in by Samsung R&D Institute India-Bangalore (SRI-B) engineers. An integral part of the Galaxy S23 Ultra (and the rest of the series) is Nightography or bringing the night to life. The engineers have helped a great deal in this aspect and more.
We spoke to Dipesh Shah, managing director of SRI-B, and here's what he has to say. By the way, SRI-B is the company's largest R&D centre outside South Korea.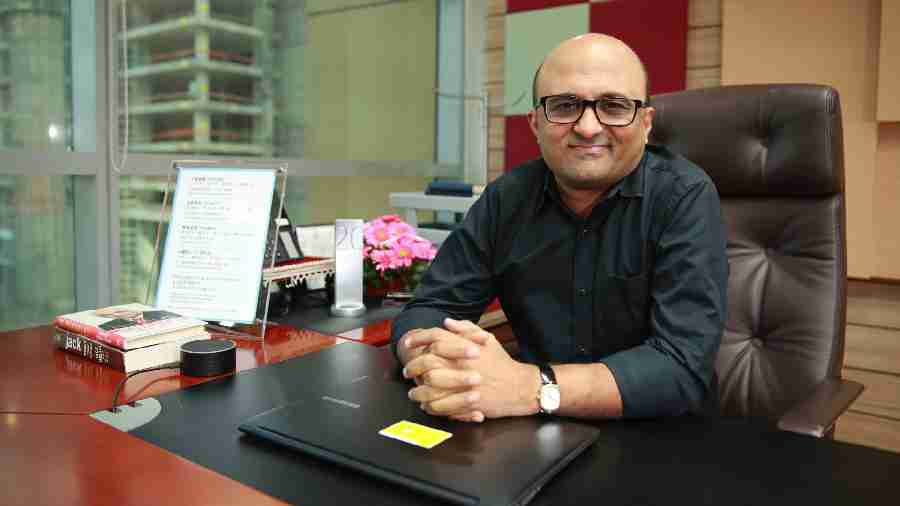 Dipesh Shah, managing director of Samsung R&D Institute IndiaBangalore (SRI-B)
Give us an overview of Samsung R&D Institute, Bangalore, and the kind of research that's done here?
At a global level, we have two business units. One we call the device experience business unit while the other is the device solutions business unit. All the consumer experiences that you see — the smart things, the television, the washing machine, the robot vacuum cleaner, all of these smartphones, consumer electronics-related devices — are from the device experience business unit. Our semiconductor-related business, our memories, our AP, processor display, are from the device solutions business unit.
We feel it's a great thing when something works in our labs; it's like an a-ha moment. But it's mesmerising when it works in the hands of our consumers. The first time when we did Samsung Pay for India, and when I was in the checkout queue at a grocery store, I asked the person at the counter to just tap my phone and the payment will be done. I was told it won't work. I asked again. When the phone was tapped and it worked, I saw people clap. That's the zone epic products are in.
What are the areas of expertise at your centre?
We call this the centre of excellence in four areas. One is wireless communications, so anything to do with 5G, both on the terminal side and on the network side. The second is camera, which is a vision-related artificial intelligence area. We are the largest software R&D centre of Samsung anywhere outside South Korea that focuses on on-device artificial intelligence-related software. The fourth one is multi-device experience and SmartThings.
How does the Bangalore research centre work with other resource centres across the globe? How does the work start and which team does what?
Each R&D centre has its area of expertise, like I said, for SRI Bangalore, it is 5G, vision-related AI, on-device AI and SmartThings. My friends in the UK will be, for example, good at graphics. To get the moon shot, for example, you need zooming, you need zoom docking, you need to have focus, the phone needs to understand the moon as an object and once that happens the mechanism needs to change to capture what it's capturing. When you are capturing humans versus pets versus the moon, you need to apply different techniques for that particular scenario. AI has to understand what I'm capturing, so multiple things are involved to put together one consumer experience. The experience is led by Korea, of course. But consumer needs are captured by all the teams and fed into this global roadmap. Then things get distributed as per the technical expertise of each R&D centre.
How long did you work together to come up with the features for Galaxy S23 series? And how do you plan to grow the R&D centre over the next two or three years?
There are two kinds of software development. One is called platform software development. So basically things get developed without actually keeping a particular product in mind. Platform software means what kind of camera-related or what kind of 5G-related features need to be developed. This goes on for a longer period. So these are typical, two years, three years, four years… longer duration projects are done on the platform level. And then when a particular product is being launched, we understand what consumer segment would we attract and who needs this product, what experiences consumers need as part of that product. From the platform, those features are picked up and put together as a part of the product and shipped. So platform-level collaborations typically take between two to four years depending on how hard the problems are and product-related software typically takes between 18 to 36 months to get into a particular product.
The second question... about R&D growth in India. It's all about technology, innovation and consumers, and software engineers in India spend years creating important products by collaboration with global R&D centres. That's why the commitment to India R&D is very high. And we'll continue to keep it that way.
If somebody fresh out of college wants to get a job at SRI, what kind of skills they should have?
Typically, in the IIT hiring season, I think we are usually one of the top companies hiring in the country. We have programmes… like we have a student connect programme called Prism. Students get together and work on a real-life project that Samsung India basically asked them to do along with their professors. And these students get a chance to work on a real-life project and get a feel of the company. We hire through those channels as well as other channels. The skills are in those four areas — wireless communications, vision-related artificial intelligence, on-device AI and Smart Things for the IoT.
For young people, AI is one area where India is very good at. A lot of AI is open source and there's a lot of open data models, so people can learn without having any disadvantages compared to their counterparts sitting in Silicon Valley, for example.
Sustainability is at the heart of the new Samsung devices….
This is a very strong Samsung drive globally. A key part of sustainability is long-term usage of a device. S23, for example, offers four OS upgrades and five years of security upgrade. We want consumers to use our devices for a longer period of time. We come up with software that's easily upgradable and security updates that can be easily deployed.
This year we didn't hear much about Bixby. What's happening on the Bixby front?
Bixby continues to be a very important tool for user interaction. On your phone there must 10,000- plus menu items and I don't know how many you use. It's tough to understand. Bixby helps to grade the menu hierarchy. All features are important but without a menu hierarchy, it's hard to understand which features a consumer wants right up at the front. Voice interaction will continue to play an important role.
Samsung Galaxy S23 series has Adobe Lightroom collaboration. Will we see more such ventures?
Samsung is about an open ecosystem and partnership. If you look at Google, working with Qualcomm, and now Adobe Lightroom, Microsoft collaboration comes in when you are working on Galaxy Book with Windows OS and also Galaxy smartphone… see how easily you can copy content from your phone to your PC… such collaborations will continue. Peoplewant creative tools.