Sony has made us wait around two years but the WF-1000XM4 is here and the best simply gets better. A lot has happened since the WF-1000XM3 showed up with the best noise cancellation in the market, especially the fact that you can get a pair of ANC set cheaper than ever before. For Sony it was a question of what next, what more.
Redesigned completely, the new wireless earbuds appear smaller and that is more evident with the charging case which has shrunk almost 40 per cent. But one of the biggest differences is… wait for it… with the ear tips, which is something we don't focus on enough. Sony has come up with a set of stellar ear tips that appears to be a mix of silicone and memory foam, which makes for a perfect seal. After all, these are called Noise Isolation Earbud Tips. Sony is very confident about them and you get it in three sizes in the box. It won't budge during runs and wear it in the rain without having to worry.
A suggestion before putting on these very comfortable earbuds: Compress the ear tips before inserting them in the ears by rolling them into a little cylinder and then let them expand to the shape of your ear, which will help get the best bass and acoustics. The comfort you get here almost matches that of over-ear headphones with noise cancellation.
There is one LED on the charging case now, which means there are no lights on the earbuds themselves to inform you about the charge left in each bud but it's a trade-off I don't mind for a compact design.
Chock-a-block with features
The biggest feature for me is noise cancellation. Though not inexpensive, the 1000XM4 quickly becomes a habit and a standard by which you will judge other earbuds. Thanks to the ear tips, the seal you get is perfect for noise cancellation. Combine with that Sony's V1 processor, which helps achieve the best noise cancellation (including wind). I am not exaggerating when I say it's almost as good as on Sony's over-ear WH-1000XM4 headphones, which have the advantage of covering your entire ears. Put the earbuds on and the world around you goes poof… disappears.
There's also an ambient sound mode — or transparency mode if you are wondering about an equivalent on AirPods Pro — which you can activate with a tap of the left earbud, to hear what's happening around you. You can definitely hold conversations without any problem and it will sound pretty natural. The company has retained an old hit feature in which you hold down on the earbud to temporarily to lower the volume of your music and boost ambient sound at the same time.
In the last couple of weeks of testing, I have been enjoying the Speak-to-Chat feature, which ensures that the buds go into transparency mode if it detects you are talking to someone. So, if you talk to yourself often (or singalong), turn off the feature. Once you are done with a conversation, the buds will go back to its desired state. A recommendation: Change the time — via the app — that it takes for it to return to the mode you were on from the standard 15 seconds to the short five seconds.
We are not done. There's adaptive sound control, which can detect what kind of action you are taking, like walking or running. Accordingly, it will shift the noise cancelling or the adaptive sound to whatever works for that situation. So if you are running outside, it will know that you are running. This means you would probably like to hear your surroundings. It will automatically switch to ambient sound mode, so you can hear cars coming.
Also present is 360 Reality Audio support but the feature is available on a handful of platforms that are accessible in India.
Punchy without distortion
In the sound department, there are two things to talk about — music and mic. Sony has retained the pleasing sound signature from the WF-1000XM3 while adding an extra layer of bass, which has probably been done keeping our general taste in music in mind. Though the bass can be punchy, it's not overdone, meaning you can feel the slight thump without the vocals suffering.
On Android, the earbuds support LDAC, which can help you stream lossless audio, something that is becoming very important to music lovers as more and more music streaming apps are adding the feature. Though LDAC tops out around 990kbps, it's best to keep it somewhere in the middle because a lot depends on the strength of your connection. Personally, I don't feel any difference if you lower the quality a bit. What you will clearly feel is that lossless tracks have more depth and clarity. And the earbuds sound as good when you listen to AAC files on an iPhone.
As for calls, these use beamforming mics and bone conduction sensors that Sony claims help the earbuds know when you are speaking and when you are not. I enjoyed the microphone quality a lot but how does it compared with the AirPods Pro? The latter has a slight advantage because of its stem design.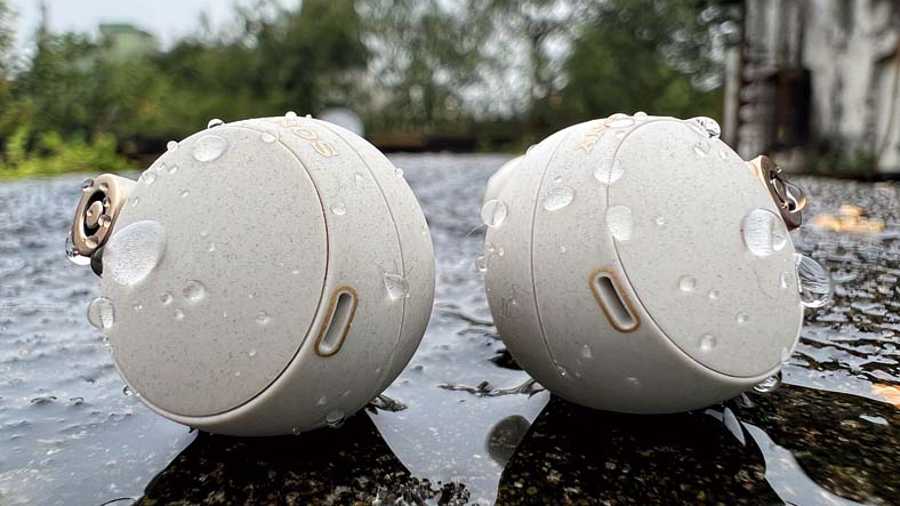 Sony WF-1000XM4 comes with IPX4 water resistance rating
Hitting it out of the park
Another area Sony has achieved a great deal lies with battery life. Believe it or not, you will get eight hours of playback with noise cancellation on, which is way ahead of competition and battery life is extended to 12 hours with noise cancellation off. The case has enough charge for two full recharges. So we are talking 24 hours with noise cancellation on and 36 hours if you leave it disabled. These numbers will set Sony apart when we start to travel.
The only quibble with the device is the absence of multipoint Bluetooth connection. Otherwise, Sony has come up with a pair of earbuds that will remain relevant for a very long time. Once you start using these earbuds, it will be tough to switch over to another brand. Competition has simply been crushed by Sony WF-1000XM4. But for how long?
At a glance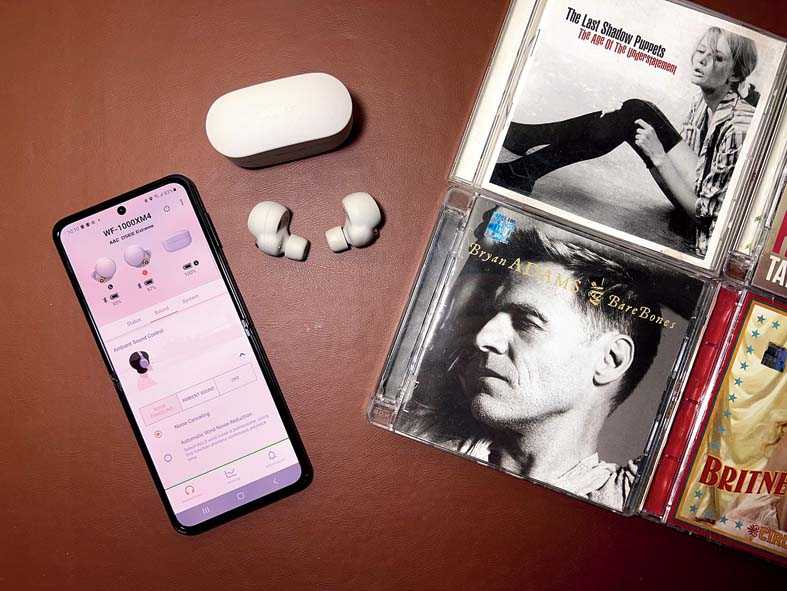 Install Sony Headphones Connect app to get the most out of the device
Device: WF-1000XM4
Price: Rs 19,990 (available January 16 onwards)
High notes
• Foam ear tips make a massive difference to sound and comfort level
• Big battery
• Excellent isolation and ANC
• IPX4 rating
• LDAC support
• Light and sleek
• Detailed sound
• Wireless charging possible
Muffled notes
• Slightly expensive