What the Galaxy A21s offers in heaps is value for money
The South Korean company has been hitting the right notes by delivering phones that are high on battery and are armed with top-of-the-line cameras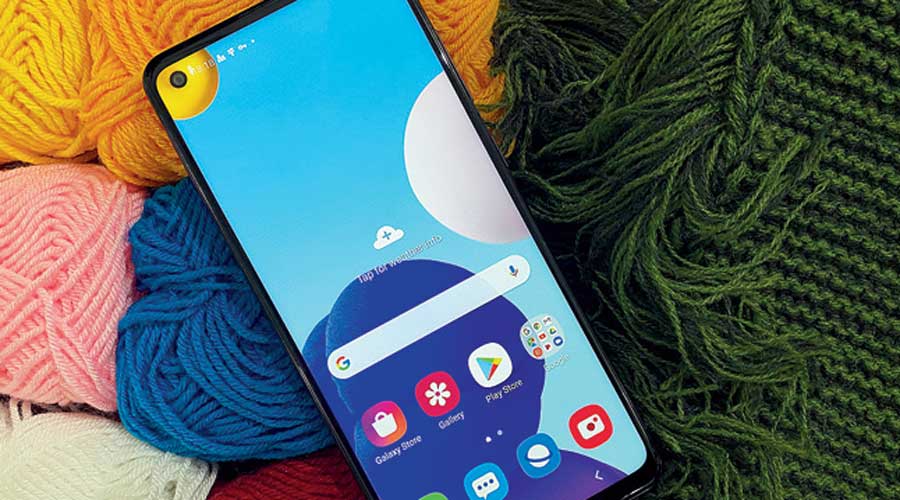 ---
---
Home entertainment and WFH have become central to our lives, bringing household tech to the forefront. No wonder, many are upgrading their TV sets after years while smartphones that can handle the rigours of WFH are in demand. Nobody would like a smartphone to fail in the middle of a videoconference. That's one aspect. Equally important is how much people are willing to spend on smartphones, given the economic squeeze. Third factor: service. If a phone conks out, what does one do? Hang on, there is a fourth point: upgrades without hassle. Keeping all this in mind is one brand — Samsung, which has invested heavily in India to build up its network, R&D and manufacturing base.

The South Korean company has been hitting the right notes by delivering phones that are high on battery and are armed with top-of-the-line cameras. This is also true in the case of Galaxy A21s. Here's what the device delivers.

Just the right focus

The camera set-up on the A21s is up to scratch, more than enough for day-to-day use. This is the sort of device that takes care of work and everyday life rather than focusing on a particular need, like gaming.

Having used 64MP and 108MP shooters, one could be hesitant to look at 48MP once again. Frankly, it makes little or no difference to the photos we post on Instagram or Facebook. True, a 64MP sensor produces incredibly-detailed shots under good conditions but unless one is planning to take prints of landscapes, it's not that useful a feature. The 48MP quad camera set-up on the A21s is perfect for its pricing.

Keeping the 48MP main camera company is an 8MP ultra-wide lens, a macro lens that allows consumers to take close-up shots, and a depth camera for clicking amazing shots in Live Focus mode. There is a dedicated 'food mode', which takes care of blogging needs.

On a rainy day, the main camera took photos that are crisp while the Pro mode allows to add a certain amount of vibrancy. Agreed that pictures taken under uneven lighting doesn't come out bad but a dedicated night mode would have been great.

In way of video, it maxes out at FHD 1920x1080 on the rear and front cameras but it would have been a good addition to have had some form of stabilisation.

Styling and power

The A21s comes with a large 6.5-inch screen, matching the one on Galaxy A51. To keep pricing low, Samsung has gone with a PLS TFT LCD 720 x 1600 (HD+) display. Even with a lower pixel density, the movie streaming experience remains decent. For most people this would be a fine display. The sheer size would win people over.
Powering the device is Exynos 850 (octa 2.0GHz). When it comes to gaming, this may slow things down during loading but one needs to remember that the A21s is not a gaming beast. For casual gaming, it's just fine. And AI-powered Game Booster 2.0 improves stability and lowers power consumption. The phone feels quick and it ships with Android 1.

Keeping the phone alive is a 5,000mAh battery (with 15W fast-charge) and this can be a deal breaker. Expect the phone to stay alive for one-and-a-half days even after streaming and videoconferencing.
Is it for you?
The A21s is a good choice for those who don't want to spend on a flagship device but still get to enjoy a good camera set-up and battery life. The phone comes with Samsung Knox, which encrypts and secures your data. If privacy is on your mind, the A21s delivers. Your data is safe and protected from any possible cyber-attack. In short, what the Samsung Galaxy A21s offers in heaps is value for money.
At a glance
Device: Samsung Galaxy A21s
Display: 6.5", 720x1600 (HD+), PLS TFT LCD
Chipset: Exynos 850 (Octa 2.0GHz)
Camera: Rear — 48MP+8MP+2MP+4MP; front — 13MP
Memory: 4GB/6B + 64GB (MicroSD up to 512GB)
Battery: 5,000mAh, 15W fast-charge
OS: Android 10
Fingerprint: Rear
Price: Upwards of Rs 16,499
Samsung has started offering customer support through WhatsApp to provide prompt resolution to queries of consumers from the comfort of their homes while strengthening its contactless customer service offerings in the country.

Users can send a simple message on the company's WhatsApp support number 1800-5-SAMSUNG (1800-5-7267864) to register for the service. On WhatsApp, they can seek technical support for any Samsung product. This service is available 9am to 6pm on all days of the week.