Colours simply pop to make Sony's X7500H a wonder wall
The panels are different, the sound is different, the experience is different, with each scoring and losing points here and there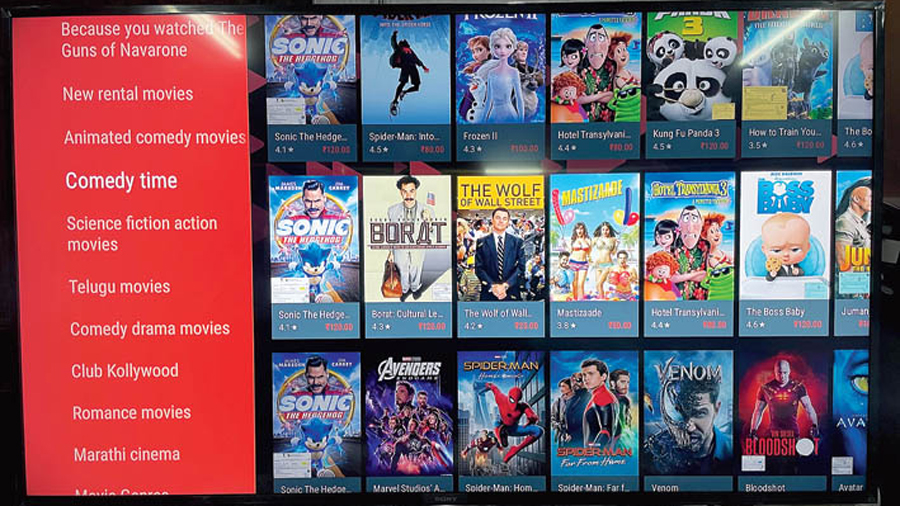 Sony's 4K processor X1 makes upscaling easy on the X7500H. The colours pop and it's also a good option if you want to hook up a gaming rig.
The Telegraph
---
Published 14.11.20, 04:02 AM
|
---
A dilemma. Ever since satellite TV arrived in India, I have always had a relationship with Sony TVs (prior to that it was Crown and Videocon). Then I got married and the first expensive device we ended up buying is a Samsung television and then one model giving way to another, smarter than the previous one. But a few of my best friends stuck with Sony.
Is it all that different you ask? The answer is 'yes'… very different. The panels are different, the sound is different, the experience is different, with each scoring and losing points here and there. But hear me out, there are some big advantages while using Sony, something we found out while reviewing the X7500H. It has all the makings of becoming a decade-long friend.
Colour-popping display
At the heart of the TV is the Sony X1 4K processor, which cleans up all the video feed to make the colours pop. It's a very powerful processor which is helped by something called 4K X-Reality Pro. Weird jargon but let's make it easy. What it does is take a signal as low as 720p and upscale it all the way up to 4K. So if you have an old print of a movie like Roman Holiday on low-res, have no fear. The TV will make Gregory Peck walk his iconic walk as if the film was shot not so long ago and Audrey Hepburn will appear at her adventurous best. The upscaling is amazing.
At the same time, remember that 4K signal is a 4K signal and 720p is 720p. No matter how much it gets upscaled, there will be problems. Clint Eastwood in Dirty Harry will have some dirty pixels but the man in Gran Torino will look wow!
There's no point getting into a long-winded conversation around the pros and cons of QLED versus LCD here. What matters while watching TV is do the colours pop? Yes. Helping that is a technology that Sony calls Triluminous. It makes everything look natural, vivid and clearer.
The viewing angles are good, even if you see from the corner of the TV and the bezel is the width of an adult thumb, which is acceptable. We will come to the build later. There is no denying that the upscale is fantastic and the display panel justifies the cost of the television to a great extent.
Software showcase & connectors
This is an Android TV. While setting it up, log in with your Google account and don't forget to turn on the location setting if you want access to information like weather and, of course, the news. As soon as the TV boots up, you will see icons for Netflix, Prime Video, Google Play Movies & TV, YouTube and so on. Simply log in to the various accounts. There is also the Google Playstore from where you can download.
Built into the TV is Google Chromecast, which makes casting from your phone easy. I have no problem with the set-up except for a caveat below. If the option tiles on the screen don't interest you, there is a way to customise it. Coming to the Bluetooth-enabled remote control, it has almost all the functions you can hope for, plus dedicated buttons for Netflix and Play Movies & TV.
I love Apple TV+, the streaming service from Apple. I can't watch it. If I live in the Apple universe, I would like to see support for Apple Airplay also. Recently a friend of mine, who lives in Delhi, walked into an electronics store to buy a Sony TV. He left the shop carrying a Samsung TV because there is support for Apple TV+.
At the back of the television, there are enough options to connect all kinds of devices. Besides the two HDMI 2.0 inputs on the side, there is one at the back. There are two 5V USB ports that can be used to plug in a thumb drive, keyboard or mouse. Also there is antenna input and thank god Sony has retained a headphone output; it helps when a newborn sleeping in the room while you can listen to the TV using headphones. There is composite input for older DVD players and digital audio out for music systems.
Speaking of connectors, one thing we didn't like about the set is that the main power cord is hardwired to the circuit board. It means if I want a longer power cable, I can't have it.
Gaming and sound options
Yes, it has some amazing sound cans. In the same breath, it would be lovely to have a soundbar. The problem with smart televisions — no matter the brand — is that the sound can never be as good as older options or that of a stereo system. It's the way the speakers fire. While watching Die Hard, the display is stunning but while the bullets flew left, right and centre, it sounded… just about good. The missing zing required something like the Sony HT-X8500 soundbar. The bass is good and the sound is clear but you need more than that to do justice to the display.
Gaming. The refresh rate is 60Hz but you will have no problem gaming with 4K HDR. It's totally fine and the lag is negligible when you toggle to gaming mode. It's also good enough for PS5. So PS5 supports 120Hz refresh rate and to experience it natively, something like Sony's X900H would be good, which is very expensive at the moment. I wouldn't mind hooking up my gaming rig to the X7500H.
Is it for you?
I would definitely recommend this television because of the panel. It's bright and the sound is better than most brands out there. If we were to point out rivals to this TV, it would only be the ones from Samsung and LG.
Yes, a soundbar takes things to a new level but that's personal. My dad asked me to shut my mouth and watch Clint Eastwood. He's right. It's a television that makes pictures come alive and it is a good buy that should last eight to 10 years. If you asked me to point out my favourite aspect of the television, it would be how the colours pop — even while upscaling — to make Sony's X7500H a wonder wall.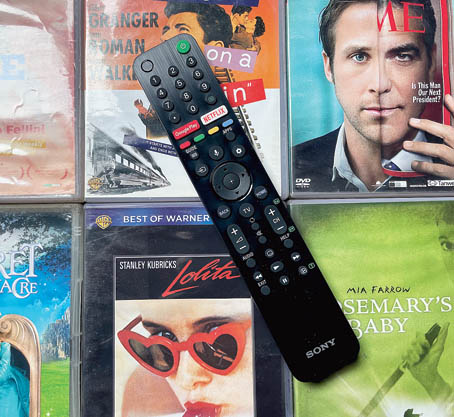 The X7500H flies high because…
The colour spectrum is amazing without costing a bomb
It has a sturdy built
Be it Netflix or Prime Video, there is access to most streaming apps
Audio is clear, making dialogues easy to understand
The software is easy to set up
The X7500H could have flown higher…
If it allowed access to Apple TV+ streaming
If the power cord was not hardwired to the circuit board
If the stand was easy to set-up without the help of a mechanic
At a glance
Device: Sony 55X7500H (55-inch)
Display size: 55 inch
Connectivity: Wi-Fi 802.11a/b/g/n/ac
Chromecast: Built-in
HDMI: 3 (two on the side and one at the back)
USB port: 2 (side)
USB HDD recording: No
Display resolution: 3840x2160
Picture processor: 4K Processor X1
Clarity enhancement: 4K X-Reality PRO
Colour enhancement: Live Colour Technology and Triluminos display
Motion enhancer: Motionflow XR 200
Audio output: 10W + 10W
Dolby support: Dolby Audio (also DTS HD)
OS: Android
Price: Rs 72,990