Redmi Earbuds 3 Pro is a dip-your-ears in the true wireless stereo earbuds category offering
It's a general purpose earbuds that doesn't cost the earth while offering enough power to last close to 30 hours (with charging from the case)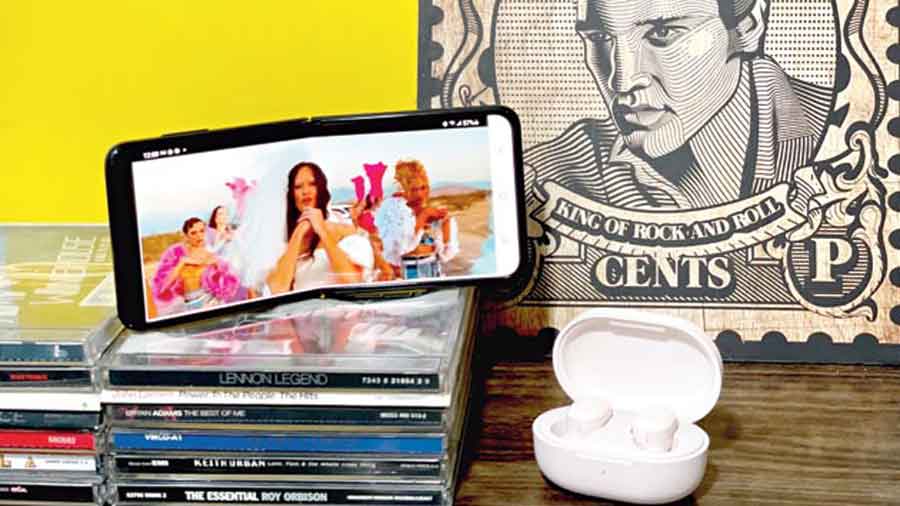 Redmi Earbuds 3 Pro is a good entry point into the world of true wireless stereo earbuds.
The Telegraph
---
Published 09.09.21, 11:08 PM
|
---
True wireless stereo earbuds are going the same way as smartphones, that is, entry-level options are packing in technology that was once the purview of mid-range and expensive options. Take for example, Redmi Earbuds 3 Pro, which has on paper impressive stuff — dual drivers, aptX support and up to 30 hours playback time, all these with an affordable price tag.
Before coming to design and finish, let's take a look at what you will pay for — sound. There is a Dynamic + Balanced Armature set-up, which is uncommon under 3K. Dynamic drivers are found in most affordable headphones. Here a fixed magnet creates a static magnetic field, which interacts with the electrical current in the voice coil and is then forced to move back and forth with the applied signal. The sound is good but will obviously not match headphones that come with planar magnetic drivers. Then comes the balanced armature driver. It's supposed to help with the treble response and is generally more expensive than dynamic drivers.
The point is whether Redmi has been able to implement the two. Listening to Kacey Musgraves's new album Star-Crossed, the reaction can be mixed. The overall sound is quite smooth, smoother than Realme Buds Air 2. There's good amount of bass on a track like Justified and the highs are quite good. Moving to the title track from the album, the instrument separation is all right. If I'm buying earbuds for casual music listening and if that's something on the lines of a one-more-thing on my list of activities then these sound cans are absolutely fine. Perhaps Redmi, designed it for the casual listener.
Helping score well when compared to rival brands is mic quality. People on the other end of the call will know you are taking calls via earbuds but the quality of tone is good and the noise cancelling algorithm does a good job. Playing games while wearing Earbuds 3 Pro didn't offer any lags.
The area Redmi needs to work on is a dedicated app. With Realme, there is the Link app that has improved a great deal over the year and is fantastic. I want equaliser options for my wireless buds and Redmi needs to work on that. As far as design goes, there is nothing to complain and there are enough eye-catching colour options.
It's a general purpose earbuds that doesn't cost the earth while offering enough power to last close to 30 hours (with charging from the case). Redmi Earbuds 3 Pro is a dip-your-ears in the true wireless stereo earbuds category offering. And it delivers.