Realme 7 Pro: a sound buy that captures a new level of maturity in the brand
Having experienced the phone over 10 days, all one can say confidently is that it goes against the tide in certain aspects and comes out winning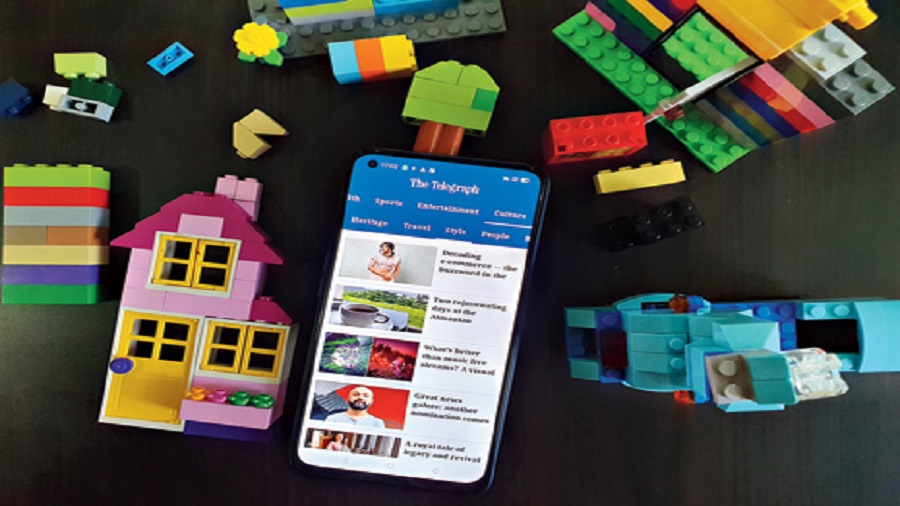 ---
---
Realme grows up with its new phone the Realme 7 Pro. It's definitely not one of the phones to be taken lightly in the sub-Rs 20,000 category (of course, price categories are slightly weird in India!) while it punches above its weight with the OnePlus Nord, proving that the brand has been taking customer feedback seriously. Having experienced the phone over 10 days, all one can say confidently is that it goes against the tide in certain aspects and comes out winning.
Brave choices
Glass always makes a phone look nice but Realme has gone with a two-tone polycarbonate rear panel, yet, there is something striking about the design. It's neat with the company logo is perfectly aligned while the rectangular camera panel is compact, even though there is a Samsung flavour in its design. There are no rough edges on the phone while the buttons have a nice tactile feel.
Switching over to the front, a 6.4-inch full HD+ Super AMOLED display greets the user. Three things to notice here. Realme has gone with a great display and not 90Hz refresh rate, which was present on the Realme 6 Pro. Display quality over refresh rate makes sense, especially when there is a neat feature in the Realme Lab section that can tackle the issue of smooth scrolling. Second, the screen size is slightly smaller, which translates into having a better grip on the phone. Third, instead of dual cameras on the front, this time there is just one snapper, which looks cleaner. These are major improvements to the user experience.

Good picture clarity and performance
Also some drastic improvements greet the user in the camera department that comprises a 64MP primary camera, 8MP ultra-wide angle lens, a macro shooter and a portrait lens. Frankly, the last two are pretty useless because you can get most of the things done with the first two. So let's begin with what's more important — the night mode, which makes a world of a difference because it is when the sun goes down we are at our relaxed best. It's a drastic improvement on the night front as the photographs have a bearable amount of noise. There is also a pro option in the night mode, which takes mobile photography to a new high at this price level. The basic night mode can also be used on the selfie camera. Nocturnal outings also beg videos. There is an ultra night video mode, which takes a little bit of poking around the phone to access.
Where video suffers is on the audio front, which comes across muffled. There are some great filters to keep users busy, especial the one called Flamingo.
Powering the device is a Qualcomm Snapdragon 720G, which has proved itself in mid-segment phones. It's an affordable processor and can take care of certain features very well. It has a slight edge over MediaTek Helio GT90 in way of optimization of apps and battery life.

Power up
Earning the phone a big tick is the super-fast charging battery. There is a 4,500mAh battery which can easily last you a day and more. What's even better is the SuperDart Charge feature with which you can go from zero to 100 in only 34 minutes. You can achieve this if the phone is switched off and then charged. It will take a few minutes more if you keep the phone running.
Also impressive is the stereo speakers, which we rarely get to see at this price point. We won't say it's the best stereo speakers and would fill the room but watching a film is a pleasant experience.

Is it for you?
There are plenty of choices around the 20K price point — Samsung Galaxy M31s, POCO X2 and even Redmi Note 9 Pro Max. Yet, some features on the Realme device come across attractive, like SuperDart Charge and stereo speakers. It's about what you want most from your phone. Realme 7 Pro is a sound buy and captures a new level of maturity in the brand.

At a glance
Device: Realme 7 Pro
Processor: Qualcomm Snapdragon 720G
Display: 6.4-inch FHD+ Super AMOLED
Speakers: dual stereo speakers (Dolby Atmos + Hi Res)
Camera: Rear — 64MP with Sony IMX682 Sensor, 8MP ultra-wide, macro and portrait; front — 32MP wide-angle
Storage: 6GB/8GB+128GB
Battery: 4,500mAh with 65W SuperDart Charge
Price: Rs 19,999 (6GB+128GB) and Rs 21,999 (8GB+128GB)
First sale: September 14, noon