Photographer Apeksha Maker on capturing the colours around her using the iPhone
'When taking pictures on a phone, people don't even realise what's happening'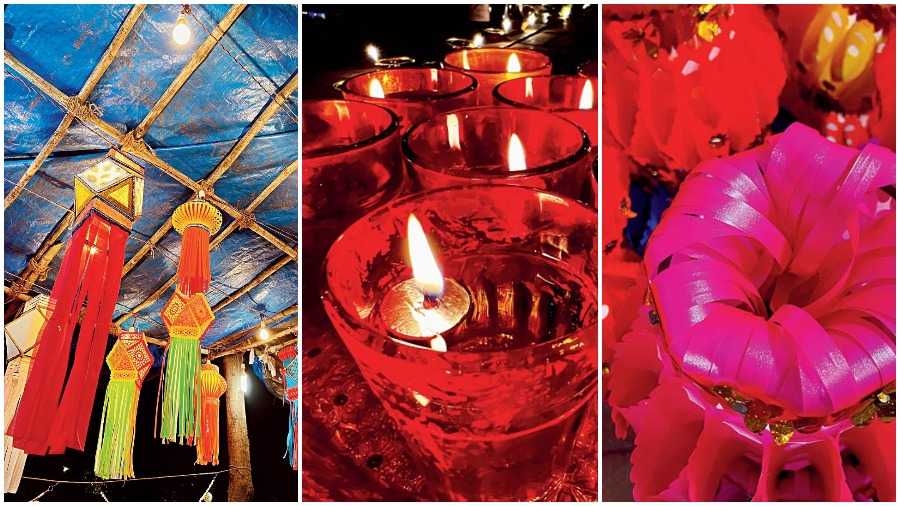 The colours of Diwali captured by Apeksha Maker using the iPhone 13 Pro Max.
Pictures: Apeksha Maker
---
Published 08.11.21, 12:58 AM
|
---
Apeksha Maker is usually up before the birds perched on the trees in her Mumbai neighbourhood. Being an in-demand photographer — after all, she works with some of the top film industry personalities and brands — she always wants to improve her game, visiting nooks of her city and beyond. The co-founder of The House of Pixels — a photography set-up that bridges "the gap between commercial and conceptual photography" — is in the flower market 5am-ish because that's rush hour in that part of the town. But she also knows that vendors here won't stop to pose for her. So, she needs to work on the fly, innovating with her methods to capture every photographically sublime moment.
But how can she function without raising eyebrows as suspicion is raised each time, say, the telephoto lens leaves the bag. Instead of bringing out heavy artillery, Apeksha trusts her 238g friend — the iPhone 13 Pro Max — to do all the heavy lifting. "I see a lot people use big lenses and it does make vendors feel uncomfortable; it can be intimidating. If somebody points a 500mm at me, I too would think: 'What's the photographer up to?'," Apeksha says with a lilt in her voice. "When taking pictures on a phone, people don't even realise what's happening. They don't feel uncomfortable. Besides, you can easily get in and out of places."
The new iPhone series can capture life under any kind of lighting. Apeksha especially loves to use her iPhone to take photographs at night. Apple has always had a knack for capturing colours correctly while maintaining realistic skin tones. Besides, white balance is stable and images capture all the details.
"It just makes it so much easier to have something that's convenient, yet, the output is that of a bulky camera. There are three lenses and I enjoying shooting ProRAW, which the company introduced last year. It gives me so much more freedom to play around with images in post-production. For me, my personal favourites (lens) are the 1X and then the 0.5; both of them offer a range of variation and that too on the same device as opposed to changing lenses during which moments can be missed," she says.
During Diwali, Apeksha spent a considerable amount of time shooting at night. "One of my favourite things on the iPhone this year — compared to last year's — is that I'm using it more at night. With all the changes made to the camera sensors, more light enters through the lens, giving clearer pictures. On last year's model, I had to use the night mode a lot but this year I have rarely used it because you don't need it that often. There's enough detail in the shadows, in the highlights. And I think what's really amazing is the dynamic range. Everything is evenly lit up. The software itself is so good." To lend her photographs variation, the Mumbai-based shutterbug uses the live mode a lot. "And then maybe get a little bit of motion blur. I can also get a longer exposure… so you get some of those light trails. The photographs appear more dynamic."
While taking pictures on the move, the iPhone rarely misses a frame, which is the case with most other phones. After you reach home, you realise there have dropped frames or videos haven't come out fine. That's not the case with the iPhone.
Apeksha is also enjoying the Cinematic Mode on the iPhone 13. It's basically the rack-focus effect that you get on expensive video cameras. While shooting a video, you can lock the focus on a person but when the character looks away, the focus shifts to the other face in the frame, only to shift back to the primary person when he or she looks at the camera again. The best thing about the feature is that the focus can be changed in post production. Lately, the photographer has also been posting on Instagram (@amaker7) a lot of macro shots taken using her iPhone 13 Pro Max. "Our naked eye misses so many details in any object. There are so many textures and different patterns. Take the mushroom for example. It's something we find all around us but we don't realise the textures that are there on it. With the new phone you can go really close to an object without losing out on details. Earlier, I had to pick up an additional lens to do this. "
In case you are interested in picking up the iPhone to try your hand at photography, Apeksha has a reminder: "Clean the lens. Phones are usually kept in the pocket, so dust may gather on the lens." She also keeps the grid on and the level finder. Next up? She is trying out ProRes, a video feature which arrived a few days ago on the new iPhones.