myNK: Video on demand gets the blockchain treatment
The platform was unveiled at Cannes Film Festival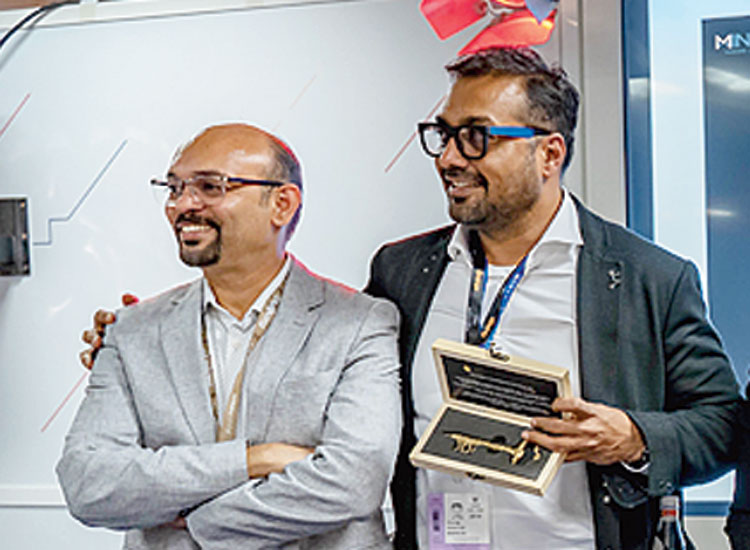 ---
---
Blockchain has two very important functions — hashing and time stamp. Hashing is a mathematical formula, which assigns the content a unique ID, which the right holder can preserve for his copyrighted content. Time stamping assigns a unique time stamp to every transaction getting executed on the network whether it is content viewing, buy/sell, rate/review. Any illegitimate attempt to copy or steal content from the platform will be recorded and time stamped. The misbehaving node can be quickly barred from accessing the platform," Nitin Narkhede, the 48-year-old founder and CEO of MinersINC, tells The Telegraph while talking about his blockchain-powered video-on-demand platform myNK (launches in June), which has been unveiled at Cannes Film Festival.
Here's more about the platform that advocates the concept of pay-per-view and has director Anurag Kashyap as mentor.
What makes myNK different from other video-on-demand services?
myNK is not just a VoD service; VoD is a micro-service on this platform. Most of the players in the space were founded with the sole motive of minting the digital wave by offering entertainment to content-savvy customers. myNK has been established for a cause that stands firm for enablement of right holders from across the globe and empowerment of consumers across India. For instance, a right holder can break free from the challenges of legacy distribution practices marred by non-transparent revenues, piracy, lost control over content and directly reach audiences worldwide in the most transparent and secure manner. Consumers can earn rewards and viewing credits for each act of engagement, whether it is reviewing, commenting, sharing, referring or micro-distributing a film.
An average consumer pays money and expects truckloads of films and shows. How can myNK deliver on this front?
If one is given a choice between truckloads of content and a reasonable library of movies that are handpicked and have passed through very skilful curators, the latter would be chosen most of the times. A regular movie and series enthusiast whenever presented with loads of content also does self-curation from the library and watches certain selected titles. myNK follows a simple mantra of 'pay for what you watch'.
How would you make a person pay for another video-on-demand service?
We believe that subscriptions must be a facility on demand and not a burden for the viewers. With so many content providers at play, the choice of content cannot remain restricted to just the platforms one has subscribed to. And with limited entertainment budget and so many subscriptions, people end up indulging in piracy.
This is why myNK advocates the concept of pay-per-view (PPV) model, which requires viewers to come on board and pay for the content they want to watch on the platform. Eventually, subscription revenues are destined to taper and the service providers would then look for a similar PPV service to build on the additional revenue streams and this is where myNK could be instrumental.
What does myNK mean?
'My Network' — a community-driven OTT platform. As Anurag Kashyap explained at the myNK launch at Cannes, "myNK operates like a social media platform where you see movies, review movies, you talk about movies, you also earn an income. Earlier, when there were limited money and resources, cinephiles used to queue outside embassies waiting for an entry for free screening. Now this community has moved to WhatsApp groups. We have our own film club that we operate from home and we try to make people aware of it. So the idea is to create this platform where we discuss movies, we give incentives to people, you bring in people and you make money. Anybody who has put a film on the platform, the money goes straight to them immediately. It's not like you are blinded, anyone can see who is watching. If I bring 10 people to watch the movie, there's a percentage for me, I can recover my one movie ticket that I've bought. Its like a chain, it goes on and on with everyone. It's legal peer-to-peer money. It also makes you a smart marketing person. This is all about networking of similar-minded people."