Smoke fills the frame as Nawazuddin Siddiqui speaks about his journey and lessons learnt in the film industry. After 30-odd minutes the lights come on to reveal an auditorium full of students clapping and cheering while soaking in the magic of a phrase that's taking over the world — 'Filmed on iPhone'. This was no ordinary screening at Mumbai's Whistling Woods International, for the duo of Manil Gupta and Rohit Gupta are no ordinary artists. The brothers have in the last few years created a show that has put different art forms on the map. Titled The Creative Indians, after a tremendous third season on Netflix, the fourth season is all set to take off. This time, it's all 'Filmed on iPhone', which is no longer just a device to call people; it has democratised film production.
The Telegraph met the duo in Mumbai and here's what they had to say.
Was it easy to take the leap from a traditional camera set-up to filming on the iPhone?
Rohit Gupta: We first had to convince ourselves. Can we really shoot something professional and serious on this (iPhone)? There was a lot of risk involved. But then life only begins outside the comfort zone. When we reached out to Apple, they loved the idea and sort of validated our leap. It was frankly a dream partnership.
Manil Gupta: Creators want validation. When Apple thought it was a good idea, we realised that we were at the crossroads of something important.
Rohit: I also feel it is very early days and we are transitioning into a new phase. There is a lot of talk about great output but to a filmmaker there is the question of sustainability. This, in fact, made us switch over. Can we find anything that was sustainable? Can we switch over to a medium that would make us less dependable on producers and brands and sponsors? A creator wants to create without making compromises, something that happens in big-budget productions; the soul gets lost. Sometimes a creator just needs to take off without having to run after convincing people for money.
Manil: Shooting this way allows a creative person to easily set his ship off to sea. Now nobody can complain; the technology is out there... just pick up the phone and shoot.
Rohit: I can have the iPhone in my pocket and it offers great quality. You are afraid to do something new, especially ideas that at a glance look dumb. We thought of the idea in 2016 and shared it with our then production partners. They freaked out. It took us two years to believe in it and until then we also had our production completely in our hands. I believe the technology has arrived at the right moment, solving most of our problems — storage, camera, battery, mobility, accesibility and what better, it's 4K. The biggest factor we wanted to kill is all the dependency. iPhone was the answer for us, with a zen interface. The biggest challenge was to know where the technology was right now. On a global platform — like Netflix or satellite television — one has to be sure that shooting on the iPhone is good enough for broadcast. But then, platforms like Netflix are so progressive.
We didn't have much references to look at. A lot of phones are great if you go out and shoot. But the real challenge is when you have to shoot indoors and our format requires us to shoot artistes in studios and factories.
Manil: Because we were shooting a lot indoors, lighting is a challenge. We didn't carry huge amount of lights, we wanted to simplify things. If you want to just replace a bigger camera with an iPhone and you still have all the lights, then it defeats the purpose.
Rohit: Senior photographer Bandeep Singh said on the show: "It was not about the camera at all, it was about seeing." That was the magic line for us. We had to go beyond technicalities and see what the scene is actually like… what is it you can shoot and not just how you can shoot. Figuring out light was the biggest challenge and then things like ISO. We tried all the phones before locking in on the iPhone. Then we had to do a lot of tests. Finally, we ended up shooting on the iPhone using an app called Filmic Pro. The app allowed us to control exposure, focus, colours, shooting formats and a lot of other things....
Manil: The other big issue was stablisation. Cameras are heavy, hence sturdy and stable.
Rohit: Phones are light. Understanding stablisation is an important exercise. You can have 2,000 friends on Facebook but in real life you stick with two-three friends. For us it was the Osmo Gimbal 2 and the tripod.
Take us through the shooting process.
Rohit: There is a lot of difference in what you see on the phone screen and what you see on the big screen. We looked up different lenses. Olloclip is recommended on the Apple website. There are others too, Moment lenses, the Beastgrip. Our intention was not to switch a traditional camera with a phone. We did not want to match the magnifications of a conventional camera. The iPhone allowed a whole new perspective to filmmaking. Do not try to replicate what a Red or an Arri or a Mark 3 or Sony A7S does. Look at it as a different entity and what it brings and then only you can understand the true power of the iPhone.
It's like a rabbit hole; the deeper you go, the more you realise what it really is. Its a perspective switch with a language of its own to be discovered. It removes the friction of technicalities. It makes shooting simple. For a director, typically the DoP is only a channel for his expression. When you shoot with the phone, the simplicity and the ease of the medium breaks that channel and brings you closer to what you want to say. It breaks the walls of technicalities and makes storytelling more honest, intimate and powerful. It takes you closer to your imagination.
Manil: We have six members in our team and all six of us are DoPs! We are shooting all the time, everywhere. What separates a good shot from a bad one is what you see in the frame and not the technicalities of the camera.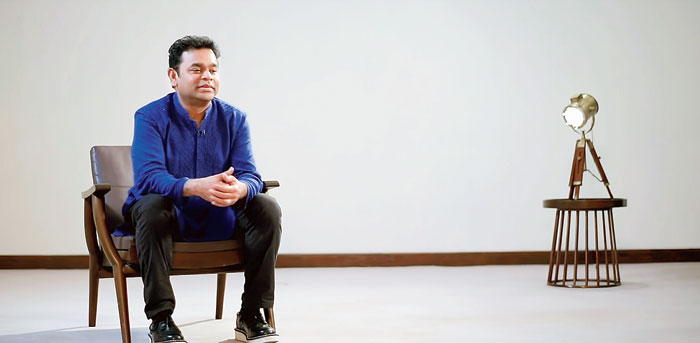 A.R. Rahman Manil-Rohit
Rohit: This was a band called Peter Cat Recording Co.; we shot a one-take music video with the band using a gimbal. We shot on a small moving boat with four cameras on the ghats of Benares. And then we shot live impromptu performances at A.R. Rahman's KM Music Conservatory, which is a complete musical madhouse.
We shot a location visionary, Nataraj Ramji, who has done the locations for films like Baahubali, Simmba, Dilwale, Shivaay, Robot.... We travelled to Azerbaijan to shoot him while he was scouting locations for Bollywood and south Indian films. We shot the country without permissions because the phones just don't grab attention. We shot at airports, trains, railway stations, inside the aircraft, public places, there's no place which felt restricted. Of course, you have to be responsible while shooting, as they say with power comes responsibility. But this was pathbreaking and revolutionary.
How do you go about choosing the people for the show?
Rohit: We have to have people from different industries. This time we have a graphic novelist, a cyborg artist, a band, a music project (Listening Room), a textile designer, a concept artist and a music school, besides the directors and the actors. These are people pushing the envelope in their respective fields. The answer also has seeds in the past. Manil is a painter as well and I am a photographer and we both paint together, too, as ManilRohit. For us the whole journey started when we realised there has to be something like this on television where people get to know the process of an artist. We wanted to kill the ambiguity that the art world thrives on.
Manil: Essentially, we wanted to document what goes on in an artist's studio space.
Rohit: We recently saw this show again, that used to come on Doordarshan — Surabhi. We used to love it and it was ahead of its time. Back then (the show started in 1990) they were showing things like what the film industry in Odisha was like. It was fascinating and courageous. Presented by Siddharth Kak and Renuka Shahane, it did more than 300 episodes. We felt our show was almost a reincarnation of Surabhi.
Once young people watch The Creative Indians Season 4, many may get inspired to film on the iPhone. What's your message for them?
Rohit: It's an unassuming yet powerful medium and a tool for expression. Just get up and shoot. The power to create is in our hands. It's that realisation.
Manil: It's empowering. It's like your sketch book that you carry with yourself all the time. Now it is up to you how you want to use it.
Chaitanya Chinchlikar (CTO and vice-president, Whistling Woods International): It is essentially a workflow. You once had film and that had a particular workflow and it required a certain way of shooting. It was a resource-light workflow. Then digital came round and it was not a resource light workflow. It is all zeroes and ones and one started filling up hard disks. I am not saying it is a good thing or a bad thing. It is what it is. Now we have a new workflow and this, too, is neither good nor bad. But you can't ignore it.
Manil: Some say everybody is now an artist or photographer. That is true. Picasso said, a child can draw, it took me a lifetime. Earlier, they may not have been aware of it. But all of us have a capacity.
Rohit: Don't compare a DSLR to iPhones. Comparisons are bad. Why is there so much resistance to the fact that everybody can't be a photographer or filmmaker? If my mom can pick up a phone and take a beautiful picture, I think that's empowering.
Chaitanya: Earlier, everybody could have been a photographer but the easy access to equipment wasn't there. Students have to be taught that this is a serious workflow and that can be the turning point. There are many who are doing the OTT stuff and YouTube who wouldn't touch an F55 or a Monstro 8K. The great thing is that they don't need to. It is just a different camera. You can reach Mumbai or Pune by bus or train. It is about reaching the destination. Mastery over making films on the phone camera will become key for students.
[Whistling Woods is integrating a segment of shooting on iPhone into its curriculum. The 'Shoot on iPhone workshop' will be an integral part of all three-year and two-year programmes, including those in filmmaking, media and communication. ]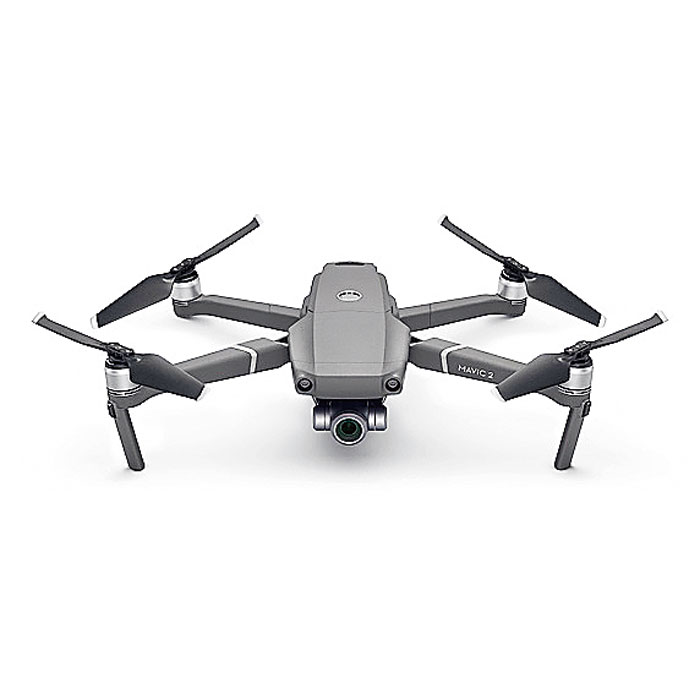 Telegraph picture
Take a look at…
DJI Mavic 2 Zoom Drone: It is powered by a 1/2.3-inch 12MP sensor and two-times optical zoom lens (24mm–48mm, 35 equivalent). Now you can easily capture everything from wide angle to mid-range shots for even more creative options. Compared to a 24mm wide-angle lens, the 48mm telephoto lens compresses your perspective, enhancing the parallax effect for a classic cinematic look. For the first time in a drone this size, you're now able to punch in quickly for a tighter shot from 109 yards (100m) away, keeping a safe distance when circling or chasing your subject. Simply attach your iPhone or iPad to the drone's controller and shoot away. Telegraph picture
DJI OSMO Mobile 2 Gimbal for iPhone: It is a handheld stabiliser that works with the DJI GO app to turn your iPhone into a smart motion camera. It makes everything you shoot look smooth, professional, and ready to share. OSMO Mobile 2 automatically tracks your subject, captures stunning motion timelapses, or even streams a moment live around the globe. It also offers the freedom of a lighter design, more intelligent functions, and a longer-lasting battery.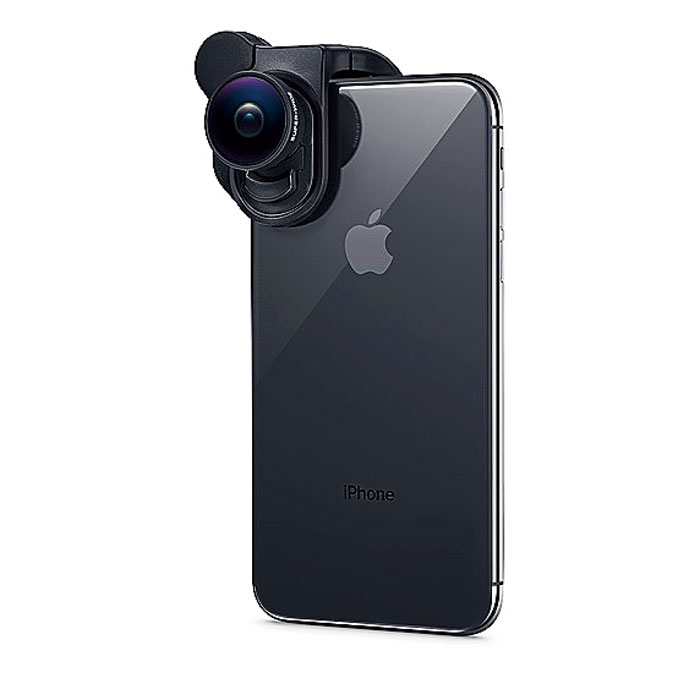 Telegraph picture
Olloclip mobile photography lens box set: It contains three lenses that deliver unmatched image quality, user experience and versatility. These Fisheye, Super-Wide, and Macro 15x lenses offer a diverse range of options to shoot wider and closer than ever before possible with your iPhone.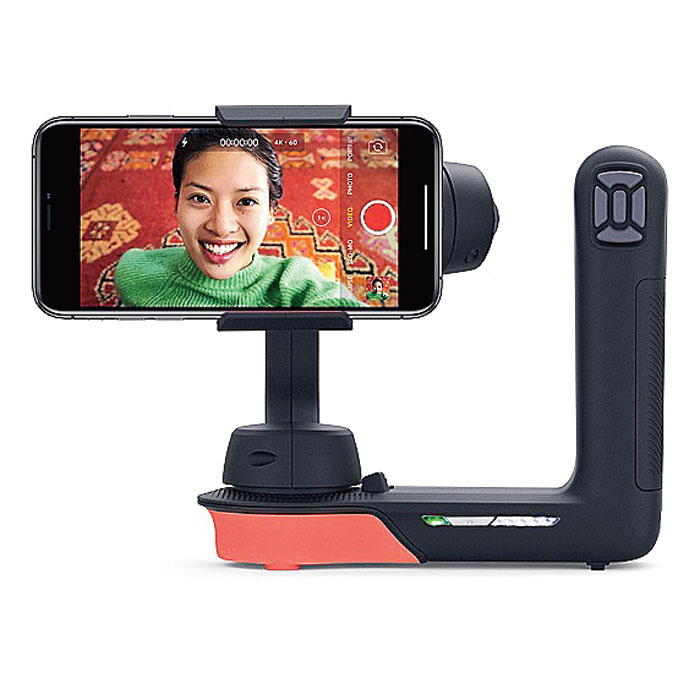 Telegraph picture
Freefly Movi Cinema Robot: Simply slip your iPhone into Movi's clamp, then point and run, ride, slide, skate or climb, while capturing everything in the highest-quality video. Movi turns every bump, jolt, and shake that you normally see in mobile video into smooth, cinematic footage with the same stabilisation technology found in professional camera gear.