iPad Mini can become the most coveted device
Once you pick up this gadget, chances are you will occupy the sofa for hours, chilling like you deserve to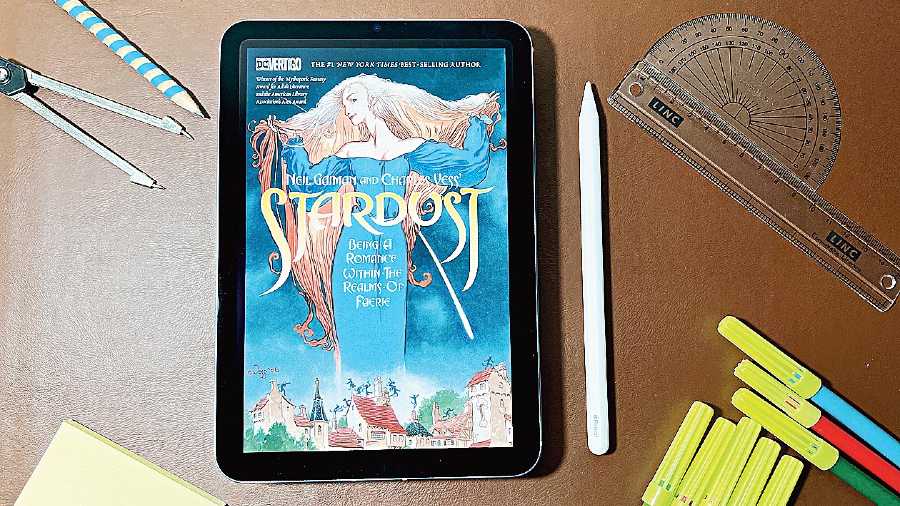 ---
Published 10.10.21, 11:27 PM
|
---
Apple's mighty mite iPad Mini has the potential to become the most coveted device of the pandemic. Once you use it, there's no turning back because it has set out on a mission to spoil you… you the artiste, a voracious reader who doesn't mind ebooks, a pilot, an enthusiast of streaming services, a gamer, a cook or a student. The successor to the 2019 Mini, Apple has made quite a few big changes to the device in way of the innards as well as design, making this the go-to option for anybody looking for a tablet on the move but at the same time the company ensures it doesn't enter the zone of the iPad Pro, which is a power monster, meant to handle complicated tasks to the point of editing videos with four-five layers.
The spec bumps are serious, thrilling you with the A15 Bionic, which is basically the processor running the show on the latest iPhone 13 series. The bigger screen estate results from narrow bezels while the squared-off look has shifted the volume buttons to the top, leaving the side bezel for the second-generation Apple Pencil to magnetically attach. There's stereo landscape speakers, USB-C connectivity, Centre Stage video calling feature, a very capable front camera… phew, this is the most feature-packed iPad Mini ever. But specs alone can't sell an iPad. What's the real-life usage and that's where the device wins a wide-spectrum of users over. In fact, if you are looking for a tablet that's around as big as, say, an unfolded Samsung Galaxy Z Fold3 5G, this is it, minus all the hassles Android brings with its apps. Plus, it can slip into the back pocket of your baggy jeans.
Instead of running through a list of figures that hardly makes sense to the user, here are some real-life scenarios where the iPad Mini can be your companion.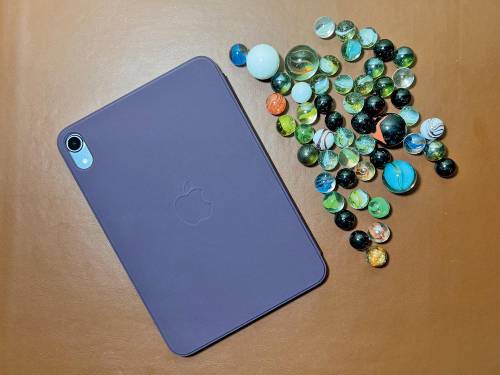 Yo, I'm a student!
The iPad Mini finally supports the Quick Note feature in which you simply drag the app on to the screen to quickly take down notes with the stylus. So, I was planning a meeting of the science group to work on our new aeromodelling project. I quickly scribbled down points that may come up in the group meeting, plus threw in some reference notes. After this I slipped into the shoes of a medical student who has to read a zillion books, plus make annotations, throw in quite a few diagrams… It's exhausting to have handwritten notes all the time, plus, if the student is living in a hostel, there is no space for anything much in the dorm room. Not only you can take notes on the Mini, feel free to add images to them. And then take advantage of apps like Notability and GoodNotes. The advantage Notability has over GoodNotes is that it can record. While attending a lecture, not only can you take notes but also record the lecture. In case you miss something in the notes, you can go back to the lecture. And Notability gives you plenty of options for exporting and sharing your notes, including Google Drive, Dropbox, and AirDrop.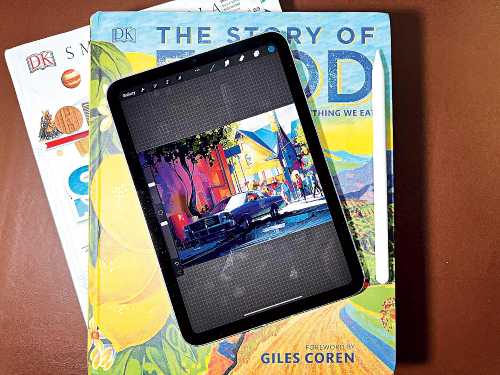 I like to read books
Sure, this is just the perfect device to read books on, especially if you consider the aspect ratio. Not just ebooks, reading comics and graphic novels make sense. Instead of using a slower device like Kindle, which has a limited number of functions, I prefer the Mini. Agreed that Kindle allows me to read without distraction of moving into other apps, yet, if I am spending a good amount of money, a Mini makes sense. I can simply sit back and enjoy a book or a graphic novel on the several apps that are available.
Hello, I want to make a sketch!
You've come to the right place. Now that there is support for second generation Apple Pencil, look no further when it comes to a sketching device. Procreate is a favourite app among millions around the world and it allows users to take full advantage of one of the best stylus money can fetch you. The Apple Pencil instantaneously responds to your drawings. If I add pressure, I will be able to visually see the results there and then; zero lags. And you won't see anything distracting, like pressure making weird ends to the lines. And inking is super smooth. What the iPad Mini is really good at is palm rejection, which is not often the case with most tablets. While drawing on touch screen, your palm will rest on the display from time to time but it should not leave behind marks.
It's only a 8.3-inch display but it packs in a lot of pixels, resulting in richer pictures. iPad Pro screens are of course better and come with better contrast ratios but the screen on the Mini does exceptionally well and you may not even tell the difference when Pro and Mini are compared. The only grudge can be the 60Hz display refresh rate but you really don't need it because the operating system is brilliantly optimised.
Let's fly away
One of the open secrets has been the popularity of the iPad Mini among pilots, who can always buy the bigger iPad Pro but they swear by the Mini because of its size and ease of usage. A very popular app among them is ForeFlight, which is a mind-boggling app that has allowed pilots to do away with paper charts. All kinds of information — weather, wind level at various altitude, map… — are graphically represented in the app.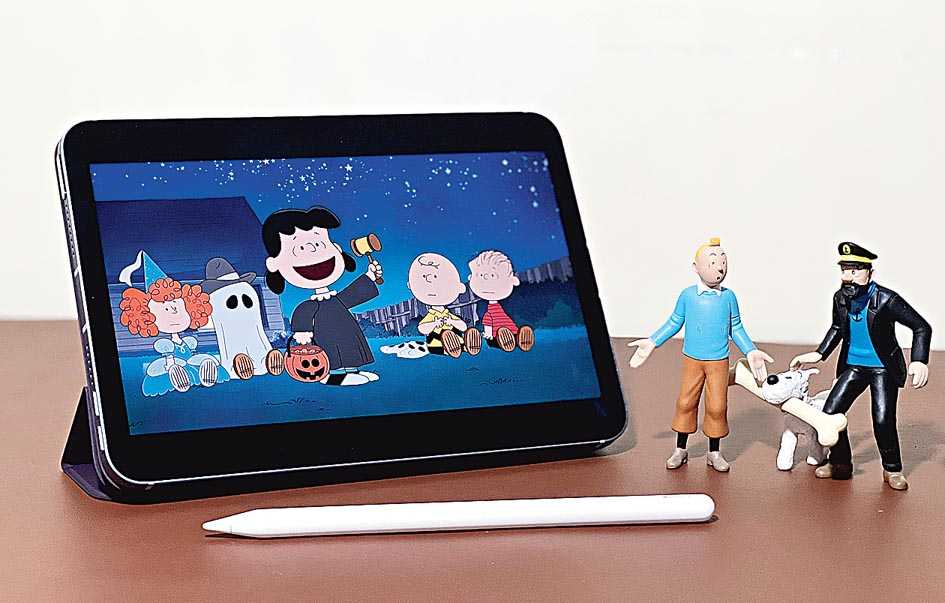 Spoil me with streaming
You already know that tablets are great for binge watching because of the screen size. Things just got better. Combine this with a smart folio case and make the Mini stand on the table, rest on the bed or chill on your tummy. That's one part. Apple has done something clever with the volume buttons, which is on the top. Say you are watching a film and want to play around with the volume… it's easy to do that. Now you put the iPad down for a few seconds only to pick it up upside-down, which changes the side the volume buttons are on. Yet, the volume rockers work just the way it should — up remains up and down remains, well, down. Also, the iPad Mini allows you to register two fingers, so that you can authorsze apps without having to flip the device around.
What I would have liked is a mini Magic Keyboard to go with the Mini but that's not possible because there are no smart connectors on this device. So if keyboard is a must, you have to find one with Bluetooth connectivity.
A friend indeed
What you get out of the iPad Mini is seven to eight hours of screen time, which is a stunning amount from such a small machine and this figure is for someone who uses the Mini for watching films, blogging and gaming (it's something we will talk about in a separate article). Over the last week or so, I felt that Mini was designed for the post-pandemic era and Apple has planned it out carefully. I am spending a lot of time indoors, watching films, reading books, playing games and doomscrolling… this device allows me to do all that and more. It's not a heavy, unwieldy device. And being devoted to graphic novels and comics, I really can't think of a better device than this one. Truly, what's in a name… a Mini by any other name will still be a very powerful device. Once you pick up the iPad Mini, chances are you will occupy the sofa for hours, chilling like you deserve to this festive season.
At a glance
Device: iPad Mini
Price: Upwards of Rs 46,900
High notes
• Powerful configuration
• Excellent design
• iPad OS is well customised
• Touch ID available
• USB-C charging
• Front camera features Centre Stage
• Works with second generation Apple Pencil
Muffled notes
• There is 64GB storage and 256GB storage but nothing in between
• Inclusion of smart connector pins would have been welcome