Into the high-stakes world of Non-Fungible Tokens
Care about collecting Twitter founder Jack Dorsey's first tweet? That will be an NFT.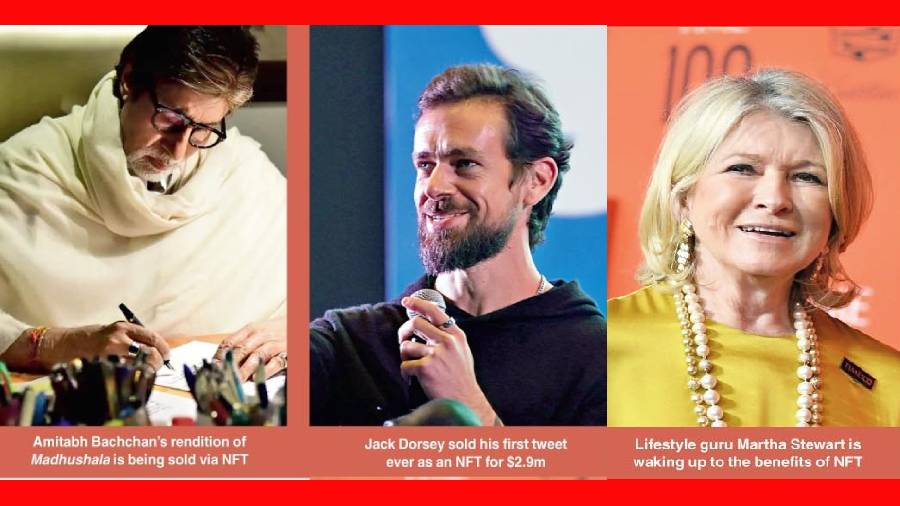 ---
Published 05.11.21, 02:34 AM
|
---
A few days ago, Amitabh Bachchan put his golden voice to work to announce through a video that his father's poem Madhushala's recording in his voice and a few other prized moments from his career will form the heart of an NFT auction through Beyondlife.club (powered by Guardian Link). The 79-year-old said: "In a world of metaverses and digitisation, NFTs have opened the doors to a new realm of connectivity and an opportunity to engage with my fans in a new way." If the iconic actor is open to NFT, should more people explore the option? More importantly, what is NFT?
Non-Fungible Tokens have been conversation starters for the last few months. Buying a digital artwork? Buy an NFT. Care about collecting Twitter founder Jack Dorsey's first tweet? That will be an NFT. However clumsy the technical term, it has become big business for investors and artists of all stripes. These are basically virtual tokens that use blockchain technology to record proof of ownership of pretty much anything unique, from artwork to music.
'Fungible' is a technical term for one of the key properties of money — one unit of any currency should be interchangeable for any other unit. Consider them to be like plane tickets. You can't swap your plane ticket for a different one to board a flight. When you own a digital painting, the NFT ownership gets recorded on a blockchain, like Ethereum, where the information of ownership can't be altered. This obviously takes care of a problem inherent to something like art – forgery. You can easily prove ownership with an NFT.
Almost a year ago, one of the first big auction houses entered the NFT market — Christie's. It sold an artwork depicting bitcoin creator Satoshi Nakamoto for a record $131,250. In March this year, a digital work by American graphic designer Beeple (Mike Winkelmann), comprising 5,000 Instagram posts turned into a collage of a single JPG file, sold for an eye-watering $69.3 million. Not just art, even musicians are waking up to NFTs. US rock band Kings of Leon were one of the first to sell an album as a collection of NFTs. They made more than $2m in music sales when the record was released in March 2021.
"I think NFTs are a new way for artistes to claim independence and eliminate the middle man altogether. Artistes creating their own terms and building relationships with collectors rather than companies. NFT technology is still so young, but I'm super excited about where we can take it and how it will completely shift the music industry altogether," Toronto-based Tamil rapper Shan Vincent de Paul told us.
What's got the technorati worked up is the idea that NFTs could be the next cryptocurrency. You can use NFTs as collateral to get a loan in the crypto world for purchasing virtual real estate in online-only venues such as Decentraland.
To get started with NFTs, you need a crypto wallet which will be used to send, receive and store digital assets. Such wallets are available as apps or as a browser extension on Chrome, Firefox or Microsoft Edge. NFT marketplaces allow you to map your wallet to their platform and start trading near-instantly. The wallet balance needs to contain some ether (Ethereum's digital coin ether is one of the world's largest crypto) to cover a network's transaction fees.
Sounds complicated? It's not once you start exploring the subject and it's an important topic in the digital era, like musician Shubh Saran told us. "I'm not too familiar with the inner workings of NFTs but as a musician whose career very much exists online, I do find the challenge of staying up to date with everything related to digital music. Finding ways to distribute, share and promote my music stays at the forefront of my mind, and learning how to use social media tools and marketing is an important part of my work," said Saran, who lives in New York.
Age really shouldn't be a barrier when it comes to learning tricks of the digital world. What Amitabh Bachchan is doing in India, 80-year-old lifestyle guru Martha Stewart is doing in the US. She has a collection of NFTs on her e-commerce site. Her first line of digital collectibles comprise Halloween-themed Non-Fungible Tokens featuring images of her costumes carved into pumpkins. Stewart is constantly pushing the boundaries to reach new audiences, which in the past has been helped by her association with rapper Snoop Dogg and her roast of Justin Bieber in 2015.
For sitarist Purbayan Chatterjee, most of his life has been spent making albums and performing before live audiences. But times are changing and he is becoming familiar with the digitised world. "I have just been very recently acquainted with NFTs. I think they are at a nascent stage and yet they are a great source of revenue generation. I would love to learn more," he said.
Agreed that NFTs are a hot trend, which may be slowly forgotten, but there is also a chance that it becomes a staple of livelihood for many.
A few high-profile NFT sales
• $69m: Digital artist Beeple an NFT of his work
• $5.4m: An NFT of the World Wide Web source code
• $2.9m: Jack Dorsey sells his first tweet
• $6m: Artworks by the musician Grimes
• $473,000: The 17-year-old meme Disaster Girl sold
• $94,500: Artist and storyteller Raghava KK's La Petite Mort (part of The Orgasm Project) went under the digital hammer