Here's why the Galaxy Tab S6 is the rockstar among Android tablets
I locked up my Microsoft Surface for a week and did what I do for a week with the Samsung Galaxy Tab S6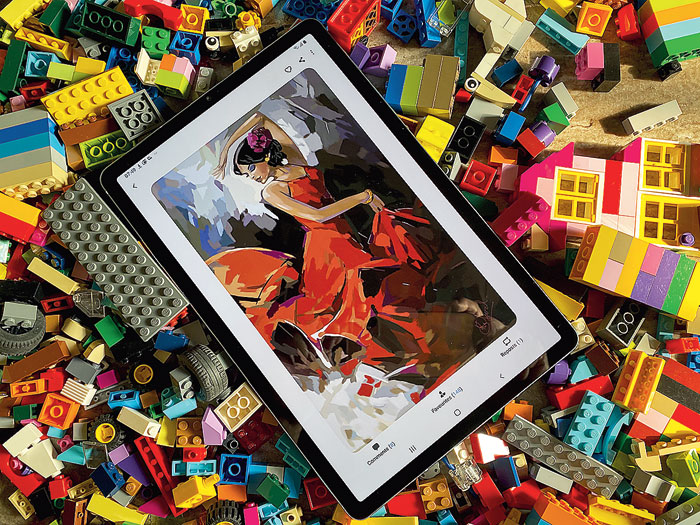 ---
---
In 2019, what counts as a computer? Is it the smartphone peeking out of one's pocket? Or is it the tablet that's swinging inside a sling bag? Let's just say, the desktop is slowly doing its disappearing act while the laptop is trying to reinvent itself. The smartphone, of course, is here to stay because of its size while the spoils of the tablet market are being shared by two companies — Apple with its iPad and Samsung with its Galaxy Tab.
It's easy to make a video comparing the two but in real life apples and oranges taste different. While the iPad symbolises the best of what iOS (now iPadOS) has to offer, the Galaxy Tab is a medley of productivity and creativity for Android users. But can the latter outdo a laptop? I locked up my Microsoft Surface for a week and did what I do for a week with the Samsung Galaxy Tab S6.
Setting it up
There's a considerable amount of throwing around words in my life, which obviously calls for a keyboard folio case. Second, the S Pen stylus is a saviour but needs protection. Once the keyboard cover is in place, attach the pen to the back of the tablet via magnets while a small pouch-like storage area in the keyboard keeps the joey snug.
During set-up, one can choose from three ways to protect the device. First, the usual pin code. Second, there is an in-screen optical fingerprint scanner (it works beautifully and quicker than what we have seen on many phones). Third, there is face unlock, which is free of problems.
The design
Far lighter and thinner than the Tab S4, it has a nearly bezel-less sAMOLED display (2,560x1m600 WQXGA screen at 287ppi) and rounded corners, giving it a sleek look. The screen is a treat to look at, with colours that pop while the blacks look really deep. Sit with it outside a cafe, the screen gets bright enough to use outdoors. It's just what one needs to watch movies on — thanks to the 16:10 aspect ratio — while the text looks sharp even from a distance. In portrait mode, there is enough room to play around, in landscape mode, well, DeX is the way to go. Around the screen are four Dolby Atmos-enabled speakers with clarity and depth that outstrips the iPad Pro. And though a headphone jack is missing, buy the Galaxy Buds, which are worth one's money, especially when a journalist has to transcribe an interview, which usually involves a fair bit of pause-play.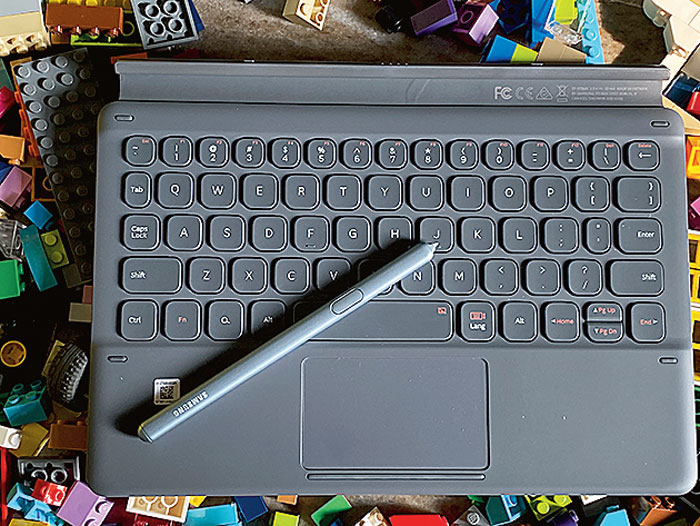 Productivity
Obviously the most important segment. For journalists who have lived through the era of dial-up Internet access, the mouse is nothing less than a security blanket. We have long complained that tablets and iPads can't replace laptops because — among other reasons — the mouse is missing. Times have changed. We are now talking to a generation that's growing up using the tablet. My eight-year-old has asked why I don't have a touchscreen desktop. These are kids who are learning the basics of robotics and what not on tablets and they spend time on finger-first computers.
Of interest and importance is working on multiple apps on the same screen. Usually, the first dark brew of the day is sipped logging on to news websites while at the same time, a bit of WGT Golf-ing (it's addictive!) and replying to emails/messages. Instead of making things confusing at 5am, the Tab S6 makes life easier with a multi-window mode. One can split the view with just a click (tap Recents on the Navigation bar and then tap on the desired app icon to get options like split screen view and pop-up window). It works seamlessly and the effort that goes into using three apps simultaneously is like preparing a cuppa with a teabag. That simple!
Then comes the keyboard folio (needs to be bought separately). After dropping my eight-year-old it's an old habit to knock out a copy or two before the shower comes on. The keyboard attaches to the tablet using magnets and a pogo pin connector. The back cover and kickstand are separate from the keyboard and the design allows one to prop up the tablet easily. If it's about watching a video, keep the keyboard aside. If an email requires a long answer, attach the keyboard. Where this really helps is while flying economy because the tray tables seem to be getting small enough to hold just a couple of croissants. Though I needed 30-odd minutes getting used to typing long copies on a keyboard with a smaller layout, it has now become, what kids calls, easy-peasy. There are also some cool function keys, which makes life easier. We are not done.
The South Korean company has the affairs of Gen Dial-up in mind because they have added a trackpad, which maybe small but surely godsend. Yet, one doesn't understand why Samsung can't give this handy keyboard folio case free with its high-end tabs? It's a great way to check competition.
Next productivity tool — the S Pen, which comes in the box and is similar to one found with Galaxy Note smartphones. It's slightly thicker than the one that comes with the Galaxy Note10 but it's a great tool for drawing or taking down notes. The updated stylus now recognises Air Actions that have been included in the Galaxy Note series. Things like changing camera settings or adjusting the volume can easily be done. But then, one would actually spend very little time waving the stylus around. It's more to do with putting things on the screen, which it does very well, especially if you are a fan of the PenUp app that allows users to come up with some amazing sketches and drawings. To charge the S Pen, attach it to the back of the tablet for wireless charging. A quibble: The pen could have been slightly heavier like a traditional writing tool; this helps while drawing.
The next productivity tool — DeX, which is something Samsung is known for. With the mode on, you get the feel of working on a desktop and it lets you run desktop-like versions of mobile apps.
This brings us to the camera. My eight-year-old wants to learn about blogging, like the one I had aeons ago! Cameras on tablets have never been good, so Samsung decided to change that. There are cameras on the front and back and not only that, there is a dual-shooter set-up on the rear with a standard camera and an ultra-wide option. While blogging, pictures are a must. Instead of switching between phone and tablet, the Tab S6 takes beautiful snaps, enough to lighten up a blog. And there is even a night mode, which makes food blogging easier (restaurant lighting is usually dull but the Tab S6 does a good job).
Verdict
Coming back to the question of whether the Galaxy Tab S6 will make me ditch a laptop. Keying in long copies on the move is a cinch but when it comes to typing while resting the tablet on the lap, things need to improve. But the tablet offers a glimpse of things to come. Instead of Chromebooks, high-end tablets are becoming a favourite among the younger generation. By young, I mean the really young. As those in the pre-teens and teenagers become comfortable using something like the Galaxy Tab S6, such devices would evolve. For specialised computing tasks — like coding — laptops help but if you are on the move and want to keep your bag light, tablets are the way forward.
Powered by a top-end 64bit octa-core processor, a screen that's the best in the market and a 7,040mAh battery (it easily lasts a day watching videos, blogging and browsing), this tablet roars and purrs, bringing out the creative side to the user while remaining a tool for productivity. In short, the Samsung Galaxy Tab S6 doesn't play second fiddle to anyone. It's the rockstar among Android tablets.