Headphones for the fitness freak
Ultimate workout headphones; the design is smart and sweat-proof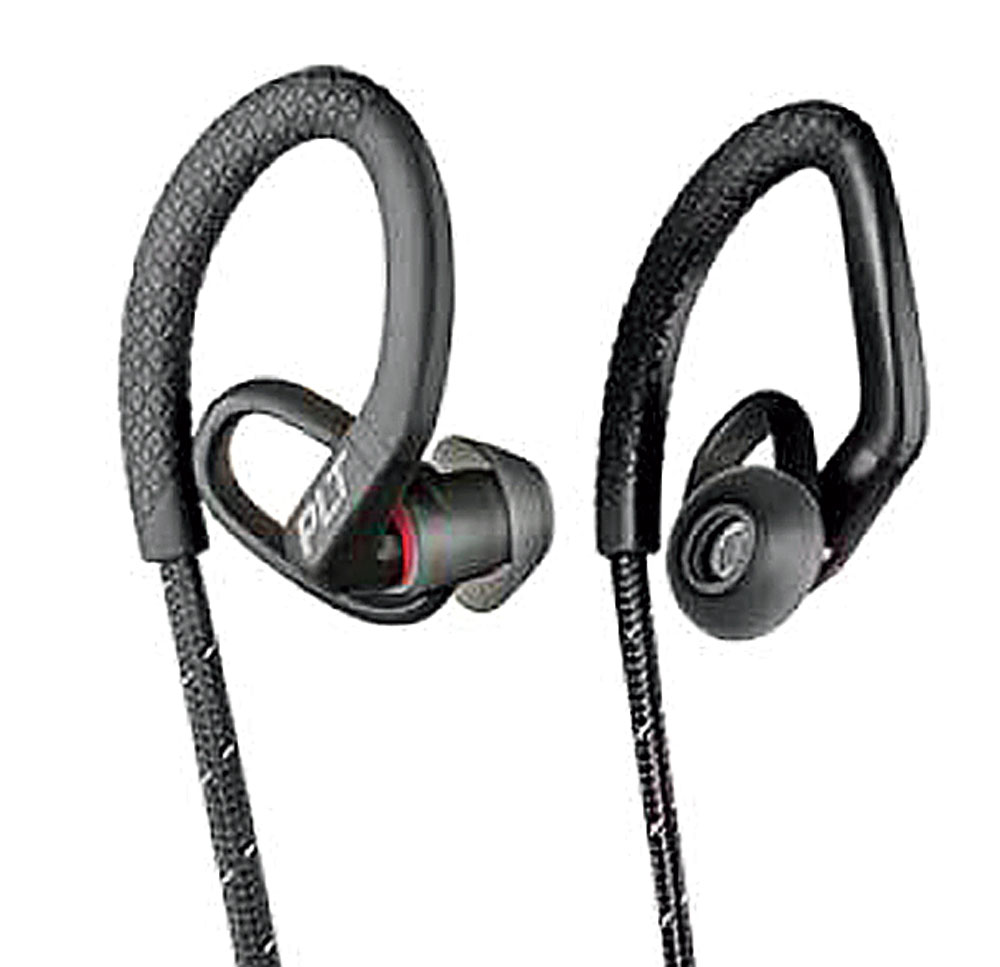 Plantronics BackBeat 350
File picture
---
Published 25.11.18, 11:23 AM
|
---
Comfortable, light and good looking
At less than half the price of Plantronics Backbeat 350, Crossbeats Wave Waterproof Bluetooth Earphones for the mobile phone is a steal. You can hear any instrumental solo, treble and bass with so much clarity that you will almost feel like you are listening to live music. The flexible, foam eartips block most of the outside noise but makes sure the music is not too loud in your ears. The earphones fit securely enough that you can use them while running, biking or working out. You can also answer calls and talk with a built-in microphone. Pausing, forwarding or reversing is easy. The earphones also look quite trendy. Once fully charged, the earphones can work for nearly nine hours. You can, therefore, listen to music, watch a movie with the earphones in or talk on the phone for quite a while without having to recharge. To get it fully charged, however, you may need to leave it plugged in for a couple of hours.
GADGET: Plantronics BackBeat 350
TECH SPECS: Bluetooth sports headphone; water and sweat resistant; secure-fit earloops
PRICE: Rs 6,490
BEST FOR: Use while running, walking or gymming 
For me, music is meditation. It helps me relax and focus, while boosting creativity. But when these headphones landed at our review desk, I was told that these are sports earphones, meant for those who can workout or run only to the beats of music. In other words, people for whom music is an accessory that helps them focus on their primary passion, fitness.
Fair enough, to each his or her own.
To put myself in the shoes of a musically-inclined, workout freak, I decided to put on these earloops during my morning jogs. The first thing I noticed is that these headphones have nylon chords and are tangle-free. Untangling the cords are usually a huge hassle, with the fear that one of them may snap unwittingly. The earphones fit more or less snugly — you need not fret about dropping them on the ground or losing them. They don't seal out all ambient noise, keeping you rooted in the real world. It's very useful if you are outdoors, especially in the midst of traffic. Plantronics calls this feature "Always Aware."
There's a button on the right to pause, skip or forward a track; the left button is meant to control the volume. But if you feel confused, you can download and connect the headphones to the PLT Backbeat app and click "My Tap" which allows you to control volume, pause, skip, set a stopwatch and even check battery level. The app also has a "Find my Headset" feature which can activate a tone when you misplace or lose it.
The microphone works fine — you can answer calls comfortably while on the move in a crowded alley.
If you charge the battery fully, it runs six to seven hours without any hitch. The app will remind you, well in advance, when you have to recharge the battery.
Sports headphones usually put a lot of emphasis on their ability to resist water. This one proudly says, it's rated IPX7. That means it will not only survive a splashdown but also being submerged in three feet of water. Theoretically, these work in a shower too, but I didn't have the courage to give them a try. (After all, this is a review unit!) But they did work despite splashes from a garden hose.
While the sound quality is nowhere near the Bose SoundSport Free — which is rich and crisp and was reviewed in this column two months ago— But then this one comes at a third of the Bose headphone's price. The music plays at a slight higher pitch, if it's, say, an electronic guitar. Bass is okay and Adele's Someone Like You sounded as ethereal as ever.
The design is smart and sweat-proof. In short, this one is a near-perfect headphone for workouts. And it gives value for money.