Guess who the actual starmaker is in the music industry — Spotify playlists
We find out about the algo at work to make your life perfectly soundtracked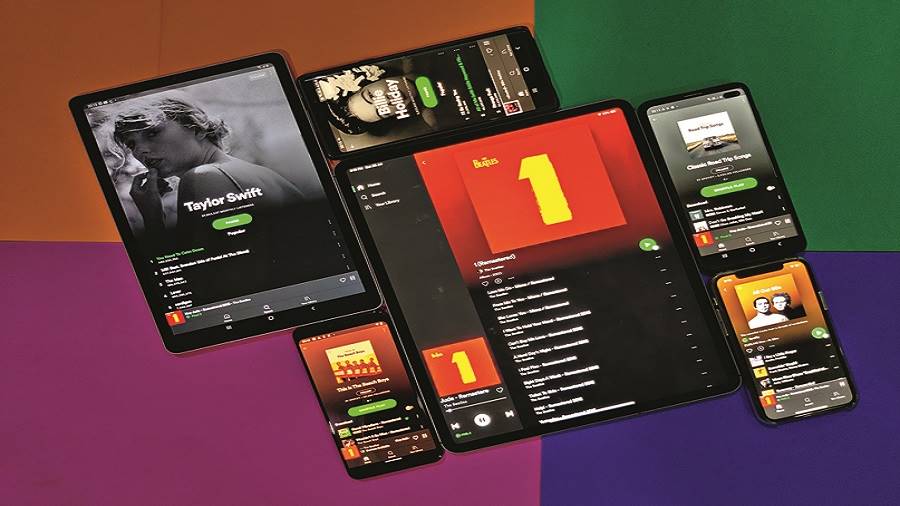 On Spotify there is a playlist for every occasion. The global music streaming service urges upcoming artistes to think 'strategically about what your music specifically brings to the table'.
The Telegraph
---
Published 27.07.20, 09:22 PM
|
---
Streaming services there are many but Spotify nails one's tastes like no other. The global streaming service from Sweden knows a thing or two (or zillion!) about how to build a music experience, be it for a road trip, for the gym or for just to snuggling up… with a bottle of wine! The algorithm that the service has deployed makes all the difference. Here's an exclusive chat with Ziad Sultan, senior director of product for personalisation, Spotify, on on how the Spotify team personalises the music streaming experience for users.

Once Spotify arrived in India, one's life pretty much got soundtracked. Road trips. Cafe hits. Morning tunes. How does Spotify come up with a perfect mix almost every time? And how does it change during the course of a user's stay on Spotify?
I'm glad to hear you're having a good experience. That's exactly what we're hoping to deliver for each listener: a soundtrack to enrich your life, personalised to fit your individual taste.
When you look at Spotify's services as a whole, the recommendations you'll find are based on a combination of human expertise from our world-class editorial team, and algorithmic models that deliver individual experiences to each user based on their preferences and habits. As we shared at 'Investor Day', over 30 per cent of the music now being listened to on Spotify has been programmed by a combination of our algorithms and our editorial teams.
Some playlists, such as Daily Mix, are solely built by algorithms based on your tastes and listening history. Others, such as Bollywood Mush (one of our most followed playlists in India), are solely built by our editorial team. However, we see Spotify as an ecosystem, and the two methods work together in harmony. We're testing ways to combine editorial and algorithmic recommendations, for example by taking an editorial playlist and narrowing it down to be personalised to the individual listener. You can expect us to continue innovating on that front.

Who decides what algorithms measure? And how subjective are those decisions?
Our algorithmic recommendations are personalised to each listener's unique taste, taking into account a variety of factors: What you're listening to and when, which songs you're adding to your playlists, and the listening habits of people who have similar tastes. Our technology turns these inputs into recommendations of something you'll really love, whether that's an old favourite or a song you never knew you'd be into. This is entirely based on data. We capture more than half a trillion "events" on our service every day from listeners interacting with music and podcasts on Spotify, and we leverage that data to power the recommendations that our users know and love. By continuously listening and learning people's habits and interests, we deliver an ever-evolving personalised soundtrack for each user.

When searching for music, like 'summer classics' or 'wake-up songs', how does Spotify decide the search results and what comes at the top?
Our search results are based on a number of factors, and on Spotify, search is also personalised to your tastes. So you might notice that when you type the first letter or two of the name of an artiste you love, it may come up first — even if there's a more "widely popular" artiste with a similar name. This is in an effort to ensure that Spotify users are able to quickly and easily access the right content at the right time for their individual needs, without taking a one-size-fits-all approach.

The search algorithm, we guess, is as complex as a classical music piece. Some people look for certain movements in a classical piece by, say, Puccini or Beethoven. How does Spotify go about this as compared to, say, pop hits? Most think of Spotify as the go-to place for pop hits. What about for people who love classical music?
As our recommendations are based on data and user behavior, there is no difference between how they treat one genre versus another. Specifically for classical music, we support the genre with editorial programming such as Classical Essentials and Classical New Releases. And, of course, if you listen to a lot of classical music, you're more likely to be recommended music in that genre via algorithmic recommendations.

Many say that Spotify's editorial team members are the ones who decide on the next trend in music. What would you say to them?
Our editors are looking to create the best listening experience for our users, drawing from their expertise and cultural knowledge to develop playlists that tap into a deep connection between listeners and music. But at the end of the day it's a matter of how you, the music fans, respond to the music.
Our editors form hypotheses for each of our curated playlists and we try to serve users with the best listening experience for users within that context. This requires constant tweaking, adding and removing tracks to keep the experience fresh — their decisions are backed up by data that we get from the fans listening and engaging with the music.

How many playlists does Spotify curate? And how do you decide on the playlists that work across countries?
Our team of editors looks after more than 4500 editorial playlists globally. All of these thousands of playlists cater to different moods, genres and activities — all have their individual hypothesis in order to tailor the experience for users on both a local as well as a global level.
Spotify also offers personalised algorithmic playlists like Your Daily Mix, which is updated for each of our 286 million users every day, and delivers a blend of music you already know and love, alongside discovery with tracks identified by our algorithm as similar to what you've been listening to lately.

What would be your advice to an aspiring artiste trying to improve his or her chances at playlist-ing?
We urge all artistes, from new upcoming artistes who are just starting out to more established artistes, to pitch their music through our Spotify for Artists using the submission tool. To increase your chances, think strategically about what your music specifically brings to the table.
There are many factors — from mood, to instrumentation, to ambience, to tempo — that can help editors potentially find an ideal spot in our playlist ecosystem that not only puts you on a playlist, but puts you in front of the right audience.

There was a time when the radio decided on the next big trend. Do you miss the radio and do you ever get a chance to listen to it?
Radio has had a lot to offer and for many years — I used to start my commute exactly on the hour so I could catch the BBC news briefing on my way to work. Today, technology enables us to go much further than that. It enables us to have great content on demand (for instance, in India, we recently signed content deals with local radio channels Big FM and Radio City, making some of their most popular shows available to stream on our platform), and also to discover it in a personalised way. So today, I start my commute whenever I want, and not only can I catch the news alongside my favourite music, but I also get personalised recommendations that help me discover new music and new podcasts every day.