Generations of Indian kids have enjoyed a diet of Amar Chitra Katha, lapping up the gallantry of characters from Indian mythology. Now and then, original superheroes leaped at us from the pages of our comic books, like Nagraj. Some pleasant changes were brought in by a young US-born (and based) Sharad Devarajan, who visited India more than two decades ago. Against all odds — like huge investments — he mowed down obstacles to deliver Pavitr Prabhakar, an alternate version of Spider-Man. This was in 2004-05 and it was an instant success. One project led to another, ultimately culminating in the birth of Graphic India, which he co-founded.
Some personal favourite Graphic India efforts are Shekhar Kapur's Devi, Stan Lee's Chakra the Invincible and Deepak Chopra's Beyond. The company also has a very strong presence in the animation sector. With a strong catalogue in place, Graphic India has announced the launch of Toonsutra, which is a webtoon comics platform for mobile devices, exclusively for India, for free download on both iOS and Android devices.
Before the April launch, we chatted with Sharad Devarajan, co-founder, Graphic India.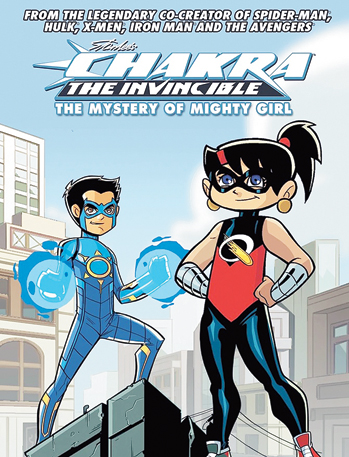 Sharad Devarajan, co-founder and CEO of Graphic India
How much of Toonsutra's library dedicated to Graphic India titles and how much of it will be from other sources?
We are bringing our massive library of original Graphic India comics to the Toonsutra platform, but it will be so much more than that with the majority of the content we release in the first year coming from other partners and new creators. And for the first time, much of this content, including many of the Graphic India titles, will finally be available in Hindi and other local Indian languages.
The app will feature a wide range of content for all audiences across genres, including superhero, fantasy, romance, sci-fi, Bollywood, mythology, action, and more, and we will be announcing a lot of other partnerships with some of the biggest global stories and creators over the year.
We are also super proud to announce that Toonsutra will feature content from Valiant Entertainment, one of the largest superhero comic publishers in the world, bringing their hit characters: Bloodshot, Shadowman, X-O Manowar, Harbinger, Archer & Armstrong, Ninjak, Rai and more, to Hindi readers for the first time.
There are other webtoon platforms. Where does Toonsutra fit in, how is it different from them and what's that extra, unique thing you are offering?
Toonsutra is intended to be an Indian app for Indian creators and Indian audiences. While there are definitely a number of big global webtoon apps that are massively successful, they have few content offerings by Indian creators and almost none of their content is available in regional Indian languages. We really wanted to create a home for Indian storytellers to thrive in this medium and share their amazing creativity. Toonsutra will showcase and promote emerging rising star creators across India and give them a home to tell their stories. Using the medium of comics and webtoons these new voices can express every type of genre and story all with the support, guidance and expertise of our team to make it easy to collaborate with other creators, develop ideas and make those stories a reality.
For me comics have always been one of the purest storytelling mediums, where it's not about budget, but about imagination. A comic is like a movie with an unlimited budget, a place where you can create a whole universe in a single panel. It's a creator's dream.
Are you going to develop content exclusively for Toonsutra?
Absolutely! Toonsutra originals are a huge part of the plan for and we are already planning new webtoon comic stories on hit Indian film and TV properties, including S.S. Rajamouli's groundbreaking Baahubali film franchise and Graphic's recent animated streaming series, The Legend of Hanuman. We are also launching original new webtoon stories based on Chakra The Invincible, the character I had the honour of creating with Stan Lee. We are going to be making some other exciting announcements on exclusive Toonsutra originals soon.
Speaking of The Legend of Hanuman, it has been a big success. What prompted you to make the series and what have been some of the learnings from the ideating process?
The heroism of Lord Hanuman means so much to the world and so much to all of the people who worked on this project. Growing up reading stories about him, I have always wanted to see the grandeur of that world brought forward in a visual medium. Along with my series co-creators — Jeevan J. Kang and Charuvi Agrawal — it is a very personal mission we have all been on… to do justice to this hero and the billions who hold his story in their hearts.
Also, to have this as the first animated Hotstar specials series is an amazing responsibility and honour we have all taken very seriously. The amazing team at Disney+ Hotstar have been exceptional partners and collaborators and really stood by our vision of wanting to create the first high-quality 3D animated series that resonates with audiences of all ages and featured more complex narratives and stories.
This series was specifically created to appeal to audiences far beyond just kids. We see The Legend of Hanuman as groundbreaking series that has the potential to usher in a new type of storytelling for the country. In the same way countries like Japan and Korea have always looked at animation as a medium and not a genre, our company Graphic India's mission has always been to create stories that resonate with a wide audience, from eight to 80, and does justice to the complex subject matter of stories of these mythologies.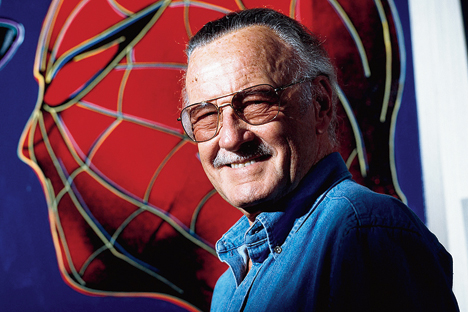 Graphic India had worked with the late Stan Lee on Chakra the Invincible
You have worked with the one and only Stan Lee. What has he taught you?
Stan Lee was a mentor, friend, inspiration and teacher... he was my guru. As a young child, his work shaped my life and spoke to me in a way that no other author or creator ever has, and probably ever will. To have had the honour to work with him and to create superheroes with Stan was like being able to paint a picture with Picasso or write a poem with Shakespeare. It was quite simply one of the greatest joys of my life.
For me, perhaps Stan's greatest legacy, even beyond all of the unforgettable characters he created, is the lesson he gave us about how to live our lives. Work was never a job for him. He lived each day with a passion — an unquenchable desire to create, something that lasted until the end.
There are devices like Pocketbook Inkpad that make comics easy to read. Are we going to see a tie up with equipment manufacturers in the future?
We would love to explore those types of partnerships and want to ensure that the future of comics is empowered by great technology. Beyond even traditional e-reader platforms, we are also looking at comic experiences in virtual reality and been experimenting with how we can potentially create comics where audiences feel they can walk into a panel and feel fully immersed. The medium of comics is as old as when we used to sit as cavemen and tell stories with visual pictures as cave paintings on the walls. New technologies in the years ahead will allow comics to transcend in new ways we can't even begin to imagine yet.
Meet the man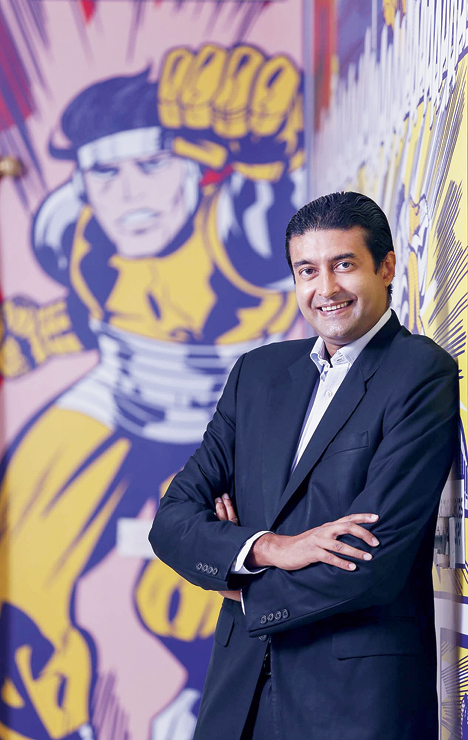 Sharad Devarajan, co-founder and CEO of Graphic India
University: BFA from Syracuse University and an MBA from Columbia University
Previously: He was previously the co-founder, CEO and Publisher of Virgin Comics LLC, a company he co-founded, with Sir Richard Branson, authors Deepak Chopra, Gotham Chopra and filmmaker Shekhar Kapur
Big moment: In 2004, he worked with Marvel as the creator of a new reinvention of Spider-Man as an Indian boy growing up in Mumbai, transforming Peter Parker into Pavitr Prabhakar