The pandemic has given birth to a range of solutions for the work-from-home crowd and some of them will even outlast the given situation. WFH often means video calls and phone calls through workdays, which are usually longer than what we had when "regular" office was on. Wireless earbuds tend to be uncomfortable after a couple of hours and listening to a conversation from a speaker is devoid of clarity unless you spend a substantial amount of money. Sony seems to have a solution in the form of a neckband or more like a neckband speaker called NB10.
It's a device that works just the way it is advertised — slip it out of the box, pair it with a Bluetooth phone or laptop (or both) and start working. Don't think of this as a go-to solution for listening to high-fidelity audio but think of it in terms of work equipment. You can wear it even 15 hours a day at a stretch without the neckband tiring you. It's best for those who have three-four hours of meeting calls.
Champion for making calls
Lightweight, the neckband has a flexible arch which is made of rubber but not the cheap kind; it's smooth and long-lasting. Wear it around your neck but unlike most neckbands you don't have to insert an audio piece into your ears. There are two speakers on the neckband that line up with your ears, so the sound goes straight up to your ears. And there are two microphone that are perfectly aligned to collect every word you say.
There is no app involved, so you simply have to make a Bluetooth pairing. The technology at play is not that simple. The placement of the speakers is such that most of the sound is directed towards your ears. The quality of sound on the neckband compared to that on a pair of wireless earbuds will obviously differ with the latter having technology like automatic noise cancellation and transparency mode. The neckband was created with comfort and long usage in mind. Even while moving around, it's non-intrusive for listening to music.
Where the neckband shines is while taking calls. The sound is crystal clear while making calls, the two microphones pick up the user's voice very well. The algorithm is such that it cuts off noises made by swirling fans and humming air conditioners. Be it Zoom calls or taking calls from your smartphone, we have no complains.
The other feature that makes this a WFH device is multi-point connection or connecting with two devices at the same time. For example, the primary device it is connected to is my smartphone, which helps while taking calls or listening to music. It is also connected to my work computer, which is for streaming as well as videoconference calls. I don't need to disconnect the Bluetooth connection on one to work with the other device.
The controls on the neckband are quite simple, like on any other Bluetooth-enabled headset. One of the features of the neckband involves automatic power off function if left unused for 15 minutes. You can change that. Just hold down the power button and volume "minus" button for five seconds. Three flashes means it is deactivated. If you are using it for conference calls, then you don't want it off because you don't want to go through the process of connecting to Bluetooth time and again.
Should you buy it?
In case your job involves hours of calling people, this can well be the most comfortable option to have around. There is some sound leakage if you have the volume turned up to 10 but you wouldn't need to amp it up all the way. With 20 hours of battery life you are guaranteed to go through a few workdays on a single charge. Third, connectivity is very stable and you will be able to stay connected to your devices even from 20-25 feet away, which is usually not the case with other audio options. But the only let down has been the short USB cable that's in the box. It's so short that chances are you will connect it to your laptop for recharging or get a longer USB-C cable.
Geared towards work, it is for anyone who is on the phone, taking/making calls for hours or has to indulge in long hours of video chats. It's the gadget we didn't think was needed until it came along. And now one just can't put down the Sony NB10, which can easily become a habit.
At a glance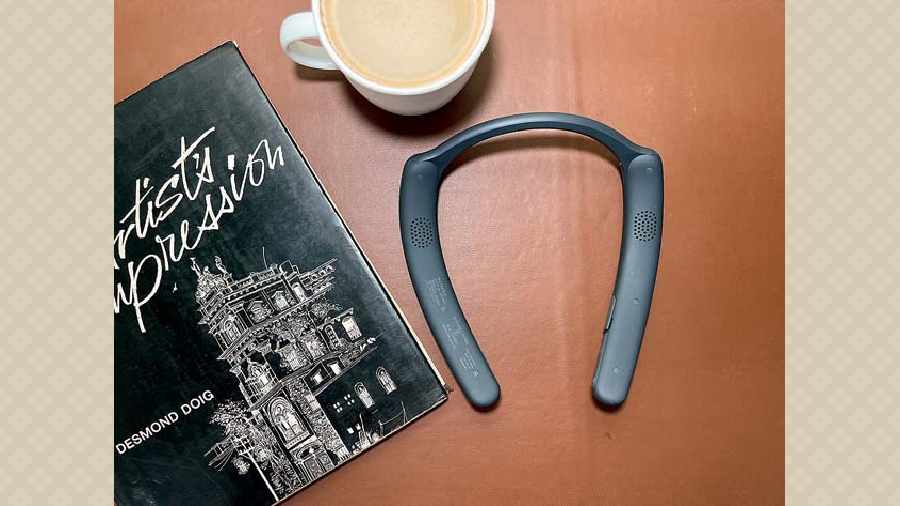 Sony NB10 neckband is made of good quality plastic and is sweat/splash (IPX4) resistant
Device: Sony NB10
Price: Rs 11,990
High notes
• Very light
• Sound is directed to the ears
• Enough controls over music and calls
• Very good pair of microphones
• Multi-point connectivity
Muffled notes
• Short USB-C charging cable