Asus Chromebook CX1101 is secure and affordable
This device has become worthwhile during the pandemic, and this one offers support for apps from Google Play Store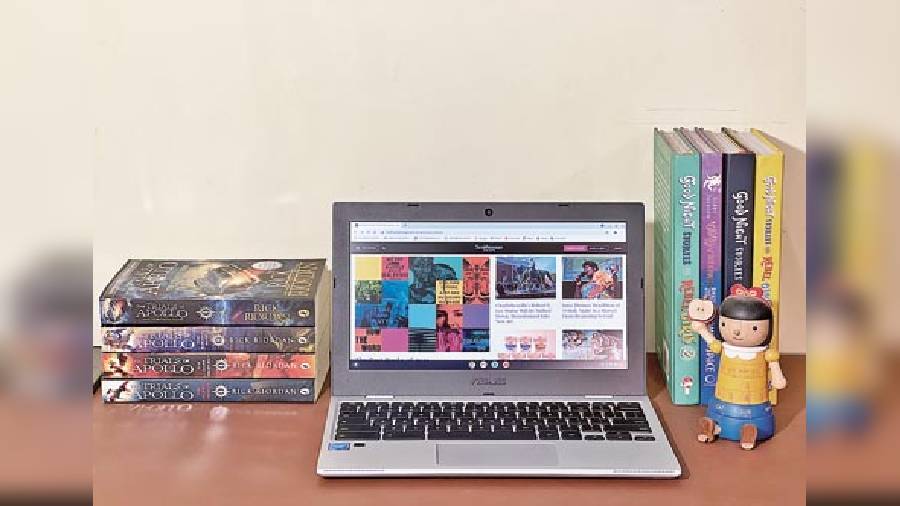 Asus Chromebook CX1101 is not just perfect for students but also for anyone whose work is mostly web-based.
Pictures: The Telegraph
---
Published 14.12.21, 05:41 AM
|
---
We are in the tenth year of the Chromebook and, looking back, it's pleasantly surprising to see where Chrome OS has come. When it first appeared, these were considered cheap, small laptops that basically ran Google's Chrome browser, needing a web connection. So much has changed in the last few years, to the point that Chromebook has become worthwhile. There is support for apps from Google Play Store and you can work offline while files get updated to the Cloud when you are connected to the Internet. Most importantly, it offers enough muscles to support most of our needs.
With us for review is Asus Chromebook CX1101, which we had an opportunity to use for over two weeks. Before diving into our experience, let's look at a few things about Chromebooks in general. Usually we get asked whether a Chromebook is suitable for children to the question eventually getting rephrased to "Can I also get a Chromebook?" CX1101 offers great battery life, is thin and light (only 1.24kg), secure and, very importantly, affordable.
Ask yourself…
There is something important to remember. Ask yourself what do you need from a computer and then consider if these can be achieved via a web browser, besides adding all the things you would like to do in the next few months. If all that adds up to a 'yes', Chromebook is your choice. Second, there is a big difference in buying a Chromebook and a cheap Windows laptop. Chromebooks will allow you to do a few things very well every time. But a cheap Windows laptop will give up on you as soon as you want some upgrades with a few programmes or even moving up the ladder from Windows 10 to Windows 11. A good laptop is way costlier than a Chromebook. If the choice is between a Chromebook and an iPad, then the latter allows you a lot of scope but at a cost. If it is between a Chromebook and a cheap Android tablet, go for the former.
With CX1101 — or any other Chromebook — there is always a wide selection of web apps and extensions to draw from as well as Google Play Store, so the combination is quite extensive. Personally, I have a few legacy apps that I need all the time, especially Microsoft 365, which helps me with a lot of my office work as well as things at home. Second, I need to use Canva for social media-related work, which I can via the web application. For light photo editing, something like Adobe Lightroom helps. Then there is a little bit of browser-based gaming — titles from the Play Store — which can also be dealt with. Needless to say, all browsing needs are handled by the Chrome browser while streaming YouTube is a good experience, given the 11.6-inch, LCD HD display.
Biggest USP — focus
All this may sound like every need of mine gets take care of. Not really. I also do a lot of AR-related activities, video editing and so on. For that my go-to device will be the iPad Pro. Then why am I so keen on a Chromebook? Focus.
Focus is an important issue when it comes to Chromebook and it has nothing to do with students exclusively. Say I am writing a book on coffee culture in India. It automatically translates into focusing on the topic. What I need is a good device to type on and something that can handle photographs. An iPad can be a distraction because there is so much that can be done. Lock the room, sit with the CX1101 and let thoughts flow around the book. This device comes with one of the best keyboards I have used in a long time on a Chromebook with 1.5mm key travel and the build of the machine is excellent with almost no flex. If it helps, the screen can be kept flat at 180 degree. For a student, focus will be on taking classes, typing out notes and doing research online. All these can be easily done on the Chromebook. Besides, it's easy to carry around.
I didn't mind that the machine comes with Intel Celeron N4020 processor because it's about what I can get out of the machine for a certain cost. Also, remember that Chromebooks come with an expiry date as far as update schedule is concerned. Here it is June 2026, which is more than I need out of a machine.
Should you get it?
Definitely. In case you are looking for a sensible year-end gift for someone special, this is it. It also has a 720p HD camera to handle conference calls while battery life can be as good as 13 hours. Now that's good enough. I may not like the thick bezels but what I am getting out of it is very important. Focus. Yes, Asus Chromebook CX1101 wins over by allowing you to focus on the task at hand.
At a glance Device: Asus Chromebook CX1101
Price: Rs 19,999 on Flipkart. Introductory offer: Rs 18,990 up to December 21
High notes
• Excellent for web-based applications as well as most Play Store apps
• Perfect keyboard
• Outstanding battery life
• Good build
Muffled notes
• Thick bezels