Freedom from having to park your phone down with wireless charging
What SanDisk could have done differently is come up with colourful charging pads or stay away from white because it attracts dirt in the long haul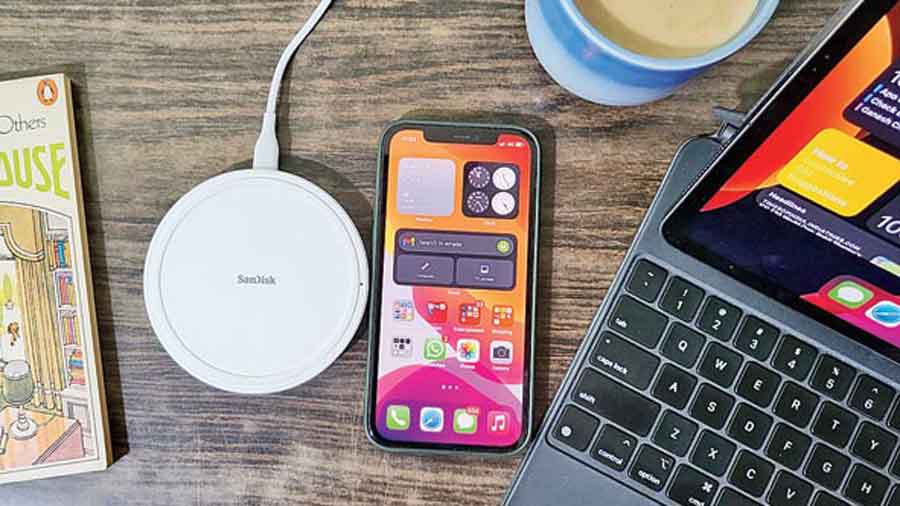 SanDisk Ixpand Wireless Charger 15W is an excellent wireless charging pad that frees you from the wired charging brick.
The Telegraph
---
Published 10.09.21, 11:04 PM
|
---
Over the months, you will hear more and more about wireless charging pads. In fact, if Apple has its way, it will become a must-have in the future. Wireless chargers are basically a convenient way of juicing up the phone or TWS earbuds but are slower than wired chargers. But not all phones or TWS buds can take advantage of the technology, since the gadgets themselves need to support it first. At the moment, most flagship phones are coming with wireless charging options.
Before we tell you about SanDisk Ixpand Wireless Charger 15W, it's important to know whether you need or want this product. First, consider this. Most phones are getting bigger as well as come with glass bodies… front to back. It's not a conspiracy theory to make you drop the phone and then get it repaired. Instead, it's about allowing wireless charging. Glass lets energy pass through the phone so that it can be charged wirelessly and the technology relies on magnetic induction.
There are several options available, from charging stands to flat pads. When in bed, each time you need to check messages on your phone, it has to be unplugged, which may damage the charging port in the long run and is a boring task. Instead, keep a charging pad on the nightstand (if your phone allows). Pick up the phone whenever you want and then just place it back on the charging pad. It can't get any easier than that.
There's nothing complicated about the SanDisk device. Take it out of the box and connect the long wire in the box to the 24W charging brick. That's it.
SanDisk does exactly it promises, charges your phone at 15W, working across Android and iPhones, plus TWS earphones. Though some devices may charge at a lower rate but I was able to juice up the iPhone 12 Pro at 15W without any issues. At times, you may feel that the phone is slightly warm to the touch but there's nothing to worry about. When you put a device on the pad, a blue LED indicator glows to say that charging is on. There's a rubber ring at the bottom to keep the pad in place. Over the days, I had no issues with the device. And it really helps to have a 4.5-foot USB Type-C cable in the box. Unlike most brands, here's it's a regular Type-C port and not a micro USB port. The other thing you need to know is that it supports Qualcomm Quick Charge 3.0.
What SanDisk could have done differently is come up with colourful charging pads or stay away from white because it attracts dirt in the long haul. Using the SanDisk product you can fuel up iPhone 8 onwards, Samsung Galaxy S7 onwards, Galaxy Note 8 onwards and OnePlus 8 Pro onwards.
Apple already has its MagSafe charging pads, which are doing well and the company is constantly looking at ways to innovate. If rumours are true, then a future iPhone — perhaps not this year — could be port-less, meaning you will have to rely on MagSafe. Some smartphone manufacturers may say that wired charging is the best option but with most phones able to retain charge for the entire day, you don't need another wire in your life. Give it a few months, and even mid-range phones may offer wireless charging.
All we can say about SanDisk Ixpand Wireless Charger 15W is that it frees you from forcefully parking down your phone.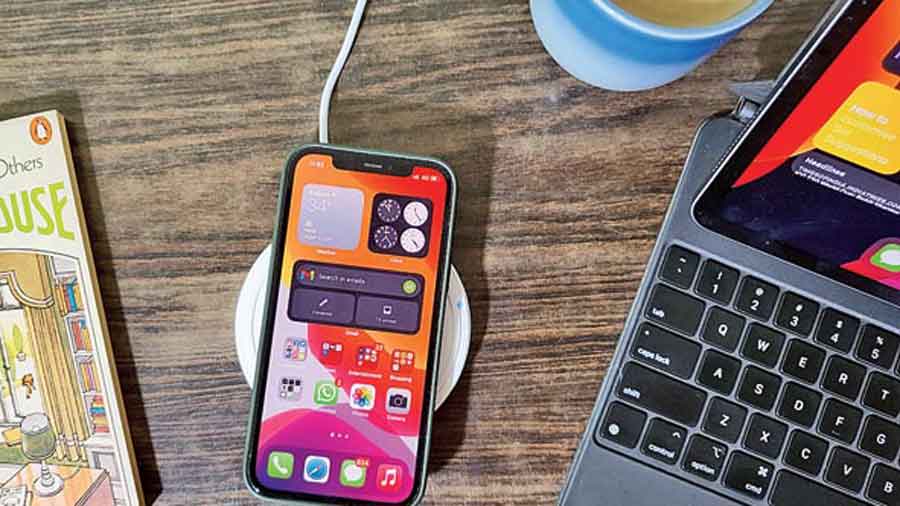 At a glance
Device: SanDisk Ixpand Wireless Charger 15W (with QC 3.0 adapter)
Price: Rs 2,999
High notes
Comes with USB Type-C port
Long 4.5 foot cable in the box
Rubber grip
Two-year limited warranty
Muffled notes
Could have had come in a different colour option