Firework has some neat video tricks to offer
Go horizontal. Go vertical. Record using front and rear camera simultaneously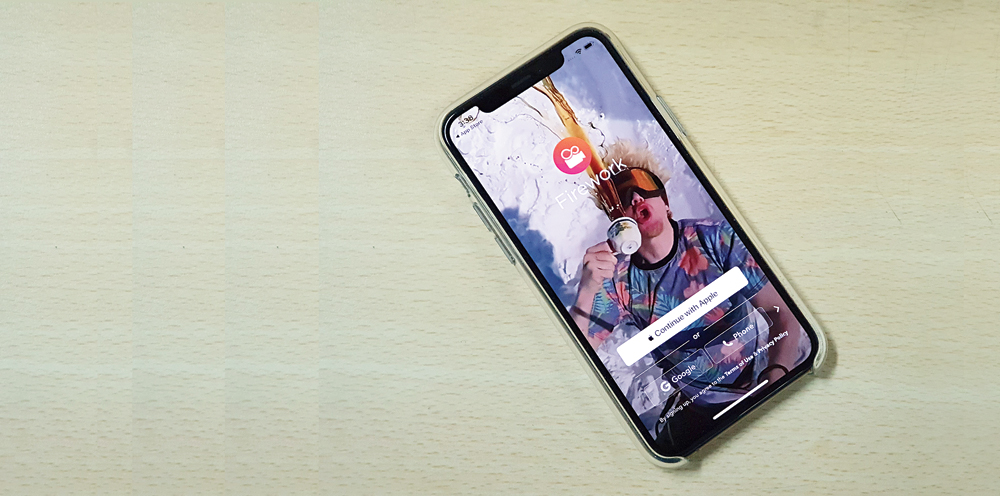 ---
---
Last year, when the app Firework made a big splash, we caught a glimpse of the power videos can wield when changing from vertical to horizontal mode and vice-versa. One moment — in the vertical mode — you are watching an actress run but when the phone is kept horizontal a different storyline appears. This year, the company launched GEMI, a video capturing tool that redefines the way one vlogs by allowing the user to use the front and back cameras of a smartphone at the same time.
The Telegraph had an opportunity to interview Firework co-founder and chief operating officer Jerry Luk, who was also an early employee of LinkedIn.
Firework had hit the iOS store with a bang last year but we haven't heard much about it lately. What have been some of the developments in the past few months?
Firework's user growth is continually going strong. We have been keeping very busy as well, firstly with the launch of our new creation tool GEMI, a video app that captures both sides of the user's experience simultaneously with the front and back camera. We also have been developing a new native app which will launch soon. Additionally, instead of only focusing on the native app eco-system, we have been embracing the mobile web as well. Since then, our web traffic has grown exponentially, enabling Firework to reach over 100 million users around the globe.
You started operations in India in October 2019. Since then, what has been the traction among the youth and celebrities? What kind of original shows are in the offing?
It has been a busy half a year for us since September. India is a very potent market and we anticipated this kind of excitement with our product. We did run a few independently produced mini-series on the platform, including a three-part short film by K.M. Chaitanya. Post which we entered into a collaboration with Rainshine Entertainment and Applause Entertainment, who have produced some of the most-well received mainstream content in the country. With these collaborations our users can expect some of the most compelling short video content in the months to come.
What was the initial idea behind Firework? How did the app come about?
I was extremely lucky to have had the opportunity of experiencing the growth of a successful start-up in its early days during my time at LinkedIn. My biggest takeaway was to understand the trend of doing the right thing at the right time.
We have been observing a few key trends lately at Firework. Attention spans are shrinking, with research reporting eight seconds as the average person's attention span. Users are listening to podcasts at 2X speed and opting for shorter and shorter content to consume. We are also noticing the medium of content users prefer shifting from text to pictures, and now a shift to video. Lastly, a shift in technology, from 3G, which allows the proper connectivity for messaging, to 4G which allows the proper connectivity for sending and receiving photos, to finally 5G which is where video streaming can really shine. Combining all of this evidence reveals short video is the future.
We looked at all the video apps around the globe and were surprised to see almost all of the short video apps focusing on lip-syncing or dancing focused content with very young audiences, primarily made of users who are 13 and under. We believed that the short-form video market has a much broader audience than this and can contain much larger content verticals, so we decided to create a different video app focusing on high-quality infotainment content. We then spoke with hundreds of influencers and creators from YouTube and Instagram who all shared a very similar message with us: We need money! It has been increasingly more difficult to monetise on YouTube and as Instagram competes with Snapchat, their reach is significantly decreasing. They all are looking for new platforms which empower the creators.
This all gave us the validation we needed to launch Firework, a high-quality, short video app focusing on infotainment and empowering our professional creators, in May 2018.
Any particular incident that led to the unique feature called Reveal (a way for creators to take both horizontal and vertical video in one shot from their mobile device)?
Reveal was invented because a lot of great quality videos are shot using DSLRs and digital cams which are all in horizontal, which looks terrible when it is used in the vertical format. The video plays as a horizontal band with a lot of screen space wasted. Reveal was invented to allow the audience to experience the content in full screen mode. They just have to rotate the screen and the video would show them more than what was visible otherwise. This technology is patented and belongs now to Firework. It won a bunch of awards
This year, Filmic launched DoubleTake, which lets people record on two cameras on the iPhone 11 simultaneously and it can be done both horizontally and vertically. How are you distinguishing yourself from competition?
DoubleTake is more similar to GEMI than Firework, in that it allows creators to shoot videos with multiple camera at the same time. However, both Firework and GEMI are very different than a pure creation tools such as DoubleTake, as we have a strong creator community made up of over a 100,000 professional creators. Every day they publish videos onto our platform and are able to learn and create even better content thanks to our rich network of creators.
A much-awaited app is Quibi, which is promising to deliver original content that can be viewed horizontally and vertically. What opportunities do you see when it comes to switching seamlessly between horizontal and vertical modes? And how are you different from the upcoming Quibi?
Firework's technology is completely different than Quibi's. Their technology requires creators to film with two cameras and unlike our technology, the switching between horizontal and vertical viewing is not seamless. Firework's patented Reveal feature empowers users to create content never seen before, you truly have to experience it in person to witness its impact. We also do not view them as a competitor because they are not community-driven, as previously mentioned, community is a large part of the Firework experience for our creators. It will be interesting to see if consumers are willing to pay a similar subscription fee to Disney+ to watch short form Hollywood content.
Where do you see Firework in India in the next year? And will we see horizontal/vertical advertisement on the app?
Firework will become ubiquitous on the open web. If there are volumes of consumers at a destination, Firework will exist within such ecosystems. Firework want to entertain and enlighten consumers with content that goes beyond the usual — Firework has alliances with a large number of partners and creators who work with us in categories that allow strytelling in 30 seconds. Travel, Food, Beauty, DIY, How-to are categories that work very well in this format. Ads are critical to the platform; its the revenue from branded content and videos ads that funds the content creation as well as the publishing points. People come for authentic stories around their brands and we believe that our creators and content partners can provide that authenticity.
How do you think video would be consumed in the coming years?
Short form videos are still very new to consumers. Remember when novels were the prime form of entertainment? The invention of television soon won over consumers with its engaging drama and news, however books did not completely vanish from the public eye. The same transition is currently happening on the Internet, from web pages to short-form videos, and Firework will be the TV of the Internet. While I am not a fortune teller, I would expect to see short-form videos everywhere very soon on many different apps and devices.
Companies like Samsung have come up with Sero TV on which content can be watched vertically or horizontally (by rotating the screen). Do you plan to work with such device manufacturers and do you think there would be more such devices?
We are closing monitoring new trends on different formats, including vertical TV. It's too early to tell if this format will become mainstream; we will leave it up to the consumers to tell us what they prefer.
You were among the early employees at LinkedIn. What are some of the lessons you learnt at LinkedIn that has proved valuable in the years that followed?
I am thankful for Reid Hoffman and Eric Ly (co-founders of LinkedIn) to give me the opportunity to be there, as this experience shaped my career in significant ways. There are so many lessons I learned from my time there and here are a few (and some of them are counter-intuitive):
** First, it does not take 100 times more effort or time to build a company 100 times as successful. We all only have 24 hours in a day, picking the right track is essential so you don't end winning a war that was never intended to be fought in the first place.
** Have a plan A, plan B, and plan Z. Plan A is your current best plan, plan B is your back up plan, and plan Z is a wildcard plan that has a small chance of success, but could change everything if it does succeed.
** Doing things fast is more important than doing them right - test your ideas fast and don't worry about the scale part. We had many competitors in the beginning and we were able to win by being able to react quickly and scale our customer-base. There were tech debts which cost us but we were in much better position fixing our platform after we won the war.