Feeling 'app'reciated
Charting the success stories of three women — powering three successful apps — who work closely with Apple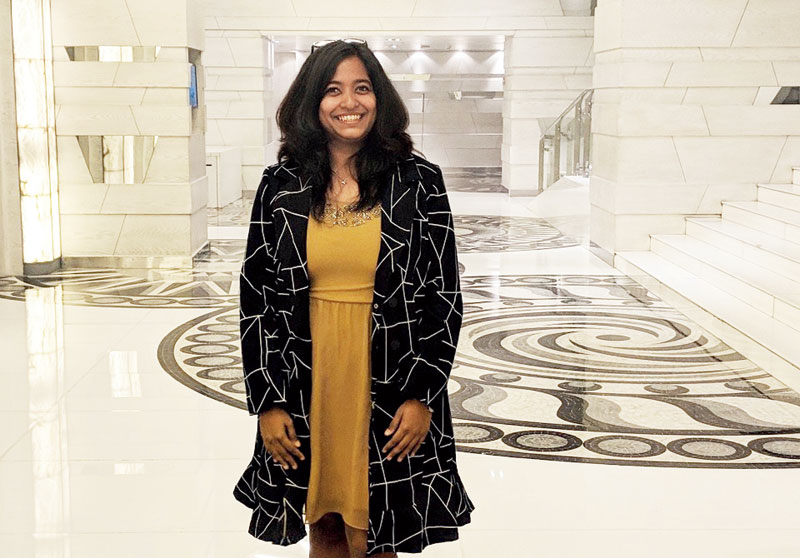 Sivareena Sarika, co-founder
PregBuddy
---
Published 07.03.20, 02:33 PM
|
---
PregBuddy
Sivareena Sarika, co-founder

The app: It is used by lakhs of women and families in India to get personalised insights on pregnancy care, conceiving faster and baby care. The start-up's goal is to help expectant mothers remain connected with their doctors and seek personal care and knowledge that would help them make informed decisions for themselves and their child. The birth of PregBuddy
We started PregBuddy when one of my cousins underwent a miscarriage in her first pregnancy. Her entire family went through a period of mental distress. In the digital era when we resort to the Internet and social media for most of our problems, health, especially women's health, seems to be left behind. Even a socially active couple suddenly feels helpless to find support during this crucial phase of their lives. This is when we started working on this domain.
Evolution from a WhatsApp group
As none of us were parents, we met 220 expecting mothers at various hospitals across Bangalore. We connected them on a WhatsApp group, let it run for five months and observed what kind of support they were seeking from one another. We didn't write a single line of code until the WhatsApp group crossed 100,000 conversations a month. We decided to go full-time and build PregBuddy application as the first peer-to-peer reassurance platform for expecting mothers.
As we scaled up our platform, we figured there is a huge gap of care continuity between expecting women and their doctors, which is how we launched ConnectedCare for doctors. Doctors ask their patients to install PregBuddy and stay connected with them throughout their journey of fertility, pregnancy and early motherhood. We're proud to have touched the lives of over 300,000 women so far across India!
Devices beyond smartphones
Health and fitness gadgets are becoming increasingly useful, and Apple Watch is a great device for our iOS users. Expecting mothers can now stay updated about their pregnancy cycle on the Apple Watch face, track their upcoming tests and appointments, get medicine reminders, and view their antenatal calendar right from their Apple Watch. Globally, PregBuddy is the only maternal healthcare app that allows expecting mothers to track their vitals and symptoms with the ease of Apple Watch, and shares that data instantly with their own doctors and hospital, so that they can proactively monitor their patients remotely.
"Hey Siri, log my weight." Yes, that is all you need to do to log your weight and other vitals on PregBuddy iOS app. Our integration with Siri shortcuts and Apple's new innovations makes tracking vitals and symptoms a breeze. They can be recorded just by asking Siri. Also, our Watch app provides smart notifications, so you or your loved ones don't miss any vital information.
Further, we are working on providing richer and more secure experiences by integration with HealthKit (allows to interact with the health application on iOS) and FaceID. Under the guidance of Apple App Accelerator, our young team is constantly pushing the boundaries in the Apple ecosystem to bring global innovations at the doorstep of the Indian audience. Our Apple Watch app, for instance, has been developed by two young WWDC scholars, Harish and Tarun, with one of them still in high school.
The PregBuddy network
We've been working with seven hospitals across India, including Apollo Cradle and Motherhood hospitals, where doctors bring their pregnant, fertility and new mothers on PregBuddy and stay connected with them throughout their care journey. Currently, we're the first platform in India that allows a woman to get both emotional and clinical support via PregBuddy!
Vernacular power
PregBuddy has been used by women across India. We have women from the Indian Army, CxOs, housewives, air hostesses, and even from the Indian cricket team. We've vernacular and location-specific pan-India groups, which allow women to chat with one another in their chosen language. Apart from this, we've also partnered with Tata Trusts to extend our regional content to over 30K villages via net-top boxes. Transplant Care
Anita Kulkarni Puranik, founder and CEO

The app: It is a comprehensive, secure and intelligent app for patients requiring organ transplant. The app from Metamagics Computing supports care protocols for the complete care life cycle before and after a transplant. The app supports patients with education, engagement and empowerment to reduce the disease complications and improve long-term post-transplant outcomes. It also automatically shows the care protocol customised for specific organs.

The birth of Transplant Care
In 2009, someone very close to me was diagnosed with liver cirrhosis. We did a few tests and it became evident that he needed a liver transplant. Finding a living donor was difficult as his blood group did not match and we were put on the waiting list. It was a very daunting task. In India we don't have one single registry so he was put on a waiting list with four-five different centres. Every time I would meet a doctor, I had to pull out all his information, which was a tedious task. During this period, I realised organ transplant care is an extremely complex and difficult area of patient care. Care protocols are intricate and demand attention to detail. I devoted much time in understanding the challenges in organ transplantation, both for the patients and organisations running the transplant programmes. That's when GridSense Health (www.gridsensehealth.com) emerged out of my personal experience in finding answers to streamline organ transplant care.
In organ transplant, 80 per cent of the time, patients have to be managed outside of the hospital bounds. Doctors are unable to have a comprehensive view to monitor patients over the complete duration of the transplant journey. Globally, about 25 per cent of transplanted patients do not make it beyond five years. This is where GridSense Health comes into the picture. The solution is designed for patient participation, preventive steps as well as pre-transplant management. The patient app sends reminders and notifications, so care is monitored at all times. Our mobile apps are also designed for transplant staff, so data can be accessed and patients on the wait list can be monitored with ease. GridSense Health combines the visual representation of the data combined with the designs to represent the insights and machine learning at the heart of it. This is the USP of GridSense Health. We remain the only solution in the market that offers a unified system for transplant patient conditions.
Bringing about a difference
Over the last four years, we have worked with leading transplant surgeons across the country to clinically validate the GridSense Health transplant care platform. We have incorporated over 13 liver and kidney protocols. We have also incorporated the COMMIT (Consensus on Managing Modifiable Risk in Transplantation) guidelines being used in the UK. We also have over 3,000 disease years data captured in the system.
Association with Apple
Our association with Apple has been hugely beneficial for our transplant care offering and has been greatly appreciated by transplant surgeons and patients. We are working very closely with Apple on integration with Apple Health across Apple devices — iPhone, iPad and Apple Watch. The company's design team, both in India and in the US, have guided us in the design process. We have leveraged Apple's Core ML for the Machine Learning and Natural Language Processing (NLP) that we use in our platform.
We have been selected for the Apple Entrepreneur Camp for organisations founded and led by women. We are looking forward to spending time with the Apple development and design team in Cupertino to enhance the GridSense Health Transplant Care platform even more. CAREDOSE
Gauri Angrish, founder and CEO

The app: CAREDOSE is an easy way to buy and manage your medicines. Just download the app and share your prescription to get started. Some of the highlights are — your medicines are delivered pre-organised by dose, each dose is labelled in your choice of language, you get automated alerts for dose reminders and refill deliveries, and your medicines are provided at a discount of up to 20 per cent.

The issue of medicine non-adherence in India
Medicine non-adherence is not taking one's medication exactly as prescribed, which, if we think about it, is something at least one person in our family or network struggles with. Since our focus is mainly chronic patients, I'll give you an insight into those numbers. The World Health Organisation states that in developed countries one in every 10 people has at least one chronic ailment and that number increases to one in every five in developing countries, like India.
The big idea
I was working in the pharmaceutical and medical device vertical at McKinsey & Company when, after working on a few projects, I realised the extent of the problem. What made me get excited about trying to solve this problem was not only the size in sheer patient numbers but also in the fact that, in addition to patients, it impacts each and every entity in the healthcare spectrum from pharmaceutical manufacturers to health insurance companies, providers and even public health systems. After I quit McKinsey, I didn't start CAREDOSE right away but started with opening a brick-and-mortar pharmacy shop in Delhi with an aim to get a real understanding of the problems for patients and in the supply chain. This experience did exactly what I needed — it reiterated all the issues and highlighted the massive gaps in technology and solutions.
Let's talk about privacy
Security: We use industry-standard encryption coupled with a robust back end that is protected at multiple levels.
Privacy: Patient data is obfuscated and shared as an aggregate data set. Any data that can be used to individually identify a patient is never shared with any third party in any form.
We are also GDPR (General Data Protection Regulation) ready and HIPAA (Health Insurance Portability and Accountability Act) compliant with our back end.
Friends of CAREDOSE
We aim at simplifying medicine management for chronic patients. The major ailment types that we serve are endocrinology, cardiology, neurology, nephrology and orthopaedics. With regard to the same, we have collaborated with one of the largest global pharmaceutical manufacturers as well as top hospitals and doctors in India. In the private healthcare market — Abbott Laboratories, Max Healthcare and Apollo Hospitals are some of our existing partners. In the public healthcare market, we have partnered with the ministry of health, Central TB division alongside the WHO, Clinton Health Access Initiative to manage tuberculosis (TB) patients and help the government end TB by 2025. We are also in talks with other entities to take the service to their patients, not only in India but also abroad. Dr K.K. Aggarwal, past president of Indian Medical Association, is guiding us in the capacity of a chief medical officer and is helping us spread the word across the physicians.
The distinguishing factors
Caredose offering: All e-portals that sell medicine sell it as medicine strips. At Caredose, we turn those medicine strips into unit tablets, keeping the blister pack intact, and then package them into dose pouches as per the prescription. We not only manage their monthly refills but also remind them to take every dose. Hence, patients are always able to take the right medicine, in the right quantity, at the right time.
Patient retention: This is the biggest distinguishing factor for us in our favour. E-portals that sell medicine struggle with their month-on-month retention. The cohort retention number falls to around 10 per cent at the end of month 10. However, our cohort retention number stands at 80 per cent at the end of month 10 with patient satisfaction scores currently at 92 per cent.
The biggest learning
"There are no unsuccessful people in the world, only those who stop trying." Simply put: One can never lose hope. Some people call it persistence. Some may call it perseverance. At the end of the day, the biggest learning that we have had from our entrepreneurial journey till date is that one can never give up. Something that is essential for us to have this relentless persistence is our core team and how well we work together. Knowing that we are all in it together and that there is always light at the end of the tunnel helps one go through the difficult times.