Be content. It's not that difficult a word to understand in 2020. Chances are that the Pixel team at Google also found solace in what could have been one of the most underappreciated words before the pandemic was upon us. Compared to the Pixel 4a, which is the company's latest offering in India, there are Android phones that are swankier, bigger, brighter, faster and costlier. Truth is, none of these make a phone perfect. And the truth is, the Pixel 4a makes Rs 60,000 phones look bad.
Get over spec-sheet mentality
Numbers on the spec sheet really doesn't matter all the time, something the new Pixel 4a highlights. There is just one camera on the back and one camera on the front, which is very much like Bruce Willis wearing the same white vest through not just one Die Hard film but the entire franchise. Yet, like his John McClane, there is enough yippee-ki-yay rush on the phone.
Google is a company that's data driven and they know better than OnePlus, Vivo, Oppo or Samsung, what customers are looking for.
Want and need are completely different. Customers want great photographs each time the digital shutter button is pressed on the screen, without fail. Pixel 4a agrees and delivers. With one measly camera on the back it delivers better shots than any Android phone out there, irrespective of price points.
Under daylight, there is nothing to fault on the Pixel 4a. Under uneven lighting, pictures are far more vibrant than on any OnePlus phone.
Night shots have only one competitor – the new iPhone SE. Night photographs are super contrast-y while daytime shots have a certain warmth, which is special to Pixel.
Should there been a telephoto lens? A wide-angle lens? Not really. The secondary lenses on most Android phones are progressively getting worse compared to the main shooter. The distortion towards the outer edges while using the wide-angle snapper is unacceptable at times.
On the portrait front, Android phones are putting in a lens to achieve a bokeh effect but Pixel manages to do exactly the same — and better – with just one shooter, even though it involves some kind of 2x cropping. If Instagram is the big deciding factor in your life, the Pixel 4a wins.
What the Pixel 4a lacks is perhaps owing to the fact that it's a software company making phones and not the other way around. There is no extra image processor like on the Pixel 4, which means certain photographs may take a few extra seconds to process. Also, if videos are important to you, don't choose any other Android phone; go for an iPhone, even if it is the SE edition because that too packs in same processor as the iPhone 11.
Otherwise, the Pixel 4a goes toe-to-toe with any expensive Android phone. Even the selfie camera wins big. The 8MP camera is more powerful than any 32MP or 44MP camera. The contrast is amazing.
Doesn't go soft on the software front
Some people question the importance of stock Android or Android that Google wants us to enjoy. It's basic stuff minus all the skins and extras. Here's the deal. Google develops Android and Google knows what will come to your phones in the next year or in the next two or three years.
With the Pixel 4a you get three years of Android update and also frequent security patches, something other (except Nokia) Android devices don't often give the user. The recorder app has a good transcript feature. The new Google Assistant is contextually responsive within your apps too.
There are some neat software tricks, like live captioning of calls. There is a good amount integration between the Recorder app and, say, Google Docs, especially in way of transcripts.
At the heart of the phone is Snapdragon 730G processor on which 'G' stands for graphics. Playing games is not bad but not the very best. Google knows that if you are into gaming, you would actually go for some other phone or perhaps your PC or console. The big-hitting feature is photography.
Having said that, Snapdragon 730G is obviously not the fastest one around. So we want to see where it stands three years down the road.
Power up
Pixel phones have always suffered on the battery front but Google gets it right this time. There are two ways to get the most out of a battery — increase size or decrease consumption. The batter is slightly bigger than previous generation Pixels, which helps. And the screen is a 5.81-inch OLED display at 1080p, which consumes less power without making too many compromises on one's viewing pleasure. It's a good balance. Even with taking a lot of photographs, it's easy to get four and a half hours to five hours of screen time from the 3,140mAh battery.
Though the pricing by American standards is low and Google can get away without offering wireless charging but in India, a device at this price could have tried the feature.
It's about what you want from a phone
Yes, the body is plastic (however good-quality plastic) and not without the latest processor or high screen refresh rate. All that is forgotten when you take a picture of a lovely dinner you are enjoying in a dimly-lit eatery with friends, of the moments you spend with your loved ones in one of the most uncertain times in human history or of the nature that surrounds you during morning jogs. Most Android phones can't give you pictures that you would think of taking a print of before having it framed. Each time you turn on the camera of the Pixel 4a, a warm fuzzy feeling comes over the eyes. Google's obsession with photography remains uncompromised.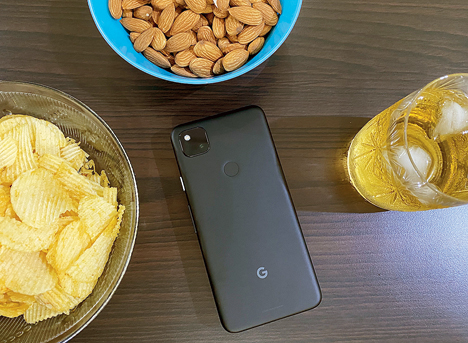 The phone has the best camera for photographs across Android devices Telegraph picture
At a glance
Device: Pixel 4a
Display: 5.81-inch FHD+ (1080 x 2340) OLED at 443 ppi
Weight: 143g
Battery: 3,140mAh
Memory and storage: 6GB+128GB
Processor: Qualcomm Snapdragon 730G
Camera: Rear — 12.2MP dual-pixel; front – 8MP
Price: Rs 29,999 (first sale on October 16 on Flipkart)
Pixel 4a flies because it has...
The best camera for photographs across Android devices
Promised to give three years of Android updates
A number of special Android features
Good audio quality
Good pricing by Pixel standards

Pixel 4a could have flown higher if...
There was face unlock, which helps while cooking; keeping greasy strains at bay
The processor was more powerful. One wonders how it will fare after three years of use