It's difficult to keep track of all the wireless earbuds that are getting launched in the entry-level segment, the booming category which will ultimately make the 3.5mm headphone port on your Android smartphone disappear. First it was about inexpensive wireless earbuds. Now, it's about sound cans with active noise cancellation or the technology that cuts out environmental noises. ANC is an expensive technology and it requires a certain kind of ear tip to work properly. The best ANC-enabled options can cost an eye-watering amount but it may not be something for everyone. Would you like to cut off the outside world when you go jogging or during commutes? Does it leave a vacuum-like feel in the ears? It makes sense to try out the technology on an inexpensive option like Dizo Buds Z Pro.
A versatile device
Dizo is quickly becoming a versatile brand that offers a wide range of products without making too many compromises. Buds Z Pro is one such product, which offers up to 25dB ANC. Frankly, if you are used to the technology on a device from Sony or Samsung then your expectations will be different. I used the device for a few days and was able to cut off most noises around the house, including my old humming refrigerator. While walking around the neighbourhood most traffic-related noises were handled well. To use the device one has to install the Realme Link app, which is quite versatile and is easy to work around. Besides ANC, there is a transparency mode, which can be accessed via the app.
When it comes to sound, bass is pumped up and it works well with the usual gym-related playlists on which you don't really care about vocals. While listening to Kacey Musgraves and other country stars, vocals appear clear but on Dua Lipa numbers it's music that pushes through and not always the vocals. You can gain access to the soundstage quite a bit with the app on which there are options like bass boost, dynamic and bright. Plus, there is a volume enhancer to increase the volume of your audio device.
Call quality on the Buds Z Pro is acceptable. Like it or not, people will know that you are taking calls via wireless buds but the stems are long enough to make your vocals go through clearly.
Should you buy it?
If you are new to ANC, sure, go ahead; it gives a decent performance. It helps that it's rated IPX4, which means you don't have to worry about splashes. In short, Dizo Buds Z Pro is a good entry-level ANC-sporting device for most of your needs.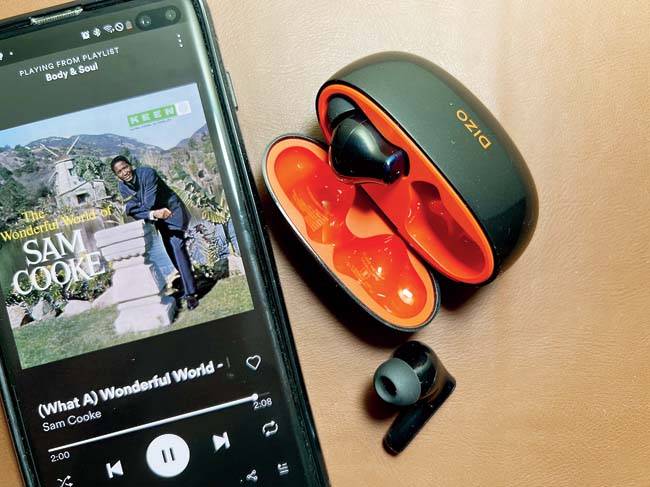 The wireless earbuds need to be used with the Realme Link app.
At a glance
Device: Dizo Buds Z Pro
Price: Rs 2,299
High notes
• Respectable ANC
• Good bass
Muffled notes
• Uses Realme Link app and not Dizo's own app