Comrades in arms, log in
Atomic heart: Is it Russian propaganda or just harmless fun?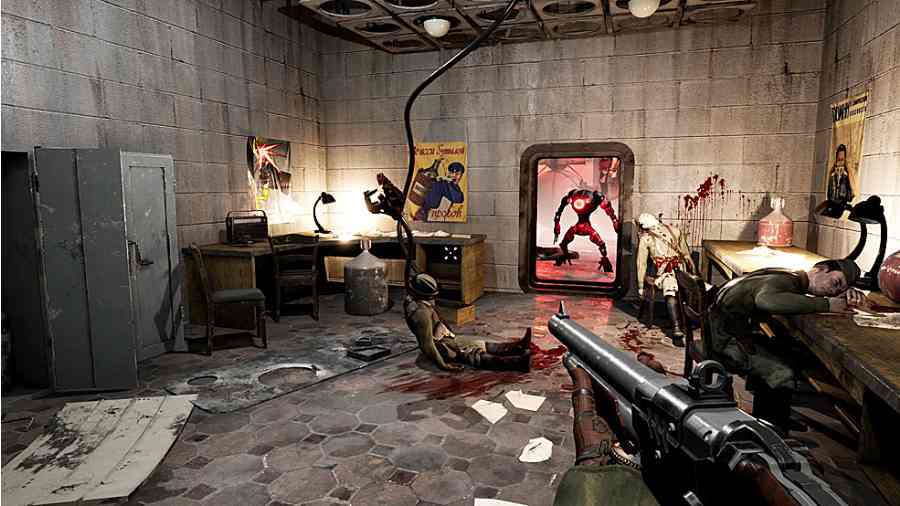 ---
Published 13.03.23, 07:10 AM
|
---
I 'm on top of the world looking down on a pixillated workers' paradise. Monorails twinkle, suspension bridges shimmer, drones whirr like dystopian worker bees. A statue looms through the clouds: a huge vengeful woman with a sword high in one hand, a giant atom cradled in the other. "We are now flying over the majestic Call of the Motherland monument — erected in 1949 to mark the Soviet Union's victory in World War II," says a soothing female voice.
This tableau is unfolding early in a controversial new video game, Atomic Heart. Call of the Motherland, the statue past which I am whizzing at speed, is constructed from nothing but code. But its inspiration is a very real chunk of Stalinist brutalism: the 300-foot-tall Motherland Calls, which stands above the Volga river and pays shrieking tribute to the dead of Stalingrad.
Atomic Heart is accused of distorting history by depicting Soviet Russia as a social and technological triumph. There have been claims, moreover, that it is larded with ugly slurs against Ukraine. And accusations that the publisher has covert links to Moscow.
That final charge has proved stickiest. Developer Mundfish is based in Cyprus but its chief executive previously worked at the Russian communication company Mail.RU. Mundfish has also received funding from GEM Capital, a Cyprus-based investment fund established by a former chief executive of Russia's stateowned gas company Gazprom. Moreover in Russia, the game is distributed by VK Play — part of the VKontakte social media platform owned by — yes — Gazprom.
Then there is the fact that VK Play's president is Vladimir Kiriyenko — son of Vladimir Putin's deputy chief of staff, Sergey Kiriyenko. Both are subject to US sanctions following the Ukraine invasion. There are also unverified claims Mundfish was founded in Moscow and switched its HQ to Cyprus in 2022. In the "about us" section of its website, Mundfish praises "an incredible team... from 10 countries including Poland, Ukraine, Austria, Georgia, Israel, Armenia, UAE, Serbia, and Cyprus". Only nine countries are listed.
Five days after launch Mundfish was forced to apologise when players discovered a racist cartoon at one of the "save points" in the game. On a TV screen, the viewer can see footage from Nu, Pogodli, a Tom and Jerry-style animated series that ran in the Communist bloc in the Sixties. Unfortunately, it's an offensive caricature of African "natives" — and Mundfish immediately put its hands up.
Mundfish has been vague about its Russian connections. Back in the former USSR, Atomic Heart's creators appear all too happy to tap into nostalgia for the Soviet Union. A Moscow launch event for the game in November was a love letter to Soviet kitsch. The downtown venue was adorned with Communist touches: signs read "Glory to Soviet engineers" and "Comrade, join the society of tomorrow". Then there is Atomic Heart's launch date of February 21, 2023. That is also the first anniversary of Vladimir Putin recognising the independence of so-called "separatist" regions in East Ukraine. Coincidence? Or a sly salute to Moscow? Mundfish's response to these accusations has been to say in vague terms that it is "pro-peace" and "against violence". What the company didn't do was condemn Russia'sinvasion of Ukraine. The only one breaking ranks is the composer of the soundtrack, Mick Gordon. He has donated his fee to Red Cross Australia's Ukraine Crisis Appeal. "My motivations are solely to support the Ukrainian people affected by the conflict," he said. Mundfish has also denied that Atomic Heart was sharing player data with Kremlin authorities.
Whatever Atomic Heart is, it isn't a love letter to the Soviet Union. More pernicious is the suggestion that the game is full of sly insults toward Ukraine. The presence of drones carrying flowers is meanwhile interpreted as a reference to Russian drones in Ukraine — colloquially known as "geraniums".
There is also an early encounter with two highly sexualised robots, which have featured heavily in the game's marketing. They are essentially sex-bot versions of C-3PO, outfitted with stylised silver braids. The claim here is that the braids wink towards the Ukrainian traditional headdress as favoured by former Ukrainian Prime Minister Yulia Tymoshenko.
All of the above is impossible to prove, though that hasn't stopped politicians in Ukraine from calling for a boycott of it. But if Atomic Heart is propaganda, then it misses the mark. If Mundfish truly wanted to turn me, the unsuspecting shoot-'emup addict, into a Soviet shill, they might have started by making a better game.
THE DAILY TELEGRAPH